Nectar 4 Standard - Let your vocals shine
Mix, produce, and design vocals effortlessly with Nectar 4 Standard. Easily create vocal layers with the Voices Module, add artificial background singers with the Backer Module, and make impactful edits through Vocal Assistant's intuitive interface. Plus, dive into a suite of powerful plugins for complete control over your vocal sound. Take your vocal productions to the next level with Nectar 4 Standard.
What's new in iZotope Nectar 4 Standard?
Audiolens referencing - Reference any voice: Audiolens is compatible with Nectar 4 Standard, allowing you to tone-match any vocal sound. Separate the vocal from your reference track and gain valuable information to create a starting point for your mix.

Voices Module - In sweet harmony: Instant, easy vocal layers: the Voices Module gives you the ability to create complicated layers for your vocal production without needing to learn voice-leading and harmonic motion. Find a preset similar to your desired sound, then tweak it to your liking.

Backer Module - Who's backing you today? With the AI powered Backer Module, you can now create artificial background singers that sit behind your main vocal. Pick from eight different styles or import your own acapella to further customize your sound. Finish up a demo with different flavors of vocalists, creatively destroy ad-lib tracks, or create something new altogether. *Only trained on with English speaking languages

Vocal Assistant - Help is here: Vocal Assistant now provides a broad interface for making simple and helpful decisions for your vocal production without getting lost in the details of vocal mixing.

Features and Benefits
Voices Module
Choose from a selection of 11 auto-harmonies to discover the perfect fit for your desired style.
Engage MIDI mode to precisely control voices with the specific notes you need.
Explore the robust editor to customize the number of voices and the chords they sing in your music.
Adjust the range of your voices using the Direction control, allowing them to sing above or below your main vocal.
Easily manage and manipulate each voice with the Mixer View, providing intuitive control over the soundstage of your vocal production.
Backer Module
Shift your vocals to eight different styles to create different backup singers.
Create your own style with a reference target.
Blend your backup singers with Tone, Pitch, and Formant features so you can sit your tracks behind your lead vocal.
Completely control shifting and style selection with automation, allowing you to create movement throughout your track.
Vocal Assistant
Choose from various targets in your library to instantly achieve the desired sound.
Import a custom reference track, and Vocal Assistant will match its tone.
Make impactful decisions regarding EQ, intensity, and width to shape your vocal's sound.
Seamlessly blend vocal effects like dimension, reverb, and delay.
Utilize Vocal Assistant's page to layer, shift, and pitch your vocals for added movement and depth.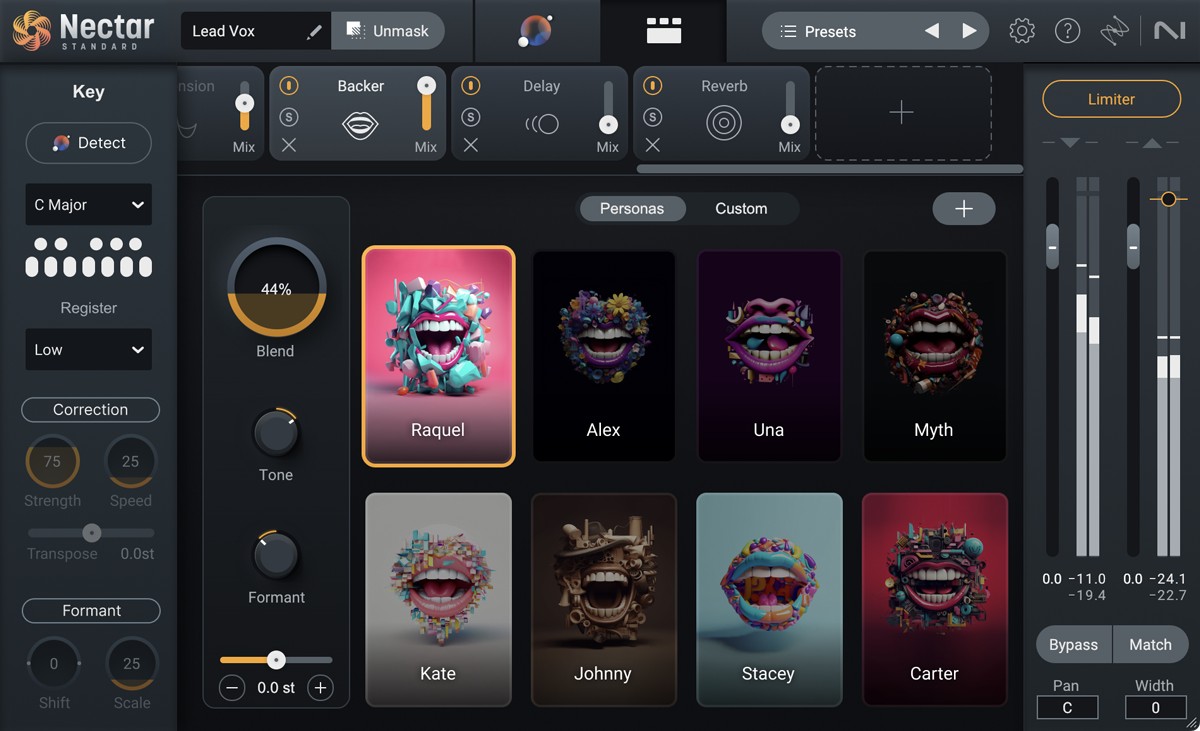 Use Audiolens to reference any audio from any source and kickstart your vocal processing with Nectar's Vocal Assistant. Benefit from Audiolens' separation technology to match the tone of any vocal, providing you with a target to aim for. Create a library of custom reference targets within Nectar's Vocal Assistant, making it convenient to access your references in any session.

Celemony Melodyne 5 Essential: Nectar 4 offers an additional advantage with its built-in Pitch Correction Module by partnering with Celemony to include Melodyne 5 essential. Melodyne is a GRAMMY-award winning pitch and time correction tool known for its precise and intuitive capabilities that are widely used in professional studios worldwide.

EQ: Nectar 4 Standard provides two specialized 24-band Dynamic EQs specifically designed for vocals. These Dynamic EQs offer transparent and clear processing, catering to both corrective and creative tasks. They feature adaptive nodes for precise frequency shaping and pitch tracking. With the Follow EQ mode, the Dynamic EQs dynamically track the pitch, eliminating the manual editing of resonant frequencies and harmonics. This enables active control over the timbre and tone of the vocals.
Key Features & Extras:
Vocal Assistant: Instantly create custom presets using machine learning technology to optimize your vocal's fit in the mix.
Improved Unmask: Easily prioritize your vocal by reducing competing mix elements directly from the Vocal Assistant's menu screen.
Dynamic EQ with Follow EQ Mode: Real-time tracking and removal of troublesome resonances, saving time and effort.
Inter-plugin Communication: Nectar 4 Standard communicates with other iZotope plug-ins in your session to address tonal balance and masking.
Melodyne 5 essential: Award-winning time and pitch correction software.
iZotope Relay: Central hub for intelligent connection between your entire mix and iZotope plug-in collection.
Hundreds of Professionally-designed presets: Preconfigured settings for music and dialogue applications.
Mac:
macOS Monterey (12.6.x), macOS Ventura (13.5.x)*
64 bit
Intel Dual Core (Quad Core or higher recommended)
RAM: 4GB (8GB or higher recommended)
*Supported on Intel Macs and Apple silicon (M-series) Macs (Native & Rosetta)
Windows:
Windows 10, Windows 11
64 bit
Intel or AMD Dual Core (Quad Core or higher recommended)
RAM: 4GB (8GB or higher recommended)
Required Registration:
iZotope products require you to register with the manufacturer at www.izotope.com to activate your license.
This product requires an activation!
An internet connection is required to authorize / activate the product.