Let Your Vocals Shine
Polish your vocals effortlessly with Nectar 4 Elements, featuring Audiolens referencing and the improved Vocal Assistant. Nectar Elements analyzes and adapts to your vocal sound, taking the guesswork out of mixing and giving you the power to make your vocals stand out in just a few clicks. With six under-the-hood audio processors and intuitive controls, Nectar Elements intelligently combines compression, de-essing, tonal and subtractive EQ, pitch correction, and reverb into one easy-to-understand interface.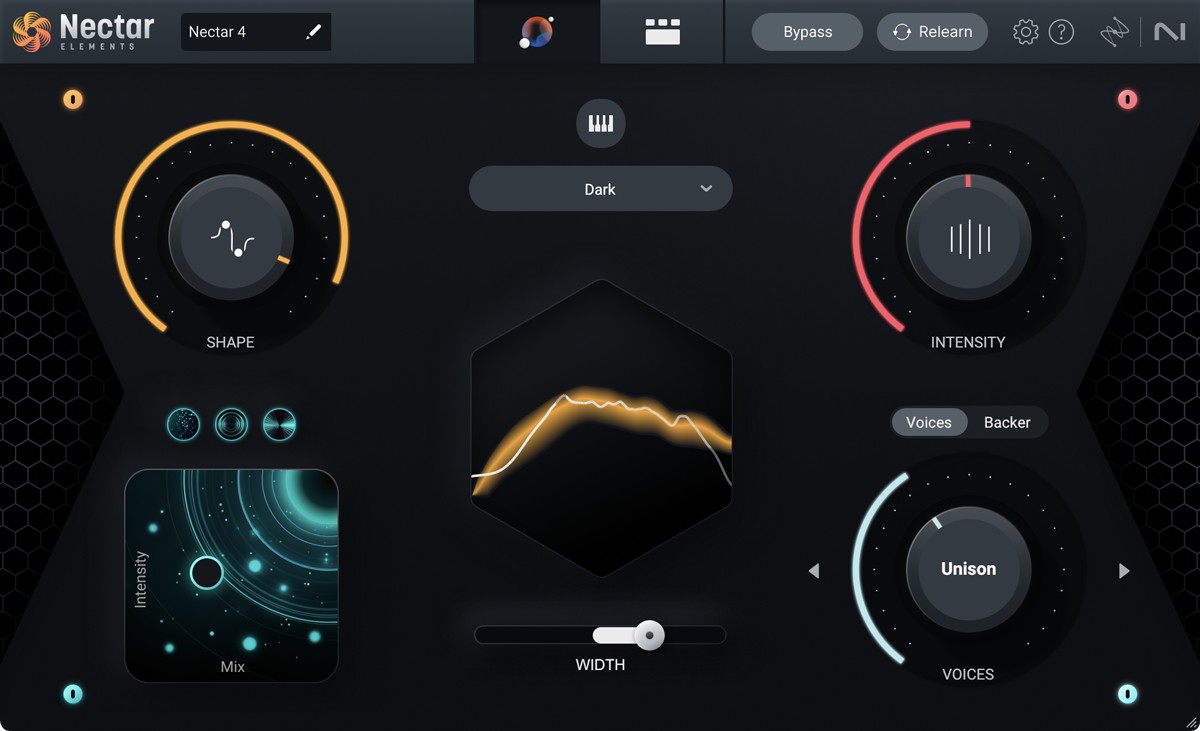 What's new in iZotope Nectar 4 Elements?
Audiolens referencing - Reference any voice
Audiolens is compatible with Nectar 4, allowing you to tone-match any vocal sound. Separate the vocal from your reference with Audiolens and gain valuable information to create a starting point for your mix.
Voices - In sweet harmony
Instant, easy vocal layers: Voices give you the ability to create layers for your vocal production without needing to learn voice-leading and harmonic motion.
Backer module - Who's backing you today?
With the AI powered Backer module, you can now create artificial background singers that sit behind your main vocal. Finish up a demo with different flavors of vocalists, creatively destroy ad-lib tracks, or create something new altogether.

*Only trained with English speaking languages
Vocal Assistant - Help is here
Vocal Assistant now provides a broad interface for making simple and helpful decisions for your vocal production without getting lost in the details of vocal mixing.
Mac:
macOS Monterey (12.6.x), macOS Ventura (13.5.x)*
64 bit
Intel Dual Core (Quad Core or higher recommended)
RAM: 4GB (8GB or higher recommended)
*Supported on Intel Macs and Apple silicon (M-series) Macs (Native & Rosetta)
Windows:
Windows 10, Windows 11
64 bit
Intel or AMD Dual Core (Quad Core or higher recommended)
RAM: 4GB (8GB or higher recommended)
Required Registration:
iZotope products require you to register with the manufacturer at www.izotope.com to activate your license.
This product requires an activation!
An internet connection is required to authorize / activate the product.