PSP Neon - linear phase EQ
PSP Neon is a fully featured linear phase equalizer that offers eight bands of equalization, with up to seven filter types. It uses fast convolution based linear phase algorithms for the best balance between CPU efficiency and phase accuracy - you can also turn off the linear phase mode to save CPU load.
PSP Neon also features one of PSPs most user friendly interfaces ever. Once you have experienced it yourself, you will keep coming back to this pristine, transparent and intuitive design. In other words, this will probably become your "Go-To" linear phase EQ.
PSP Neon comes in 3 flavors:
PSP Neon HR - Just like its predecessor, it offers linear phase processing as well as three spectral resolution levels.

PSP Neon STD - like HR, but with standard (std) spectral resolution. This is sufficient for most mastering purposes. STD offers greatly reduced latency and much gentler memory load.

PSP Neon MIX - with its minimum-phase filters (no linear-phase processing) it is very well-suited for mixing, as it introduces almost no latency (just 31 samples), while still providing all other important features such as oversampling, mid-side processing and a spectrum analyzer.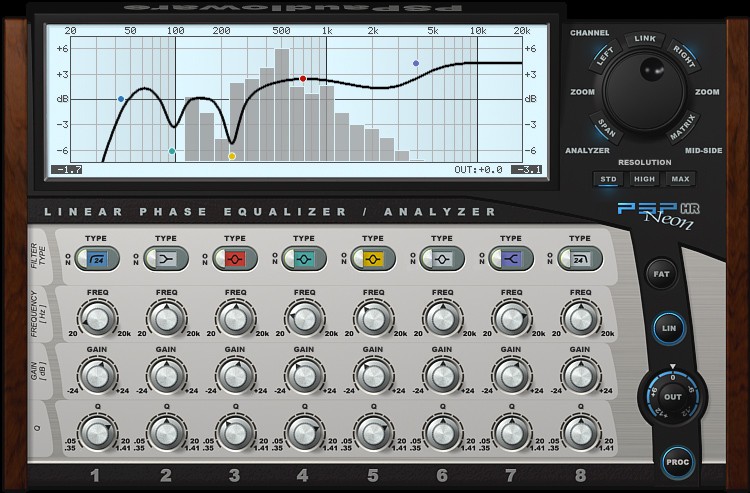 Features
Operation at high sample rates (up to 192kHz)

PSP Audioware's proprietary FAT mode

Independent processing and control of each stereo channel

Stereo and Mid-Side operation

High and Max resolution modes for unparalleled fidelity in the most demanding applications

Third-octave real-time spectrum analyzer with many adjustable parameters

Find the right frequency with Frequency-hunting as well as overtone-hunting features

Response plot auto-zooming

EQ band soloing
Mac:
macOS 10.8 or higher
Intel processor
Windows:
Required Registration:
PSP Audioware products require you to register with the manufacturer at www.pspaudioware.com and with www.ilok.com to activate your license.
This product requires an activation!
You can either "soft" activate on your computer without addditional hardware or transfer the license to an iLok USB dongle which has to be purchased separately. The iLok dongle can be used to run the protected software on different computers. Your licenses can be easily manged using the iLok Licence Manager. To protect your investment against theft or loss we recommend the iLok Zero Downtime protection with TLC.
An internet connection on any computer and a free user-accout at www.ilok.com is required to authorize the product.
Please check with the software manufacturer which iLok version is required at least if you want to use a hardware iLok!