Superior Orchestral Strings with Heavyocity's Signature Sound Design
Heavyocity had one goal in mind when they set out to create NOVO: "make strings new again." Recorded at the famous Eastwood Scoring Stage at Warner Bros. Studios, of course NOVO is a world-class, deeply-sampled orchestral strings instrument. But that's where its similarities to other orchestral VI's end.
Beyond the almost 40GB of fully-customizable sound-designed string samples, NOVO enables composers to tweak, process, layer, and sequence like no virtual instrument ever has before. Imagine the possibility of fusing superior orchestral strings with Heavyocity's signature sound design; it's a new frontier in hybrid film, game, and television scoring. Simply put, there has never been a cinematic strings instrument quite like NOVO. And in all likelihood, there probably never will be.
Traditional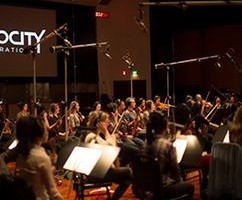 At its core, NOVO is a sonically superior orchestral string library. Featuring full orchestral violin, viola, cello, and bass ensembles, NOVO delivers the sought-after string sound of famed composers like Hans Zimmer and Danny Elfman. The Eastwood Scoring Stage at Warner Bros. is in and of itself a Hollywood legend -- where classics like the thrilling theme from Jaws and the driving strings from Mad Max: Fury Road, were captured in stunning detail.
Combined with performances from the finest players in Los Angeles (Cinema Scoring Group), and collaboration with acclaimed Film Score Mixer Satoshi Mark Noguchi (Lion, Midnight Special), and you have the makings of a string instrument that sets new standards for beauty, lushness, and aggression.
And with NOVO's unparalleled sound also comes unparalleled control. For the first time in a string VI, NOVO features auto down-and-up bowing for the most natural-sounding staccato and spiccato string performances you've ever heard. With close, room, and hall mic positions and a core set of key articulations.
Evolved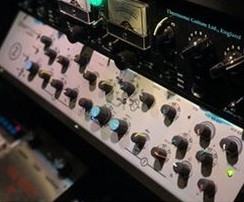 Since releasing Evolve in 2008, Heavyocity has built their reputation on equipping the modern composer with cutting-edge hybrid cinematic scoring elements. NOVO takes that ethos to the next level. Armed with the sonic potential of a 50-piece orchestra, Heavyocity employed their signature sound-design techniques: tweaking, processing, mangling, and mashing up these pristine sources into the most inspired, most dynamic, and most evocative elements they've ever created. Add in the functionalities of the innovative NOVO engine, and the cinematic composer now has access to the most dynamic sound-shaping functionality a strings instrument has ever offered. Simply put, NOVO is Modern Strings.
Instrument Details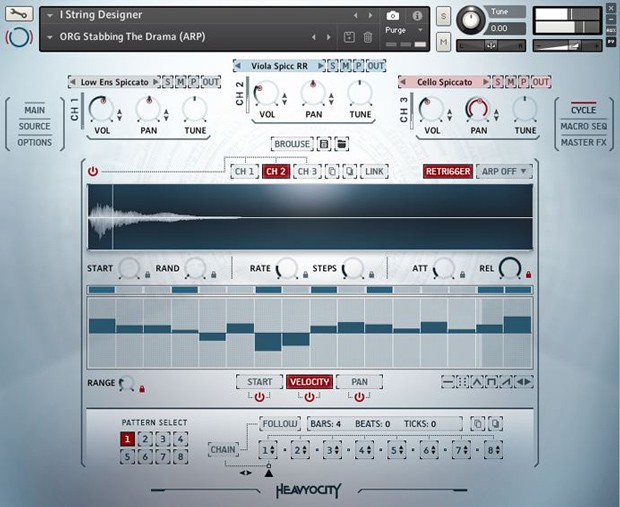 CYCLE
NOVO delivers a vast library that sounds great right 'out-of-the-box', but what truly gives NOVO its power is the level of control and sound manipulation provided by the interface. Enter CYCLE, a brand new dynamic playback engine from Heavyocity. The product of years of in-house development, CYCLE boasts a set of controls that can quickly create rhythmic pulses, swells, stutters, and glitch effects, as well as effectual granular-style pads for ambient drones and textures. CYCLE can be used to add subtle motion to a sustained pad, or to completely transform a sound into glitchy mayhem. Long, evolving sequences can be crafted by chaining up to eight patterns together. The possibilities for sound design with CYCLE are virtually limitless; proceed with caution.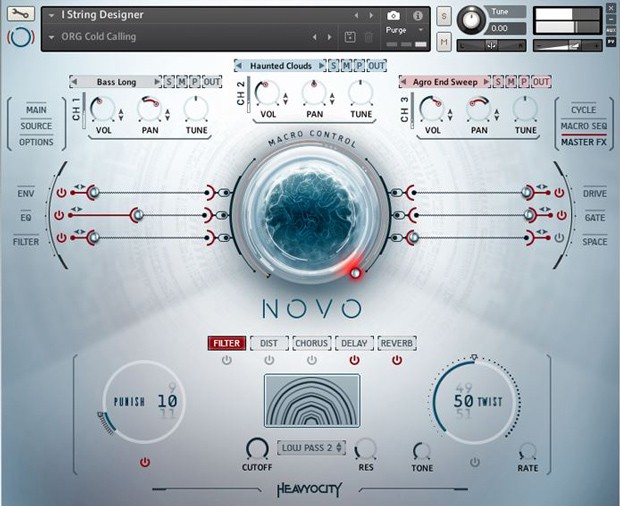 Macros
With the multitude of sound-shaping controls available in NOVO, wouldn't it be nice to consolidate them all into one, assignable knob? We thought so too. Introducing MACRO CONTROL, the front-and-center control knob for the String Designer and Loop Designer. It can be assigned to control multiple parameters across each channel including volume, pan, EQ, envelope, and various effects. Using the MACRO sequencer, you can program swells, stutters, and sequenced effects for subtly evolving timbres or frenetic, aggressive modulation. Each preset comes with a unique set of MACRO knob assignments, allowing you to instantly alter each sound to your specific needs.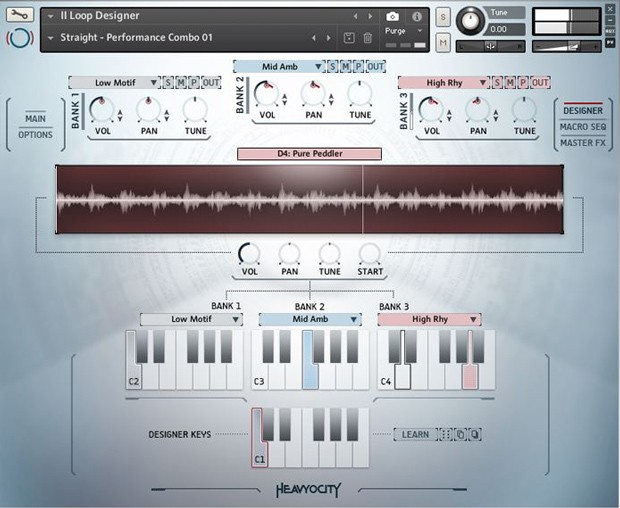 Loops
It is Heavyocity's mission to deliver world-class production-ready sound sources to enable workflow and enhance creativity. The LOOP DESIGNER is the epitome of that mission. Packed with over 400 loops laid out across three individual channels, the LOOP DESIGNER enables efficient sketching and cue-building for the deadline-driven composer. Craft complex rhythms, multi-layered motifs, and ambient textures with ease, using NOVO's unparalleled string and hybrid sound sources. Looking for more control? Mold and shape each unique loop channel with independent control over volume, pan, tuning, and start point. If you're looking for instant inspiration for your cinematic composition, or a great place to start for writing cues, NOVO's cutting edge LOOP DESIGNER is the solution.

This product requires the free Native Instruments Kontakt Player, the latest version can be downloaded through Native Access, Native Instrument's download manager!
The minimum required Kontakt version for this product is stated in the product description or can be found on the manufacturers website.
System Requirements:
Mac:
macOS 10.14 or higher
64 bit
Intel Core i5 or Apple M1 (native)
RAM: 4GB (6GB recommended)
Windows:
Windows 10 or higher
64 bit
Intel Core i5 or similar CPU
RAM: 4GB (6GB recommended)
Supported Interfaces:
Mac (64-bit only): Stand-alone, VST, VST3, AU, AAX
Windows (64-bit): Stand-alone, VST, VST3, AAX
Legacy Versions:
If you require legacy installers of Kontakt Player please refer to this Knowledge Base Article.

Required Registration:
Heavyocity products require you to register with the manufacturer at www.heavyocity.com to activate your license. To use Kontakt Player Libraries you also need to register with www.native-instruments.com.
Product activation:
An internet connection is required to authorize / activate the product.