Amazing oscillators, unique filters
The filter is fed by an equally high-quality solid-sounding oscillator, developed from scratch to be completely aliasing-free. It features sawtooth, triangle, and square wave forms with pulse width modulation.
The oscillator and the filter can be modulated by the LFO and the EG. The LFO offers triangle and square wave forms, with adjustable wave balance so any wave form between sawtooth and triangle can be selected. The tempo can be synchronized to the host. The EG has the usual ADSR knobs, but with a perfectly fine-tuned feel. Also, it has an additional Hold setting that extends the time keys are held down.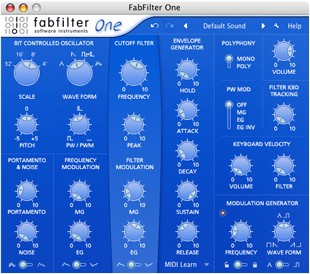 What FabFilter One excels at is the attention to detail and fine-tuning that is visible throughout the plug-in. For example, the portamento feature doesn't just slide from one note to another, but uses a carefully selected algorithm to make your playing more lively and give it just that little extra bit of magic.
Smart Parameter Interpolation handles changes to any of FabFilter One's parameters, ensuring both responsiveness and smooth transitions. There are no annoying digital clicks and zipper effects, and even MIDI controller changes are handled perfectly smooth.
Naturally, the FabFilter One plug-in handles all parameter changes at sample accuracy and it can be used with arbitrary sample rates. All parameters are fully automatable within your favorite host and via MIDI Learn. The included help file describes all features of FabFilter One in detail, together with overviews and tutorials to create various types of sounds.
Key Features
Aliasing-free high quality oscillator with triangle, sawtooth, and square wave forms
Fat and ultra-smooth self-oscillating low-pass filter
LFO with tempo sync, triangle and square wave forms, and adjustable wave balance
Fine-tuned EG with additional Hold setting
Frequency and filter cut-off modulation
Pulse width modulation
Filter keyboard tracking
Velocity sensitivity
10-voice polyphony
White/pink noise generator
Smooth portamento
Over 100 presets
Undo and redo
MIDI learn
Smart Parameter Interpolation
Sample-accurate automation of all parameters
Parameter value display
Extensive help file
For a Free 30-day trial Version please go to "More Infos".
Mac:
macOS 10.10 or higher
64 bit
intel or Apple Silicon processor
Windows
Windows 7-10
32 bit or 64 bit
Product activation:
An internet connection is required to authorize / activate the product.