Dark Sounds Suite Expanded
Everything you need to create cinematic music inspired by vintage sounds is provided with Orakle X. Orakle X transcends space and time thanks to Mntra's love of foreign techniques and instruments. It features a wide variety of unusual percussion, experimental string articulations, booming horns, flute clusters, overtone singing, and much more.
Features
89 Presets
51 Individual Instruments
Up to 59 Round Robins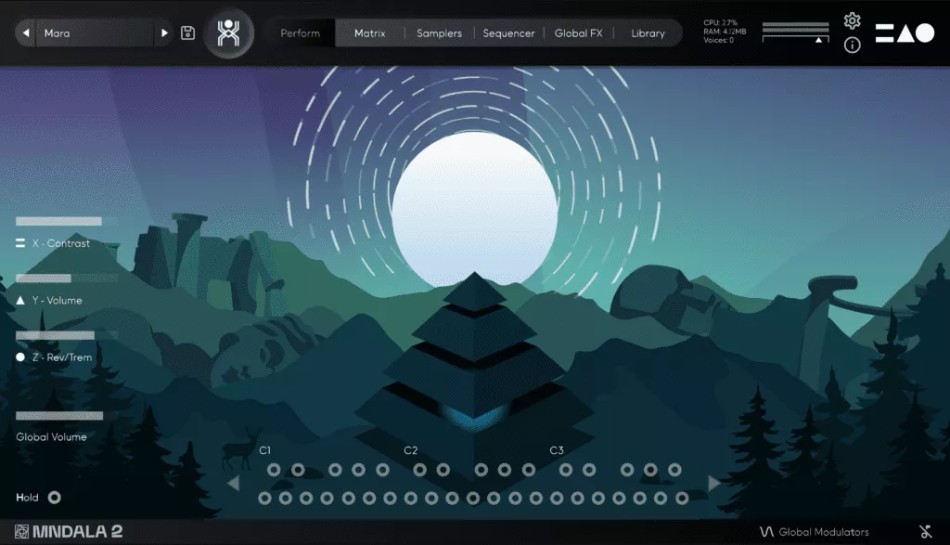 3-Axis Universal Controls - Simply map your favourite controller once for all plugin instances.
Intuitive Performance GUI - Custom animation driven performance interface & mouse hover interactions.
Industry Leading Audio Quality - 384khz/32-bit extended ultrasonic range sample sources
Instruments included:
Strings: Baroque Cello Harmonics 1, Baroque Cello Harmonics 2, Baroque Cello Short 1, Baroque Cello Short 2, Kabak Long, Kabak Flick

Wind: Tin Whistle Flutter, Indian Tin Whistle, Quena, Mini Quena, Rajasthani Tin Flute Long, Rajasthani Tin Flute Short, Shawm, Low Tibetan Horn Long, Low Tibetan Horn Short, High Tibetan Horn Short

Percussion: Reco Reco Strike, Bass Drum Strike F, Bass Drum Strike MF, Bass Drum Roll, Repinique Drum Hit 1, Repinique Drum Hit 2, Frame Drum Mallet Strike F, Frame Drum Mallet Strike MF, Frame Drum Mallet Strike P, Clapping Sticks 1, Clapping Sticks 2, Pandeiro Hit, Bata Top Hit, Bata Bottom Hit, Bombo Close Hit, Bombo Far Hit, Djembe Center Hit, Djembe Rim Hit, Amazonian Drum Hit, Ocean Drum Hit, Llamador Hit

Voice: Voice Long F, Voice Long MF, Voice Long P, Voice Short F, Voice Short MF, Voice Short P, Treble Gamba Long Left, Treble Gamba Long Right, Treble Gamba Pizz

Hybrid: Spring Bell Bowed, Cymbal Bowed F, Cymbal Bowed MF, Cymbal Bowed P, Reco Reco Bowed
Mac:
macOS 10.11 or higher
Apple Silicon compatibility
64 bit
Windows:
Windows 10 or higher
64 bit
Required Registration:
Mntra Instruments products require you to register with the manufacturer at www.mntra.io to activate your license.
This product requires an activation!
An internet connection is required to authorize / activate the product.