Ethnic Instrument Collection
Create a musical journey for your audience by immersing yourself in cultures from all around the world with the help of these motivating couples. Let the pairs of arpeggiators put actual compositional power at your fingertips by releasing the potential of these instruments, which are frequently not present in the same musical worlds. The ORIGINS BUNDLE VOL. 6–10 combines 10 exquisitely recorded instruments into 5 captivating sets, each driven by a separate arpeggiator to produce distinctive rhythms and patterns.
With the ORIGINS BUNDLE VOL. 6–10, unleash your creativity! Take your sound to the next level with the help of its streamlined controls, a famed Multi Arpeggio Designer, and a simplified musical journey.
WHAT THIS BUNDLE INCLUDES
The ORIGINS BUNDLE includes 10 wonderful playable solo ethnic vst instruments, combined in 5 instrument-pairs, with beautifully interlocked and entwined pulses, patterns and arpeggios! Exclusive for this bundle and not included in the individual products, you get each instrument as a solo NKI-Instrument for Kontakt.
MULTI-ARPEGGIO-DESIGNER - At the heart of every ORIGINS product is the Multi-Arpeggio-Designer (MAD). Interlocking patterns and expansive soundscapes are generated by two completely customizable arpeggiators, which combine the distinctive tones of the two instruments. Instead of a machine arbitrarily matching notes, the engine is meant to depict a human performance within a true musical context. Simply load one of the 100+ inspiring presets or get as creative as you like by making your own. Bring your musical vision to life with the MAD's many features and controls.

COPY ARPEGGIO DESIGNS BETWEEN ALL ORIGINS INSTRUMENTS - Did you design your own original and brilliant arpeggio pattern and now you want to try it out with other ORIGINS pairs? No problem! Just copy and paste it and use it instantly in any other ORIGINS product.

COLORS MENU - The 12 different color presets give you even more ways to shape your sound. Each color has its own distinct personality and is composed of several impulse responses and a wide range of effects settings. While each MAD preset was designed with a color already assigned, you're free to mix and match them as you like. This allows for more than 1200 distinct combinations and sounds!
10 SOLO VST INSTRUMENTS
In addition to the 5 beautifully matched couples, you will get each ethnic vst instrument as a solo NKI-instrument. This provides you even more flexibility in the selection of your sounds.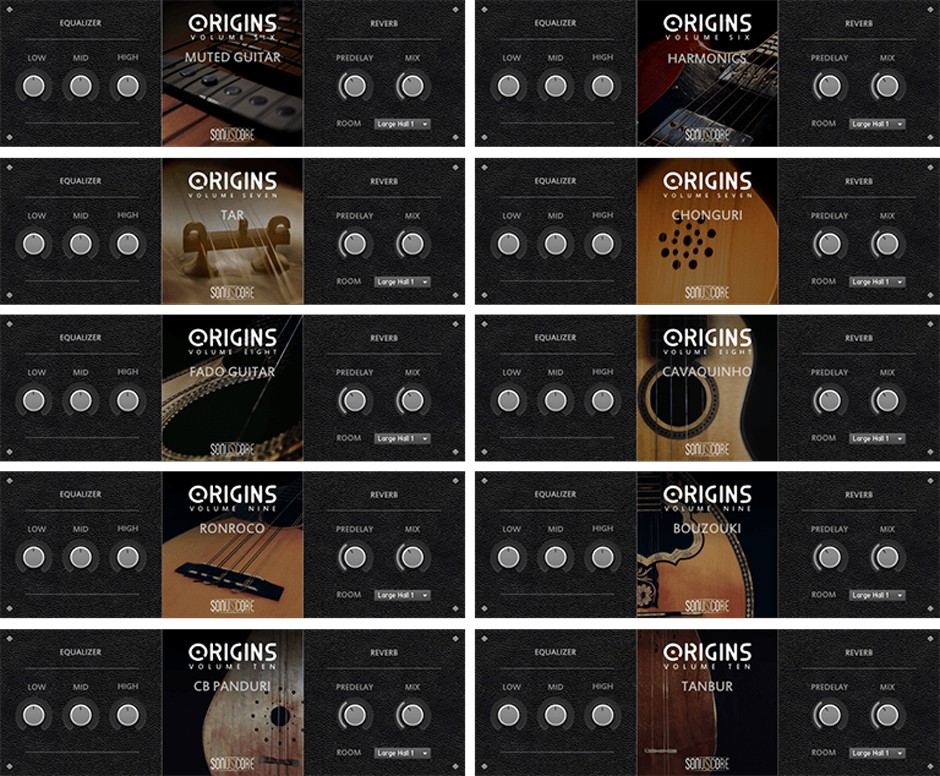 MUTED GUITAR & HARMONICS - Two electric guitars – played and processed totally differently – immediately carry you to a modern world of sound. Opening the whole spectrum: From delicate designed to rich and cinematic patches, it serves the sonority and flexibility, which made the guitar one of the most formative instruments of our time.

TAR & CHONGURI - The Tar's steel strings are plucked with a plectrum, resulting in a very pure and definite sound. Marvelously reflecting the legendary Persian culture, where the Tar has been in existence for hundreds of years.The Chonguri with its tender silk strings however adds warmth, depth and richness to their joint timbre. An ode to the enchanting Georgian mountain landscapes, where the instrument originates from.

FADO GUITAR & CAVAQUINHO - The Fado Guitar, also known as the Portuguese guitar, has twelve steel strings set in pairs. The Cavaquinho is the mother of a whole family of smaller-sized strumming instruments. It brought to the world the ukulele, and still serves as the primary bringer of joy and rhythm in songs across Latin America, especially in Brazil and Venezuela and very important in samba and choro music.

RONROCO & BOUZOUKI - The aggressive strums of this Andean instrument recollect the vast, indomitable landscapes of Patagonia and beyond. Larger than a charango, the Ronroco is double stringed, unique in that the higher pairs double in unison while the lowers double in octaves, creating a mystical, otherworldly sound. The long-necked, metal-stringed style of lute known as the modern Bouzouki was developed in Greece in the early 1910s. The locals modified it to handle steel strings, endowing it with its trademark twangy sound.

CONTRABASS PANDURI & TANBUR - A modern innovation, the Contrabass Panduri was modified from the traditional Panduri to answer the need Georgians had for a low-registry instrument for concert folk performances. It's a true rarity of an instrument with perhaps only 10 existing in the country of Georgia itself. The Tanbur is an ancient Middle-Eastern, long-necked lute-like instrument whose drones and picks have graced musical tradition from the Balkans, Turkey, and Arabia to Persia, India, and Central Asia. It goes by as many names as countries that claim it in their traditions, and is a definite classic instrument to add that "Eastern" sound.
Requires full version of Native Instrument's KONTAKT 6 (version 6.7.1 or higher)

Please notice: This library can not be used with the free Kontakt Player! To use this "Open Kontakt" format, you need a full version of Kontakt, which is included in products such as Komplete or Komplete Ultimate.
The minimum required Kontakt version number for this product is stated in the product description or can be found on the developer's website.
System Requirements:
Mac:
macOS 10.14 or higher
64 bit
Intel Core i5 or Apple M1 (native)
RAM: 4GB (6GB recommended)
Windows:
Windows 10 or higher
64 bit
Intel Core i5 or similar CPU
RAM: 4GB (6GB recommended)
Supported Interfaces:
Mac (64-bit only): Stand-alone, VST, VST3, AU, AAX
Windows (64-bit): Stand-alone, VST, VST3, AAX
Legacy Versions:
If you require legacy installers of Kontakt Player please refer to this Knowledge Base Article.
Required Registration:
Sonuscore products require you to register with the manufacturer at www.sonuscore.com to activate your license. To use Kontakt Player Libraries you also need to register with www.native-instruments.com.
For your own protection this library is provided as individual personalized files including a Digital Water Mark - DWM!