Craft the perfect listening experience with Ozone 11 Standard, the easy-to-use mastering suite.
Discover the power of Ozone 11 Standard, the ultimate mastering collection, elevating your music with cutting-edge processing and AI workflows. Control sonic elements with Transient/Sustain, and achieve dynamic sound using Upward Compress. Find perfect vocal balance with Assistive Vocal Balance. Utilize Delta buttons for subtle mastering moves, correct levels of individual Stems in a stereo mix with Master Rebalance and sculpt a balanced sound with the Stabilizer Module. Ozone 11 Standard is perfect for pros, beginners, and everyone in between, delivering unparalleled enhancements to your music production.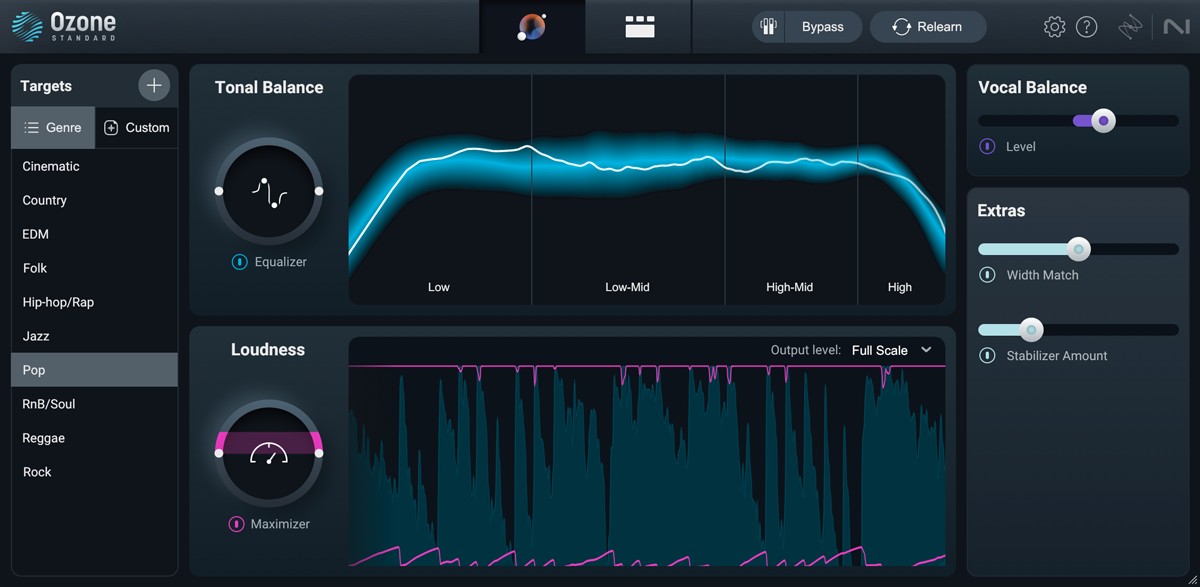 What's new in Ozone 11 Standard?
Transient / Sustain - New dimensions: Unlock your creative potential by separately enhancing the transient and sustain. Get the most out of your masters with this innovative addition to the classic tools, or explore new sonic frontiers by leveling up the latest, cutting-edge Ozone modules.

Assistive Vocal Balance - Find the sweet spot: Achieve the clear, perfectly-balanced vocals that will bring out the emotion in your music. Through analyzing hundreds of top songs, our Master Assistant learned how to sit the vocals in the mix, and with our new AI Vocal Checker, you never have to worry about levels again.

Upward Compress - Level up your masters: Boost quiet sections while preserving fast transients with this novel transparent compression circuit. Increase density and detail with one intuitive slider that replaces complex parallel routing, gain-staging, and level-matching.

Stabilizer Module - Automatic clarity: Sculpt a balanced sound with the new Stabilizer Module, an intelligent and adaptive mastering EQ. Dynamically shape your mix into a clear, natural tone, or tame problem resonance, carve away harshness and smooth transients for better translation across listening environments.

Master Rebalance - Beyond Mastering: Master Rebalance gives you the final say in a mix, letting you correct and change the levels of instruments without needing the original tracks. Give your vocals a small boost to add presence without affecting the midrange, or eliminate muddy low end by slightly lowering the bass guitar. Correct weak-sounding drums saving you from hours of EQ surgery.
Mac:
macOS Monterey (12.6.8), macOS Ventura (13.5)*
64 bit
*Supported on Intel Macs and Apple silicon Macs (Apple M-series chips) in Rosetta 2 & native
Windows:
Required Registration:
iZotope products require you to register with the manufacturer at www.izotope.com to activate your license.
This product requires an activation!
An internet connection is required to authorize / activate the product.