25 Multisound Presets for the free Decent Sampler
A treasure trove of unexpected hybrid sounds: from cozy, organic analog tones to futuristic and abstract digital textures.
Prismic is 25 multisound presets combining 50 evolving hybrid sound textures.

Analog & Digital sounds featuring Additive, Granular, Wavetable synthesis, and Effects Processing.
Soundscapes that are unusual. A collection of sounds that have been multi-sampled and sent to remote, underground soundscapes while blending analog and digital. The sounds range from cozy and organic analog tones to futuristic and abstract digital textures. They are in the cinematic sector (evolving textures, layered hybrid sounds).
Be ready for unexpected textures. Consider Nordic ambiances and cyclical motions created by complementary sounds. It challenges conventional soundscapes by providing a distinctive and frequently otherworldly aural environment.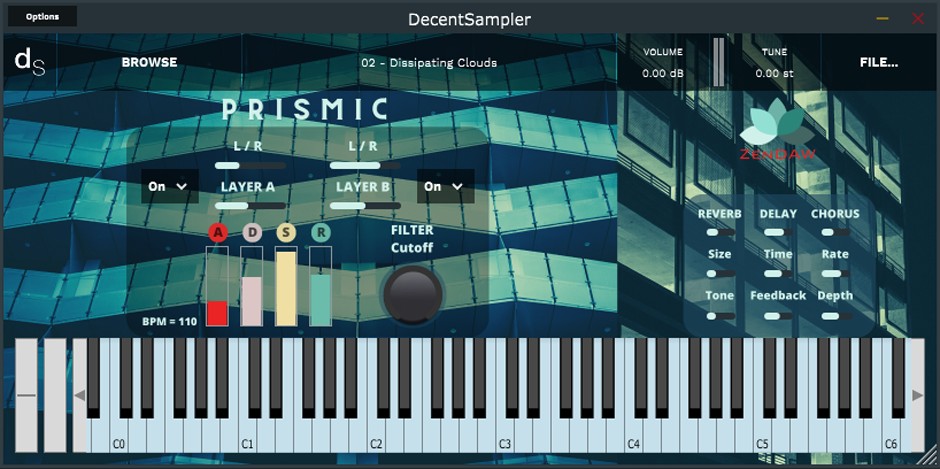 Prismic is composed of sound compositions that combine several synthesizers and are then processed and blipped to produce organic sounds. It has 25 presets total, created from 50 different synthesis combinations.
These hybrid sound textures encourage users to go on a sonic trip that goes beyond conventions and broadens our understanding of sound by weaving an aural tapestry that may carry listeners to unfamiliar worlds. When using the presets, a sustain pedal is strongly advised.
CONTENT & SPECS
Mixing A + B multi-sample layers
25 presets combining 50 evolving hybrid textures
938 individual stereo samples
Sample loops made one by one by hand
Analog & Digital sound sources
Sample processed using different technics and effects
A & B Layers: On/Off switch, adjustable Pan & Volume
Attack, Decay, Sustain, Release
Reverb, Delay, Chorus
24-bit 48 kHz uncompressed PCM wav samples
BMP = 110 (cycling waves, LFOs)
Mod Wheel assigned to Filter Cutoff
Size: 2.40 GB installed
Version: 1.0.1
Expansion/Preset Packs for samplers of the formats listed in the product text.
You need a full version of the respective sampler to use the selected preset pack.
Required Registration:
Zen DAW products require you to register with the manufacturer at www.zendaw.com and my.plugivery.com/redeem to activate your license. To use Preset Expansions you also need to register with www.pulsedownloader.com.
This product requires an activation!
An internet connection is required to authorize / activate the product.