Incredible sound and character
FabFilter Pro-C 2 is a high-quality compressor plug-in for the most demanding engineers. Whether you need subtle mastering compression, an upfront lead vocal, that magic drum glue or deep EDM pumping: Pro-C 2 gets the job done with style!
Pro-C 2 offers eight different, program-dependent compression styles with beautiful sound and character. But there's more! Apart from the classic compressor controls, you also get smooth lookahead, up to 4x oversampling, intelligent auto-gain and auto-release, a variable knee, hold, range, external side-chain triggering, variable stereo linking and mid/side processing, all packed in a beautiful Retina user interface.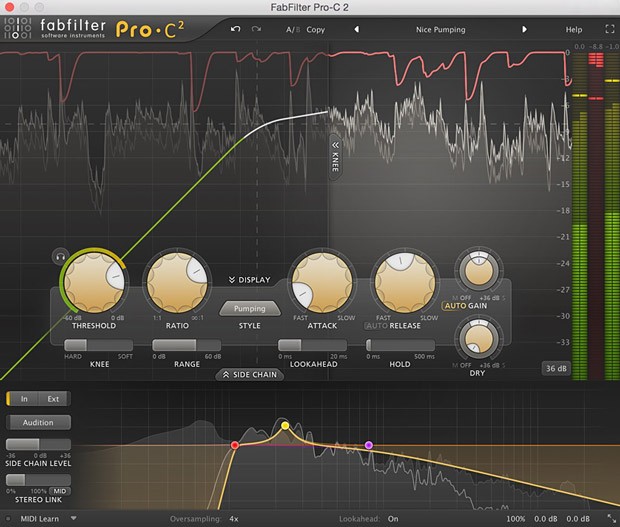 Beautiful interface and optimized workflow
The interface in FabFilter Pro-C 2 offers insightful metering with real-time displays that will greatly improve workflow. The large animated level/knee display visualizes exactly when, why and how compression is applied to incoming audio. Accurate level meters show the exact peak and loudness values, while the circular side-chain input meter turns finding the perfect threshold setting into a trivial task. And the large side-chain EQ controller makes it easier than ever to filter the trigger signal any way you like.
FabFilter goodies
Of course, you also get all the usual FabFilter goodies: perfectly tuned knobs, interactive MIDI Learn, undo/redo and A/B switch, Smart Parameter Interpolation for smooth parameter transitions, an extensive help file with interactive help hints, sample-accurate automation, advanced optimization and much more!
Key features
Eight different compression styles, of which five are new in version 2: Vocal, Mastering, Bus, Punch and Pumping
Gorgeous Retina interface, with (optional) animated level knee displays and accurate peak/loudness metering
Side-chain EQ section, with customizable HP and LP filters, plus an additional freely adjustable filter
Program-dependent attack and release curves
Smooth lookahead (up to 20 ms), which can be enabled/disabled to ensure zero latency processing
Intelligent Auto Gain
Hold (up to 500 ms)
Custom knee, variable from hard knee to a 72 dB soft knee (to enable saturation-like effects)NEW
Auto Release
Super-fast attack times
Up to 4x oversampling
Variable stereo linking and mid/side processing, with mid-only, side-only, M > S and S > M processing.
Audition Triggering option, which enables users to hear on which parts of the audio Pro-C 2 is triggering and how much compression is taking place
Multiple interface sizes: Small, Medium and Large
Range setting, which limits the maximum applied gain change
Mix setting, which scales the gain change from 0% to 200%
Full Screen mode, offering a large level display and side-chain EQ controller
Accurate, large level and gain change meters, with peak and loudness level visualization. The loudness level complies with the Momentary mode of the EBU R128 / ITU-R 1770 standards
Retina support on OS X and High DPI support on Windows
External side chain triggering
GPU-powered graphics acceleration
Stereo and mono plug-ins available
Optional MIDI triggeringNEW
Supports common Pro Tools hardware control surfaces
MIDI Learn
Undo/redo and A/B comparison
Smart Parameter Interpolation
Sample-accurate automation of all parameters
Extensive help file with interactive help hints
For a Free 30-day trial Version please go to "More Infos".
Mac:
macOS 10.10 or higher
64 bit
intel or Apple Silicon processor
Windows
Windows 7-10
32 bit or 64 bit
Product activation:
An internet connection is required to authorize / activate the product.