Expand in style
A good gate/expander is an indispensable tool in any mixing or live situation. FabFilter Pro-G offers everything you could wish for: perfectly tuned algorithms, complete control over the side chain and channel linking, excellent metering and great interface design.
Apart from excellent sound, FabFilter Pro-G also provides very flexible routing. You can choose between mono, stereo or mid/side processing and in expert mode, external side chain input is available with completely customizable channel linking and routing.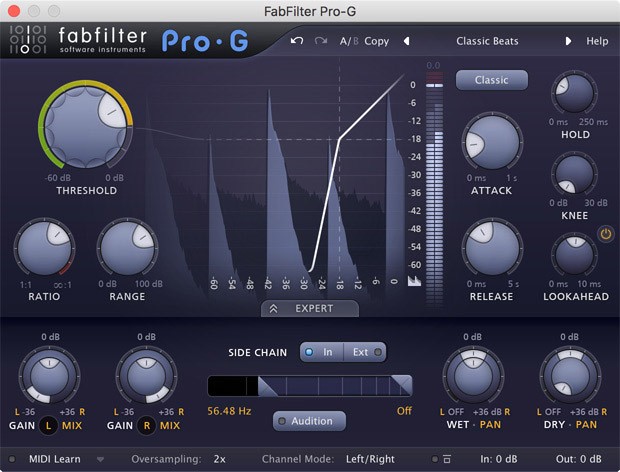 FabFilter Pro-G combines smart input/output level meters with a real-time level display and transfer curve. Everything was specifically designed to give clear feedback on the current gate/expander settings and processing, letting you set them up easily.
FabFilter goodies
Of course, you also get all the usual FabFilter goodies: perfectly tuned knobs, MIDI Learn, Smart Parameter Interpolation for smooth parameter transitions, an excellent help file with interactive help hints, SSE optimization and much more!
Key features
Six meticulously tuned expander/gate algorithms, including upward expansion and ducking
Program dependent attack and release curves
Low CPU usage
Adjustable range, hold time and knee settings
Optional look-ahead time up to 10 ms
Precise and helpful metering, including a real-time level display
Expert mode that offers highly customizable side chain options
Mono, stereo or mid/side processing
Up to four times linear-phase oversampling
Zero-latency operation mode
MIDI triggering: open the gate/expander with your MIDI keyboard
External side chain option
Separate dry/wet level settings
Easy to set up for common gating / expansion scenarios with the included factory presets
GPU-powered graphics acceleration
Double-click text entry of parameter values
Stereo and mono plug-ins available
Supports common Pro Tools hardware control surfaces
MIDI Learn
Undo/redo and A/B comparison
Smart Parameter Interpolation
Extensive help file with interactive help hints
For a Free 30-day trial Version please go to "More Infos".
Mac:
macOS 10.10 or higher
64 bit
intel or Apple Silicon processor
Windows
Windows 7-10
32 bit or 64 bit
Product activation:
An internet connection is required to authorize / activate the product.