Over 100 GB of drums
This bundle contains ProDrummer Volume 1 and ProDrummer Volume 2.
EastWest's ProDrummer not only includes professional drum sounds; the producers, who record and mix the biggest artists in the music business, have included pre-mixed drum kits for use in your compositions using the 'state of the art' tools included in the ProDrummer software.
At EastWest, they're all about the 'sound'; that's the only part that ends up in your track, so, in addition to the producer pre-mixed drum kits, they have included their favorite effects processors including Solid State Logic EQ and Dynamics, Transient Shaper, and the legendary SSL Stereo Bus Compressor; which pretty much lets you create 'anything', and is perfect for EDM or media composers; plus EastWest's Amp Simulator with 80 Amp Presets, and Expanded Convolution Reverb with 726 Additional Reverb Presets. Together these powerful tools enable user customization of the core sounds limited only by your imagination!
Also included in each volume are over 14,000 MIDI drum grooves in different styles. Search for the right grooves for your song with the groove 'search engine' and assemble your song right inside ProDrummer with the built-in sequencer (or drag to your DAW). Use the built-in Velocity Processor to control the dynamic power of the drums. Export the song to your favorite DAW to build the rest of your track, it couldn't be easier!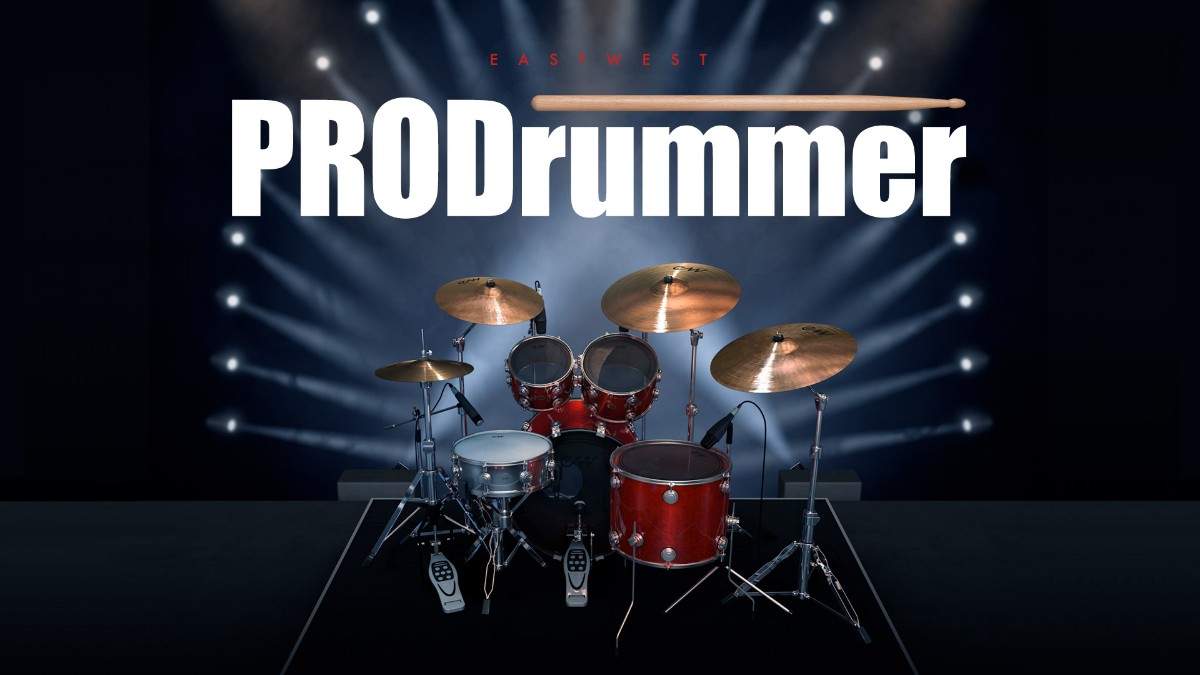 Features
104 drum kits in both volumes

Over 100GBs of perfectly tuned drums performed by Steven Sidelnyk (Madonna, Seal, Massive Attack), and Matt Chamberlain (Peter Gabriel, Bruce Springsteen, Pearl Jam)

Recorded by the #1 mixer in the music business, Mark 'Spike' Stent, 10-time Grammy winning producer Joe Chiccarelli, and co-produced by EastWest's multiple-award winning producer Doug Rogers

Includes Pre-mixed user adjustable Drum Kits from the producers so the drums are ready to be mixed into your track

Includes over 14,000 MIDI grooves categorized by style, length, and tempo

16 channel mixer enables complete control of each drum kit, bleed and room mics

Recorded in 5 studios from dry to very wet

The ONLY drum collection to include authentic SSL EQ, Compression, Transient Designer, and Stereo Bus compressor

Includes an Amp Simulator for further drum processing

Includes a State of the Art Reverb and 726 presets

Includes a Songbuilder sequencer to arrange complete drum tracks inside of the ProDrummer software

Includes Sync to DAW to match the groove tempo in your track

Includes Drag and Drop to copy drums tracks to your DAW

Includes a Drum Velocity Processor and velocity graph to add punch

Includes the ability to swap individual drums within a kit, tune them and stack them (2 snares stacked for example)
This library includes "Opus" as a Sample-Player.
Mac:
macOS 10.13 or higher
64 bit
Quad-Core CPU (Octa-Core recommended)
2,7 GHz or higher
RAM: 16GB (32GB or more recommended)
SSD hard drive (SATA or PCIe)
Windows:
Windows 10 or higher
64 bit
ASIO sound driver
Quad-Core CPU (Octa-Core recommended)
2,7 GHz or higher
RAM: 16GB (32GB or more recommended)
SSD hard drive (SATA or PCIe)
Required Registration:
East West products require you to register with the manufacturer at www.soundsonline.com and with www.ilok.com to activate your license.
This product requires an activation!
You can either "soft" activate on your computer without addditional hardware or transfer the license to an iLok USB dongle which has to be purchased separately. The iLok dongle can be used to run the protected software on different computers. Your licenses can be easily manged using the iLok Licence Manager. To protect your investment against theft or loss we recommend the iLok Zero Downtime protection with TLC.
An internet connection on any computer and a free user-accout at www.ilok.com is required to authorize the product.
Please check with the software manufacturer which iLok version is required at least if you want to use a hardware iLok!