Vintage Synthesis, To The Fourth Power
The Cherry Audio Quadra is a super-accurate and immensely improved emulation of the ARP Quadra synthesizer, originally released in 1978 - a rare and coveted "unicorn" instrument in the synthesizer world, reproduced for the first time as a virtual instrument.
Cherry Audio's Quadra introduces improvements throughout every section, bringing out the full potential of the original ARP design. Each instrument section can now be layered anywhere across the keyboard, and we've increased transposition ranges for most sections.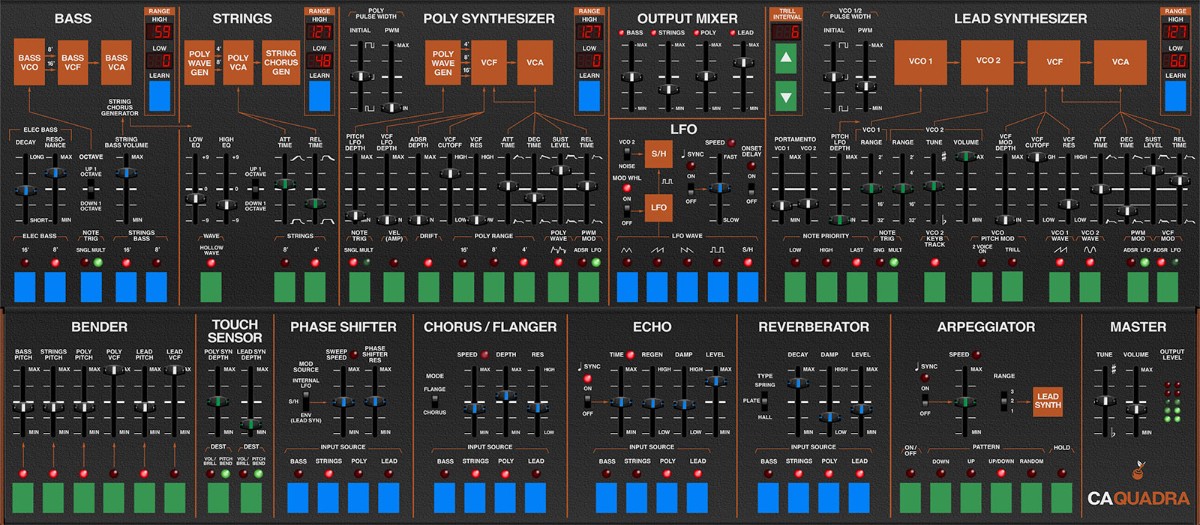 QUADRA Synthesizer Features:
Over 450 presets, programmed by industry veterans
All four sections superbly recreated
Poly Synthesizer includes Drift control for increased analog realism
Independent key range assignment for all four instrument sections
Precisely replicated phase shifter with multiple mod sources
Tempo-syncable LFO
Multi-out instance allows separate processing of each instrument section
Improved arpeggiator section w/tempo sync
Accurately emulated "Touch Sensor" aftertouch section
Highly optimized coding for high performance with ultra-low CPU load
User-adjustable oversampling control
Advanced one-click UI magnification
Full MIDI control and DAW automation for all controls
Mac:
macOS 10.13 or higher
64 bit
Native Apple M1 compatible (including Apple M1 Ultra)
3.4 GHz Quad Core processor or M1 CPU
RAM: 8GB
Windos:
Windows 7 or higher
64 bit
3.4 GHz Quad Core processor
RAM: 8GB
Required Registration:
Cherry Audio products require you to register with the manufacturer at www.cherryaudio.com to activate your license.
This product requires an activation!
An internet connection is required to authorize / activate the product.