Re-Guitar - One guitar, an infinite number of tones
With Re-Guitar, you can emulate many kinds of guitar tones (electric or acoustic), regardless of the solid body guitar model used for recording: keep playing your own guitar and get all the sounds that you like!
The built-in pickup simulator lets you emulate many types of electric guitar pickups without the need to modify your favorite instrument: choose from a selection of popular guitar pickups or create your own.
In addition to the brightness and gain adjustements, the virtual tone and volume pots let you tweak the tone in details. They can even be automated to follow the performance.
If you do not play guitar but are producing music with recorded guitars, you will enjoy "re-guitaring" too: you can now "fix it in the mix" and virtually switch guitars after recording!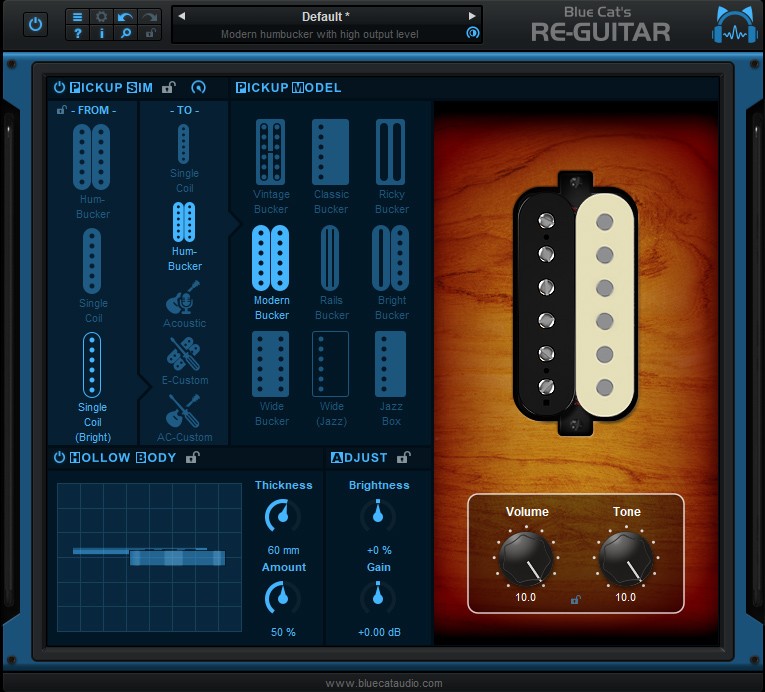 Mac:
macOS 10.9 or higher
Intel processor
standalone: Core Audio-compatible audio interface
Windows:
An SSE2-enabled processor (Pentium 4 or higher).
Windows 8 - 10
standalone: ASIO-, MME- or WASAPI-compatible audio-interface (ASIO recommended)
Required Registration:
Blue Cat Audio products require you to register with the manufacturer at www.bluecataudio.com to activate your license.
This product requires an activation!
An internet connection is required to authorize / activate the product.