Music Production and Recording Software by Musicians for Musicians
Reason 12 is a powerful collection of virtual instruments, effects and production tools that bring musical ideas and amazing sounds to life. Reason 12 can be used as a plug-in in your favorite DAW or as a stand-alone music production tool.
At the heart of Reason is a virtual rack in which all the sounds needed for a particular song are created, from scratch or from Reason's huge sound library. Synthesizers, instruments and effects - as many as you need - Reason covers all needs, whether synthetic, electronic or acoustic. When a rack is built, everything is automatically connected and routed. If you want to go deeper, turn the Reason rack upside down and you're in modular heaven! Here you can experiment and play around until you find the sound you've been looking for by freely wiring audio and control voltage between the devices in the rack. The only limit is your imagination.
With a multi-gigabyte range of synth sounds, sampled instruments, drum kits, loops and effects, Reason's integrated sound bank offers everything you need for any style of music. The integrated browser helps you quickly find and try out thousands of sounds in a huge sound library. Reason 12 includes both the plug-in version (VST, AU) and the standalone music production software Reason.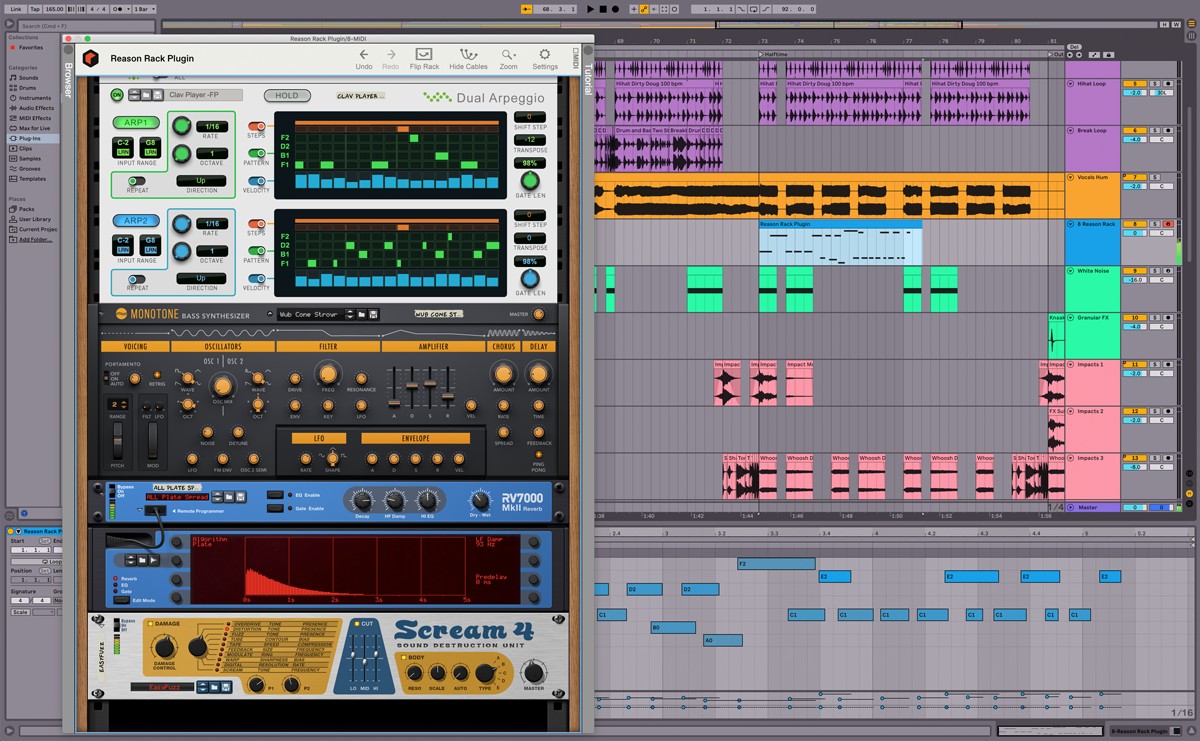 Version 12 Overview:
Reason 12 features a brand new High-Resolution graphics engine for all Reason Rack devices, including all 3rd party Rack extensions. The Reason window automatically adjusts to the screen resolution and can be zoomed to taste. The also new Mimic Creative Sampler takes sampling in Reason Rack to the next level. Mimic brings together Reason's legendary time stretching, transient slice detection and granular audio synthesis to make working with samples as creative and fun as it should be. Already popular as one of the most powerful and customizable devices in the Reason rack, Combinator has once again been reworked from the ground up for custom front-end design and macro control. As a result, Combinator has become a whole new sound design and performance tool that can turn even the most outlandish ideas into reality.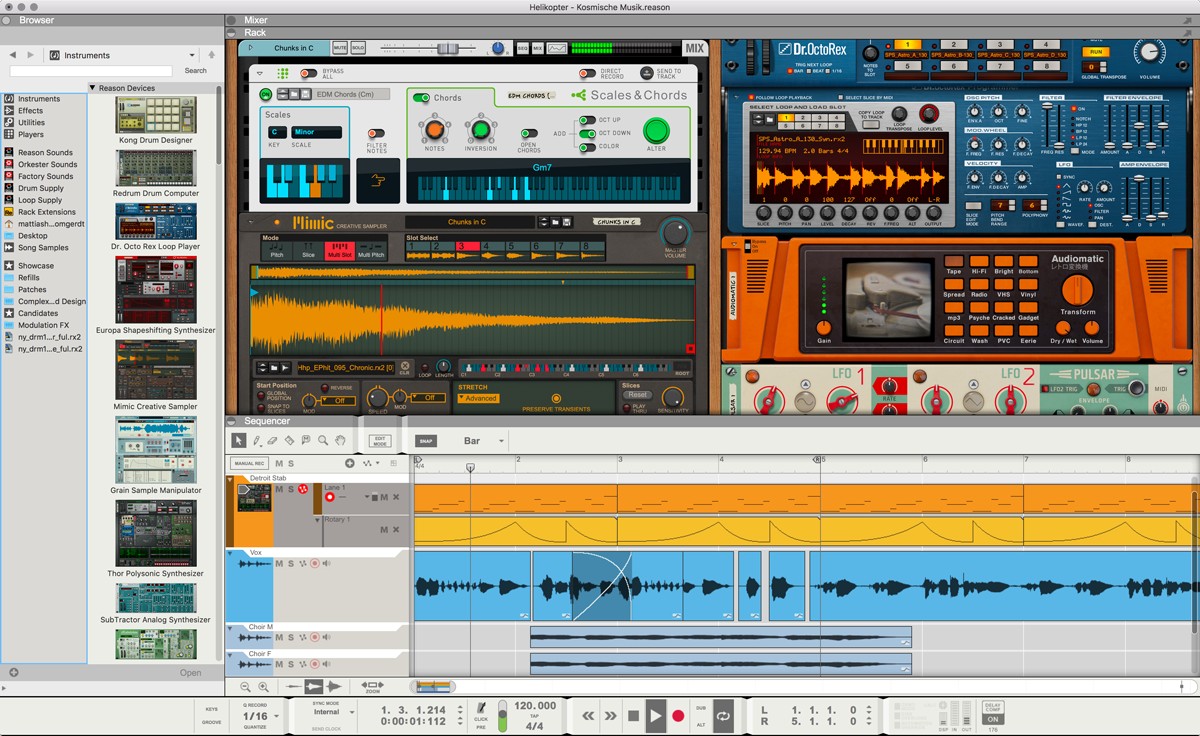 Features:
Huge factory soundbank with more than 29000 instrument patches, loops and samples
18 instruments, 29 effects, 3 MIDI effects, 8 utilities
New graphics engine with zoom function
HiRes graphics for ReasonRack and Extensions
Mimic Creative Sampler
Combinator now with macros and front panel editor
Revised browser with instant display of search results
Reason Rack and effects can be integrated into external DAWs as AU, VST and AAX plugins
ProTools support
Reason Rack plugin with midi out and drag midi notes
Delay compensation
Opens songs and synth patches from Reason Compact
Rack Extensions
Ableton Link support
Unlimited audio recording and instrument channels
Full-featured, high-precision multitrack sequencer with Blocks mode
Audio comping tools
High-quality stretching & real-time audio transpose
Pitch editing mode for optimizing vocal recordings
Audio slicing and audio quantization
Conversion of recorded or imported audio files to REX-L
MIDI controller output control of synths, samplers and keyboards
MIDI clock output - synchronization of hardware with Reason
Advanced export of individual mixer channels as audio stems, including effects and tempo track
Live sampling on all sampler devices
Support for external MIDI controllers and hardware control surfaces
Support for all popular file formats - from Wave and AIFF to mp3 and more
Real-time sample rate and bit conversion allows easy import of any audio data
Multicore CPU support (including Apple M1) and 64-bit compatibility
Advanced modeled mixer with complete channel strip for each instrument and audio channel
Mac:
macOS 10.13 or higher
64 bit
Intel or M1/M2 multi-core processor
RAM: 4GB (8GB recommended)
Windows:
Windows 10 or higher
64 bit
Intel or AMD multi-core processor
RAM: 4GB (8GB recommended)
Required Registration:
Reason Studios products require you to register with the manufacturer at www.reasonstudios.com to activate your license.
This product requires an activation!
An internet connection is required to authorize / activate the product.