Correct timing and pitch, create double tracks and ADR
** Upgrade for registered owners of Revoice 1 or 2
Revoice Pro 3.3 is in a class of its own as a time and effort saver in audio post-production, quickly and easily doing what even experienced editors consider either difficult or downright impossible. Revoice Pro's unique APT (Audio Performance Transfer) process can automatically and instantly transfer the timing, pitch, intonation or loudness features from one signal to another. This is perfect for matching the timing and tuning of double tracks or syncing ADR. And because you control the tightness, you keep it sounding natural.
When double tracks haven't been recorded, Revoice Pro's Doubler process creates incredibly natural-sounding ones. And now, with Revoice Pro 3.3, the new Warp processes let you manually adjust signal timing and pitch, easily, quickly and with unsurpassed sonic transparency and quality. Lastly, the workflow with most DAWs is now faster and easier than ever, using either the simple Revoice Pro Link plug-ins or fast and familiar drag-and-drop or copy-and-paste operations. Together, these features provide a unique one-stop, time-saving solution for your creative and corrective audio manipulation tasks. Revoice Pro works with monophonic instruments as well as voices and runs with Windows and Mac OS X DAWs.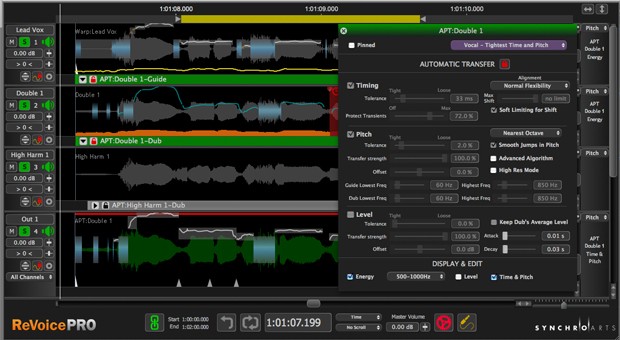 What's new in Revoice Pro 3.1
Manual Pitch Editing Tools: with hot keys support
Track Group Controls: supports group creation, display, solo and mute
New APT functions: Align using pitch values (for legato phrases).
A/B Comparison: of different process settings on output audio
Multicore background processing: speeds up large session editing
Interface and Operational Improvements: more intuitive and faster
Here's what's new in Revoice Pro 3.2
Improved Manual Warp (Pitch and Time) Editing Tools: Real-time preview of adjustable note against selectable reference tracks
Tuning and Scale Grids: Select and display with adjustable reference frequency
Bar & Beats Display: Tempo grids can be displayed and loaded from MIDI files
Improved Doubler: New factory presets, automation functionality and formant range increases
Improved DAW integration and workflow: With Studio One, Pro Tools, Digital Performer and others
Here's what's new in Revoice Pro 3.3
Major improvements to level and pitch editing - sibilants are automatically identified and instantly adjustable.
New processing intensity display - showing the amount of editing the APT and Warp processes apply to the signal.
Selection-based processing in Logic Pro 10.3 - new workflow transfers audio instantly to Revoice Pro.
High speed, automated workflow for Studio One 3.3.4 - copy and paste multiple tracks into Revoice Pro, automatically process, and return audio to Studio One in two clicks.
Further improvements in workflow and audio processing quality
Audio Performance Transfer (APT) Process
The APT Process transfers user-selected timing, pitch and level characteristics of a good "Guide" audio signal to one or more audio signals - automatically. For creating tight vocals or instruments, dialog replacement and modifying voice inflection.
Vocal and instrumental double tracks: Automatically creating adjustably "tight" double (or multiple) tracks from multiple takes

Dialog replacement: Modify the timing and pitch of one actor's takes to match another take or even a different actor

Fix corrupted live vocal recordings: Replace and syncing problematic vocals with clean retakes

Voice-overs: Change the vocal inflection using an audio example created by director or editor.

Transfer a performance: Use a one vocalists performance to modify another vocalist's performance
Doubler - For Vocals and Instruments
The Doubler instantly creates natural-sounding mono and stereo double tracks!
Creating realistic mono and stereo double tracks from vocal or instrument recording when no double track is available.

Create a wide range of special modulation effects
Warp for Voice and Monophonic Instruments!
Warp Processes: Manually adjust Timing, Pitch and Level - Simple, fast adjustments with maximum quality
Improving or altering the pitch and/or timing of tracks that will be used as Guide tracks in APT processes.

Correcting or altering the pitch of a harmony track before using it as a Dub input to an APT process that will have only its timing aligned to the Guide. The output of this APT process can then become a harmony Guide track for automatically aligning the time and pitch of double tracks of this harmony part.

Manually adjusting the pitch and time of a solo vocal or any voice recording that is not being used with any other vocal track.

If required, making minor adjustments to the features in the output of an APT process.

Modifying signal levels
Mac:
macOS 10.7 or higher
Native Apple Silicon (M1) support
64 bit
Intel processor
Windows:
Not compatible with:
Digital Performer
Reason
Cubase Elements
Required Registration:
Synchro Arts products require you to register with the manufacturer at www.synchroarts.com and with www.ilok.com to activate your license.
This product requires an activation!
This instrument requires an iLok 2 Key for activation - iLok 1 not supported!
This USB protection device is not included in the box of this collection, it is a separate item you have to buy additionally. So you'll have to order at least one iLok Key with your first purchase. If you already own another iLok 2 protection device you can use it for this instrument, too. Each iLok 2 dongle can store up to 500 product licenses. Licenses can be manged easily using the iLok Licence Manager and for protection against theft or loss we recommend you the Zero Downtime Protection with TLC

Additionally an internet connection on any computer and a free user-accout at www.ilok.com is required to authorize the product.