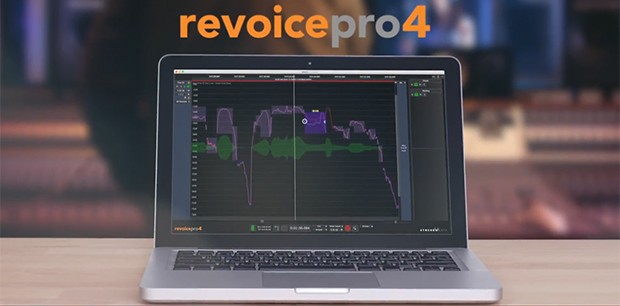 The ultimate toolbox for timing and pitch adjustment v4.3
Upgrade* for registered owners of Revoice Pro 3
Crossgrade ** additional license for registered owners of VocAlign Ultra
Crossgrade *** additional license for registered owners of VocAlign Project 5
When ordering a Crossgrade, please enter your iLok ID (no password!) where VocAlign Project 5 or VocAlign Ultra is activated, in the message field of the shopping cart.The RevoicePro 4 license will be deposited in the same iLok account.
Please allow up to one working day for delivery of Upgrade/Crossgrade licenses, because they need to be ordered individually
Since its initial launch in 2012, Revoice Pro has become one of the most valuable tools for vocals, dialog and instruments for audio engineers in both the music and post production industries.
Its users do not only appreciate the time they save on editing tasks, but also the program's ability to retain the natural sound and feel of the original recording, even while performing significant adjustments to the audio. Revoice Pro 4 raises the bar further with its over 70 new features and improvements.

The new Vibrato Warp function intelligently identifies the singer's vibrato characteristics, and retains them—even when time stretching or compressing their voice. With other time-modifying applications, the vibrato speeds up or down when the length of a part is altered.

Numerous graphic and workflow improvements, such as user-definable key commands, have also been implemented. Revoice Pro is now ARA 2 compatible, which means significantly improved integration with ARA 2-ready DAWs. And last but not least, Revoice Pro 4 users now have the choice to use
iLok Cloud based licensing for authorization, meaning there's no need for an iLok USB Key to run or try the application.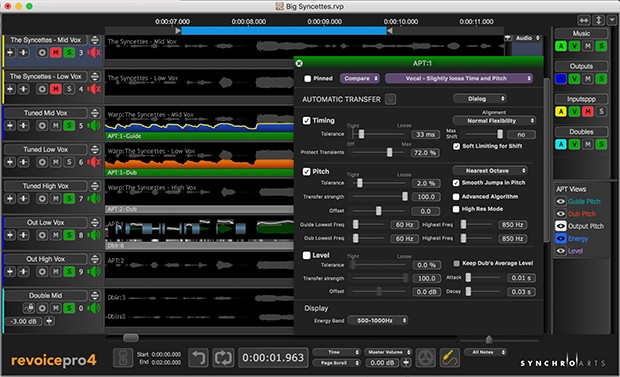 Revoice Pro's unique Audio Performance Transfer (APT) function can clone the timing, pitch and level of one audio track and apply it to another (or several others)—perfect for tightening up multi-layered vocal tracks, and for dialog replacement in film. Revoice Pro also offers comprehensive manual adjustment of timing, pitch and vibrato, a de-esser and a fantastic sounding doubler. With Revoice 4, this unique feature has been further refined, and users can choose between APT Music and Dialog modes depending on the task at hand, for even better results when aligning the pitch, time or level of one track to another.
Vocal and instrumental double tracks: Automatically creating adjustably "tight" double
(or multiple) tracks from multiple takes

Dialog replacement: Modify the timing and pitch of one actor's takes to match another take or even a different actor

Fix corrupted live vocal recordings: Replace and syncing problematic vocals with clean retakes

Voice-overs: Change the vocal inflection using an audio example created by director or editor.

Transfer a performance: Use a one vocalists performance to modify another vocalist's performance

When double tracks haven't been recorded, Revoice Pro's Doubler process creates incredibly
natural-sounding ones. The Warp processes let you manually adjust signal timing and pitch, easily, quickly and with unsurpassed sonic transparency and quality.
Creating realistic mono and stereo double tracks from vocal or instrument recording when no double track is available.

Create a wide range of special modulation effect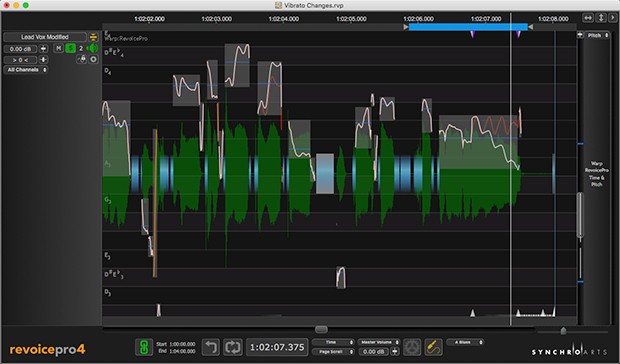 Warp for Voice and Monophonic Instruments!
Warp Processes: Manually adjust Timing, Pitch and Level - Simple, fast adjustments with maximum quality
Improving or altering the pitch and/or timing of tracks that will be used as Guide tracks in APT processes.

Correcting or altering the pitch of a harmony track before using it as a Dub input to an APT process that will have only its timing aligned to the Guide. The output of this APT process can then become a harmony Guide track for automatically aligning the time and pitch of double tracks of this
harmony part.

Manually adjusting the pitch and time of a solo vocal or any voice recording that is not being used with any other vocal track.

If required, making minor adjustments to the features in the output of an APT process.

Modifying signal levels
Features and Inprovements in Version 4.3
Smart Align - Revoice Pro 4.3 is the first product to feature SmartAlign, Synchro Arts' technology which intelligently uses the presence of audio in your Dub track, instead of the Guide, to decide when an alignment should start and end. This is a huge timesaver as you can now transfer whole complex vocal arrangements into Revoice Pro and SmartAlign will calculate which section of the guide track your dubs should be aligned with. No more need for any manual pre-editing, let Revoice Pro 4 do all the hard work for you.

Logic ARA Compatibility - ARA or Audio Random Access is a revolutionary audio plug-in extension that enables unprecedented instant communication between ARA-enabled plug-ins and DAWs. There is now an ARA2 version of the Revoice Pro 4 Link AU plugin which enables your audio to be instantly captured, processed and returned to Logic Pro. Using Revoice Pro 4 with Logic Pro has never been easier, faster or more intuitive.

Improved Pro Tools Link & Quick Plugins - In Pro Tools, Revoice Pro 4 uses Audiosuite plugins to import and export your audio quickly and easily. With 4.3, Synchroarts have updated the Quick APT and Quick Doubler plugins so you can save time by selecting processing presets without opening the main Revoice Pro 4 application. In addition, the Revoice Pro 4 Link plugin has been improved, so you can create a Revoice Pro session which can be saved and reloaded to keep your adjustments and edits for future use. It's also possible to capture audio files and create processes from within the Link plugin too.

Two Activations Per License - A frequently requested feature in the past, Revoice Pro 4.3 comes with two activations per license, so you can use the software on any two machines at the same time. You asked, Synchro Arts delivered.

Sync Points - If you run into complex alignment problems, Revoice Pro 4 has some advanced editing tools to solve tricky issues fast. Sync Points are user-defined target points on your guide and dub tracks which VocALign will try to ensure remain in sync when processing. Sync Points were included in Revoice Pro 2 but have been improved and re-added to this latest version of Revoice Pro.

Legato Audio Support - Pitch can be used to help the time alignment, this can be useful in legato audio as energy-based alignment may not be able to find the features it needs to accurately align your audio.

Offest Indicators - Blue lines are displayed on the guide and dub tracks. The lines move with the mouse pointer and show the corresponding position in the tracks calculated by the APT.
Mac:
macOS 10.7 or higher
Native Apple Silicon (M1) support
64 bit
Intel processor
Windows:
Not compatible with:
Digital Performer
Reason
Cubase Elements

This product requires an activation, you can either choose between using an iLok dongle (iLok 2 or iLok 3) or the iLok Cloud authorization process.
The iLokDongle can be used to run the protected software on different computers. Your licenses can be easily manged using the iLok License Manager. A internet connection on any computer and a free user-accout at www.ilok.com are required to authorize the product. To protect your investment against theft or loss we recommend the iLok Zero Downtime protection with TLC.
*This USB protection device is not included with your order, it is a separate item you have to buy additionally.
iLok Cloud requires an iLok account, which can be setup for free at www.ilok.com. Please install the latest version of iLok License Manger so you can manage your authorizations and active an iLok Cloud session. An active internet connection is required for all iLok Cloud sessions.
Please check with the software manufacturer which iLok version is required at least if you want to use a hardware iLok!