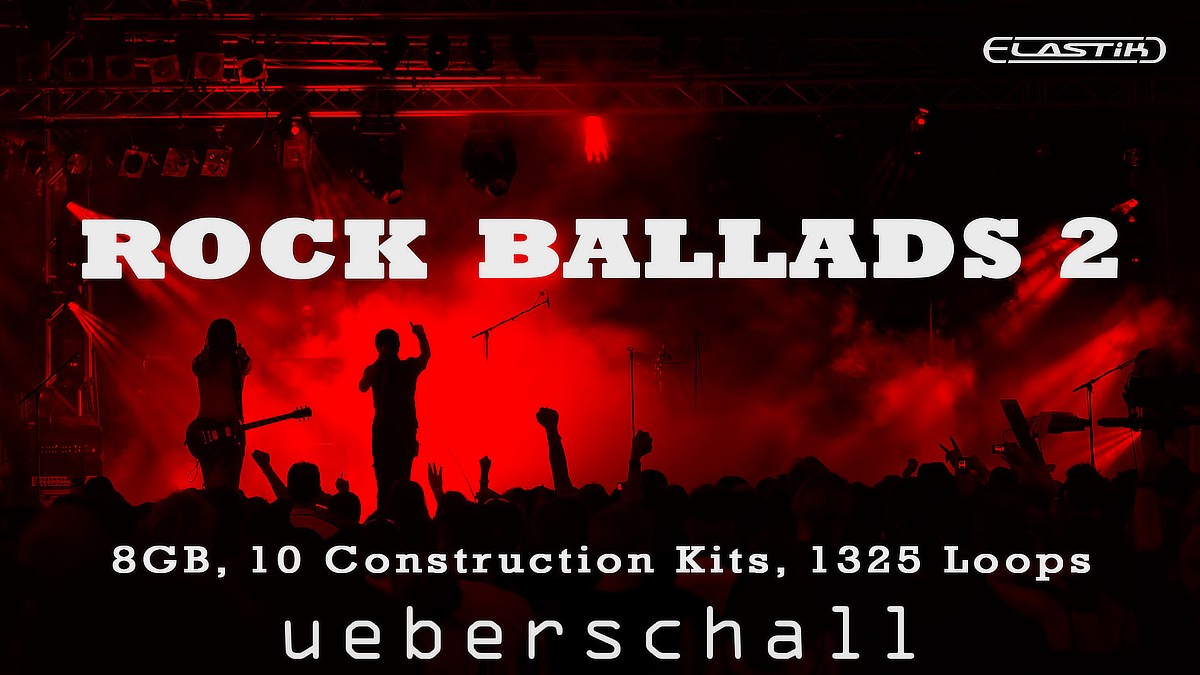 Radio-Ready Arrangements
If you need to create that perfect ballad, whether to slot into an album project, or for that emotional music-to-picture cue, Rock Ballads 2 is packed with guitar-based inspiration. With an abundance of classy clean and overdriven electric guitar parts, the library also contains all the necessary drum, bass and acoustic guitar elements to build a complete musical arrangement with ease. String, synths, organ and electric piano loops are also included to add additional textures.
Classy Rock Ballads Packed With Guitar Goodness
Rock Ballads 2 features 10 huge construction kits. With 8GB of samples spread across over 1300 loops, each construction kit features multiple song sections including intros, outros, verse, chorus and 'alternative' sections that can form a bridge, pre-chorus or middle 8 within your arrangement. Each song-section features multiple guitar parts. For the electric bass, electric guitar and acoustic guitar, each phrase is provided as a mic'ed version and a DI. The former gives you instant access to a perfect ready-to-mix sound, while the latter allows you to add your own amp simulations and ambience for additional flexibility. Drum parts are provided as both pre-mixed loops for immediate use and as individual loops for kick, snare, hihat, toms, cymbals and overheads so you can fully customize your drum mix if required.
Super-Slick Construction Kit Format
Original tempos range from 50 to 100bpm and various keys have been used. However, both can easily be adjusted via Elastik's high-quality time, scale and pitch-stretching features.
Moods Spanning Emotional To Anthemic
The musical moods span the emotional to anthemic. If you are looking for big, classy rock ballads, infused with plenty of guitar hooks, then Rock Ballads 2 ticks all the boxes. Build your own radio-ready arrangement with ease and then simply add your own production elements to complete the job.
Elastik Features
Ueberschall's Elastik is the ideal loop player. It offers advanced time-stretching, pitch-shifting and scale syncing. Features like resample, reverse and multimode filter make sample manipulation quick and easy. The player's attribute-based browser makes it possible to locate specific sounds not only across Rock Ballads 2 but all installed Elastik libraries within seconds.
Free ELASTIK 3.6 Loop-Player is included in this product.
With its intuitive Loopeye editing environment, the high-quality pitch, key, scale and tempo manipulation algorithms and the huge collection of Elastik-ready sample libraries, spanning almost every conceivable musical genre, Elastik is a powerful workstation for loop-based musicproduction. It can be used either as a standalone application or as plugin within almost any DAW on both Windows and macOS platforms.
Mac:
macOS 10.12 or higher
Apple Silicon Support
64 bit
Windows:
Required Registration:
Ueberschall products require you to register with the manufacturer at www.ueberschall.com to activate your license.
This product requires an activation!
An internet connection is required to authorize / activate the product.