A drum and percussion brushstroke across the life and work of legendary engineer/producer/mixer Frank Filipetti.
Whether you grew up in the '80s, '90s or the 2000s, you can't have escaped hearing music touched by the audio genius of Frank Filipetti. From Foreigner's "I Want to Know What Love Is," The Bangles' "Eternal Flame," Carly Simon's "Coming Around Again" and James Taylor's "Hourglass" to jaw-dropping surround mixes, beautifully captured original cast Broadway productions as well as soundtracks for blockbuster movies – he's done them all. For more than five decades and counting, Filipetti has shaped the sound for the absolute top tier of the industry in genres spanning the entire range and, what's more, excelled in them all. If anything, his seven Grammy Award wins and ten nominations are a testament to that.
This SDX expansion for Superior Drummer 3 includes a broad selection of drum kits and percussion instruments handpicked to paint a brushstroke across Frank's entire catalogue and ultimately represent a cross section of his remarkable career. Recorded in both the main room as well as two different-size isolation booths of Filipetti's choice studio, Power Station New England, the natural reverberation in this SDX covers the entire spectrum – from ambient and loud down to tight, intimate and subtle. In addition, a 5.0 surround microphone setup was kept intact between all rooms captured, giving you endless options to mix drums within a scope limited only by your imagination.
Aside from the drums and percussion, libraries of mix-ready presets engineered by both Frank as well as the Toontrack sound design team are provided. On top of that, one custom set of MIDI files dedicated to each kit as well as a general collection of percussion patterns are provided, allowing you to get started with grooves and sounds that instantly bring out the heart and soul of the instruments.
Every meeting, connection, personal journey started or completed, bridge crossed or hurdle overcome has a story attached. Combined, this string of stories weave the intricate patchwork of fleeting episodes that constitute what we call life. In that, songs play a pivotal role – not only as musical markers to reminisce to, but they also help us connect on an emotional level. Here are Frank Filipetti's stories, told in the shape of six drum kits that each portrays a mile marker in his life's work.
We all have stories to tell. For the next one of yours, say it with a kit.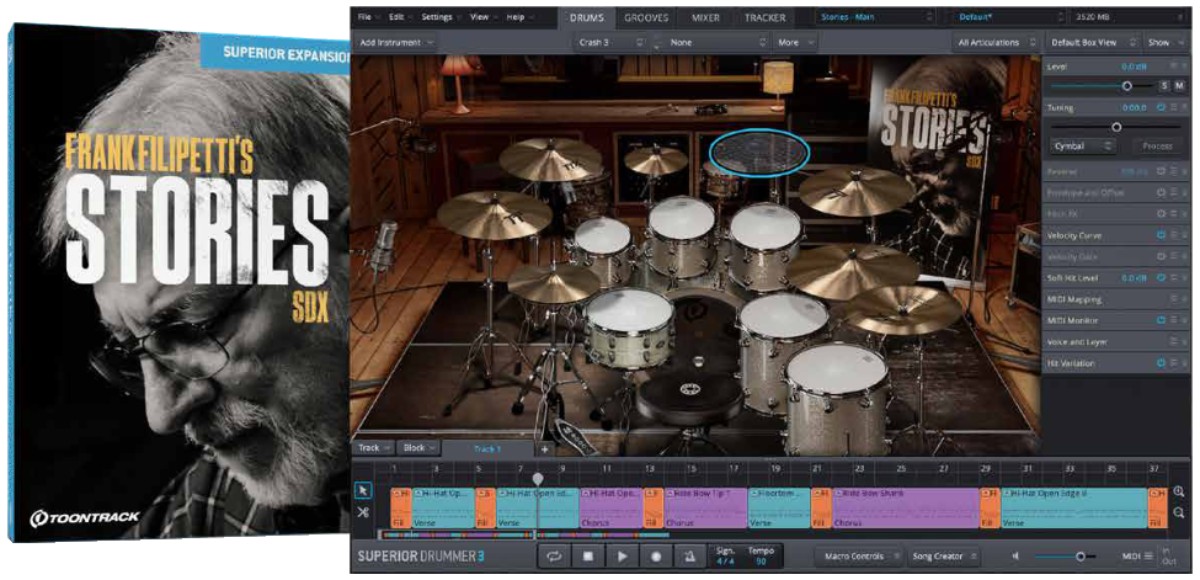 Feature Sportlight
Soundlibrary extension for Superior Drummer 3.

Recorded and produced by engineer legend Frank Filipetti (James Taylor, Foreigner, Korn, Mariah Carey, Billy Joel etc.), Sampling-/MIDI-Drummer Norman Garschke

Recorded at Powerstation New England Studio, Connecticut/USA

Recorded in 3 recording rooms (MAIN, ISO Booth A, ISO Booth B)

Contains 6 complete drum sets in 9 configurations and a large selection of additional snares, bassdrums, cymbals

Drums sampled with sticks, hotrods and mallets

Includes a huge percussion library with 34 individual instruments (bass drum, timpani, congas, bongos, gong, wood/jamblocks, cowbell, shaker, tambourine, triangle, cabasa, maracas, triangle, cymbals, chimes, agogo bell)

13 bass drums, 16 snare drums, 5 hi-hats,13 crash cymbals, 1 splash/1 china/1 stack cymbal, 27 toms

Contains 61 mix-ready presets personally created by Frank Filipetti and Toontrack

Recorded with 5 additional room microphones for perfect playback in stereo or up to 5.1 surround systems

Recorded with additional amp/speaker mics for bass drum and snare

Contains a very large selection of individually recorded genre-typical MIDI drum grooves/fills + percussion (900+ files) in the style of legendary album productions by Frank Filipetti - designed and recorded by studio drummer Norman Garschke
To use this product, an installed and activated Version of Superior Drummer 3 (or higher) is required.
Required Registration:
Toontrack products require you to register with the manufacturer at www.toontrack.com to activate your license.
This product requires an activation!
An internet connection is required to authorize / activate the product.