Sonsig Rev-A - Professional reverb sound
Sonsig Rev-A allows anyone to easily and quickly get a specific sound effortlessly! There are no hidden settings or menu diving necessary. All of the available parameters' current settings are visible right in front of you, which results in an intuitive workflow with quicker and better adjustments.
Powerful highlights
In development of this reverb processor, Relab experts fine tuned their latest algorithms. It was a tedious process, but end result is nothing short of amazing. Quality that you have yet to experience, sounds that place you within real and unreal spaces with a new level of lucidity, and sounds that redefine the meaning of "lush reverb".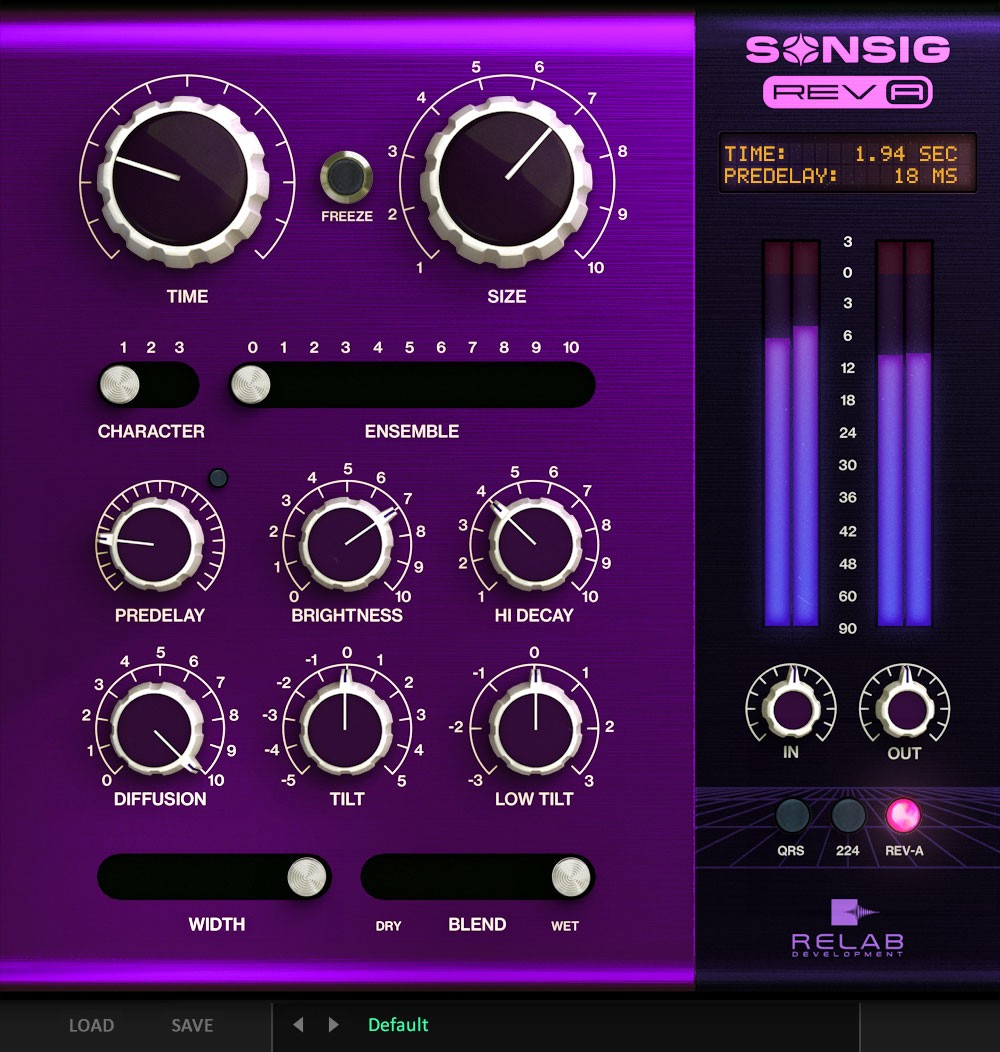 New technology
Combining the strengths of various high-end units, like 224XL, QRS etc., modulated by a complete Solina ensemble, results in one of the most complex hybrid structure ever developed.
Outstanding audio quality
Dial in small rooms, lushes halls and realistic ambiences with uncompromising and unparalleled sound quality.
Fast workflow and premium presets
Quickly tweak and sculpt your own sound in seconds with ease. Mix with over 200 of the best collection of golden ears presets.
Mac:
macOS 10.9 or higher
Intel processor
RAM: 2GB
Windows:
Windows Vista or higher
Core 2 Duo or higher
RAM: 2GB
Required Registration:
Relab Development products require you to register with the manufacturer at www.relabdevelopment.com and with www.ilok.com to activate your license.
This product requires an activation!
You can either "soft" activate on your computer without addditional hardware or transfer the license to an iLok USB dongle which has to be purchased separately. The iLok dongle can be used to run the protected software on different computers. Your licenses can be easily manged using the iLok Licence Manager. To protect your investment against theft or loss we recommend the iLok Zero Downtime protection with TLC.
An internet connection on any computer and a free user-accout at www.ilok.com is required to authorize the product.
Please check with the software manufacturer which iLok version is required at least if you want to use a hardware iLok!