Control panning with the palm of your hand
By connecting a mobile device and its motion sensors with any DAW, Sound Particle's patent pending technology offers a highly efficient and intuitive way to control sounds with the palm of your hand. Every movement you can imagine is possible, easier than ever - and just a touch away.
Space Controller Standard offers Bluetooth and WiFi connectivity , audio in any format, and is perfect for mixing stages.
Revolutionize the way you pan your sounds
Panning with knobs in stereo is perfectly fine. However, when working with surround or 3D sound, even when using joysticks, it's much harder to get the results we're looking for. Space Controller is a plugin and an app, that together allow you to pan sound from stereo to any immersive format, either in a home studio or mixing stage.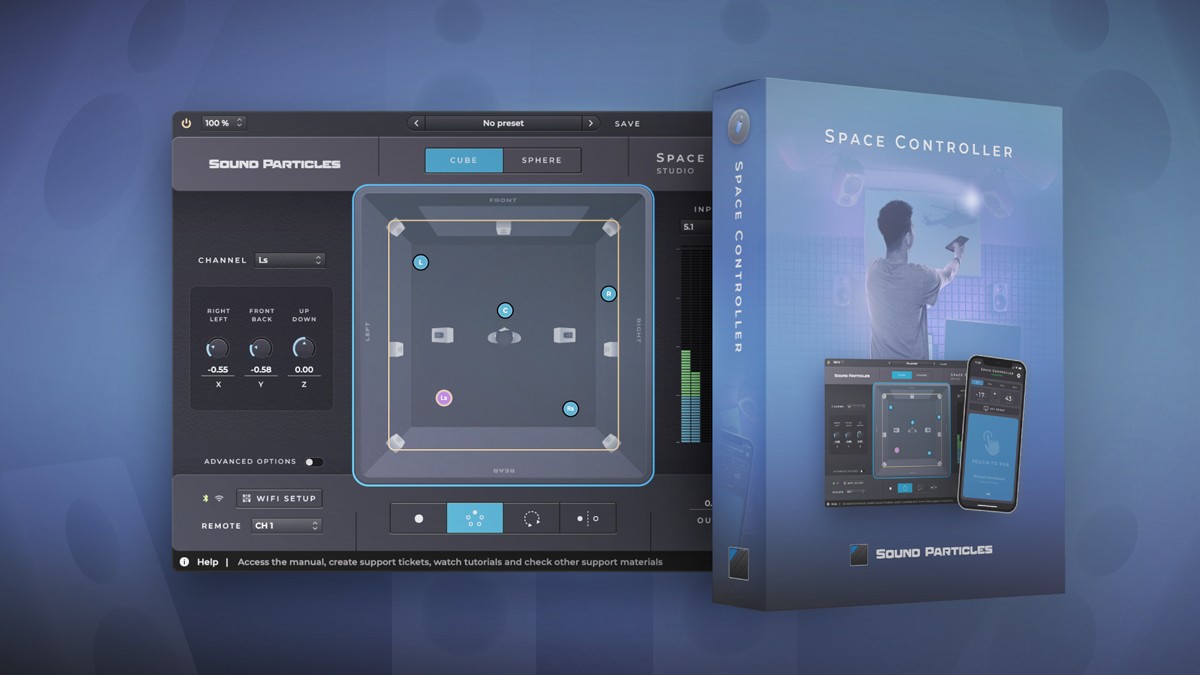 Features
LFE Support - It is possible to control the level of the LFE channel

Dolby Atmos - Create automation data with Space Controller and copy/paste it to a Dolby Atmos-compatible panner

Size - Space Controller allows changing the size of sources, which will control the width of each sound. Higher sizes will make a sound reach for more speakers.

Locks - It is possible to individually hold each position-related parameters, either as coordinates in Cube mode or angles in Sphere.

Modes - Choose from four different modes - Mono, Channels, Rotation and Symmetric - to place and move each source independently, control and rotate the entire sound field, or even use the Symmetric Mode to control the width of a 5.1 recording.

Cube vs Sphere - Space Controller offers the possibility of panning either in Cube or Sphere Mode, depending on your preferred workflow.

Independent Input/Output - Space Controller enables you to choose both the input and output formats independently of each other and to mute certain input and output channels within each format.

Multiple Views - It is possible to select between top and rear views to get consistent visual cues of where the sound is being placed.

Stereo, Multichannel and Immersive Support - From stereo to 5.1, from HOA to Binaural, from 7.1 to Dolby Atmos, Space Controller provides several output options for the panner.

iPod Support - Do you want a cheap dedicated controller for your studio? You can use an iPod touch instead of a mobile phone.
Mac:
macOS 10.9 or higher
64 bit
Apple Silicon compatible
2-Core CPU or higher
RAM: 4GB
Windows:
Windows 7 or higher
64 bit
2-Core CPU or higher
RAM: 4GB
Required Registration:
Sound Particles products require you to register with the manufacturer at www.soundparticles.com to activate your license.
This product requires an activation!
An internet connection is required to authorize / activate the product.