Virtual Sound Card - Maximum of 2 input channels for stereo; binaural/stereo output
The Spatial Sound Card (SSC) is a software-based, virtual sound card. Professional monitoring of audio content usually requires complex, high-quality speaker installations, for which both budget and space are needed. The Spatial Sound Card enables monitoring of stereo and surround up to 7.1 using binaural loudspeaker virtualizations with regular headphones on the computer.
This version of SSC offers inputs for stereo sources such as DAW outputs, games, and DVD or media players like VLC, Youtube, and NETFLIX. Offers full access to professional features.
It works as the standard audio device on a computer and will receive audio files automatically. It offers more than 70 binaural room virtualizations from a constantly growing number of high-end studios and dub stages like ARRI Stage One, MSM Munich and many others. The technology featured in the SSC Pro has been used for major Blu-ray releases such as The Expendables I-III, The Fifth Element, and Kraftwerk 3D.
To optimize virtualization, the SSC Pro offers sensitive parameters for individualization. This includes the ability to customize the frequency curve of whatever headphones are used. Presets for a lot of well-known headphone models are also included.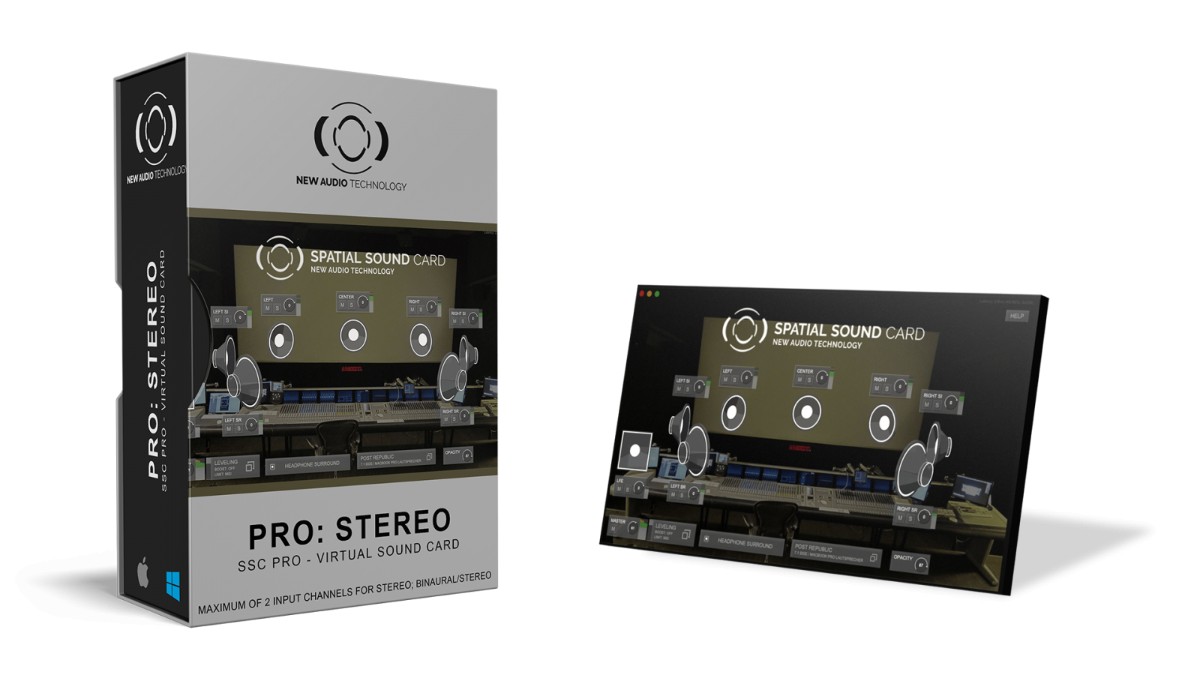 Product Features
Easy-to-install software: The SSC Pro is a piece of easy-to-install software that will automatically work as the default audio device on both Mac and Windows computers.

Single-player solution: Computer applications will feed into the SSC Pro instantly and with up to 7.1 surround sound, if possible.

Real measured studio environments: The SSC Pro's binaural processing systems are based on real measured loudspeaker systems to allow for realistic monitoring capabilities and mixes that also sound perfect over real loudspeakers.

Multiple language options: 17 different language settings

Output management: Besides channel calibration and monitoring, the SSC Pro features an output limiter to control dynamics and prevent overloads.

Headphone compensation: Access over 40 frequency calibration profiles of well-known headphone models.
Mac:
macOS 10.13 - 11.+
64 bit
Intel Mac with 2 GHz Dual2Core processor or higher
M1 (Rosetta)
Windows:
Windows 7 - 11
64 bit
Intel PC with 2 GHz Dual2Core processor or higher
Required Registration:
New Audio Technology products require you to register with the manufacturer at www.newaudiotechnology.com to activate your license.
This product requires an activation!
An internet connection is required to authorize / activate the product.