The true sound of MusicMan StingRay®5
SR5 Rock Bass 2 enables you to compose and create natural bass guitar tracks that imitate real bass guitar playing! SR5 Rock Bass 2 offers additional features and articulations which take the virtual bass guitar instrument to a whole new level.
Key Features:
Play various guitar playing techniques in real-time
Fretboard Monitor
Built-in Effects and Amp Simulator
Real down tuning samples included
Realtime Legato Slide / Realtime Hammer-on&Pull-off
Intelligent Instrument Key Switch with chord recognition
Chord Preset
User Chord
Customizable Strum Key
Arpeggio Key
Auto Stroke Detection
NKS (Native Kontrol Standard) ready
Kontakt Player included
In Detail:
Incredible real-time playability - With SR5 SPI (Super Performance Instrument), you can play ultra realisticbass guitar performance in real-time. You can access various playing techniquesinstantly without stopping your performance and create convincing bassguitar tracks very quickly.

Fretboard Monitor - The SPI automatically selects a proper string / fret position dependingon the situation. You can also change the string manually by key switches.The Fretboard Monitor visualizes the current fret position / playing techniqueyou are playing.

Effects and Amp Simulator - SR5 Rock Bass 2 has built-in stomp effects and bass amplifiers. You canmake your own bass guitar sound so it suits the music genre you're workingwith by using them. You can also turn off them and use your favorite amplifiersimulator for further tonal variations.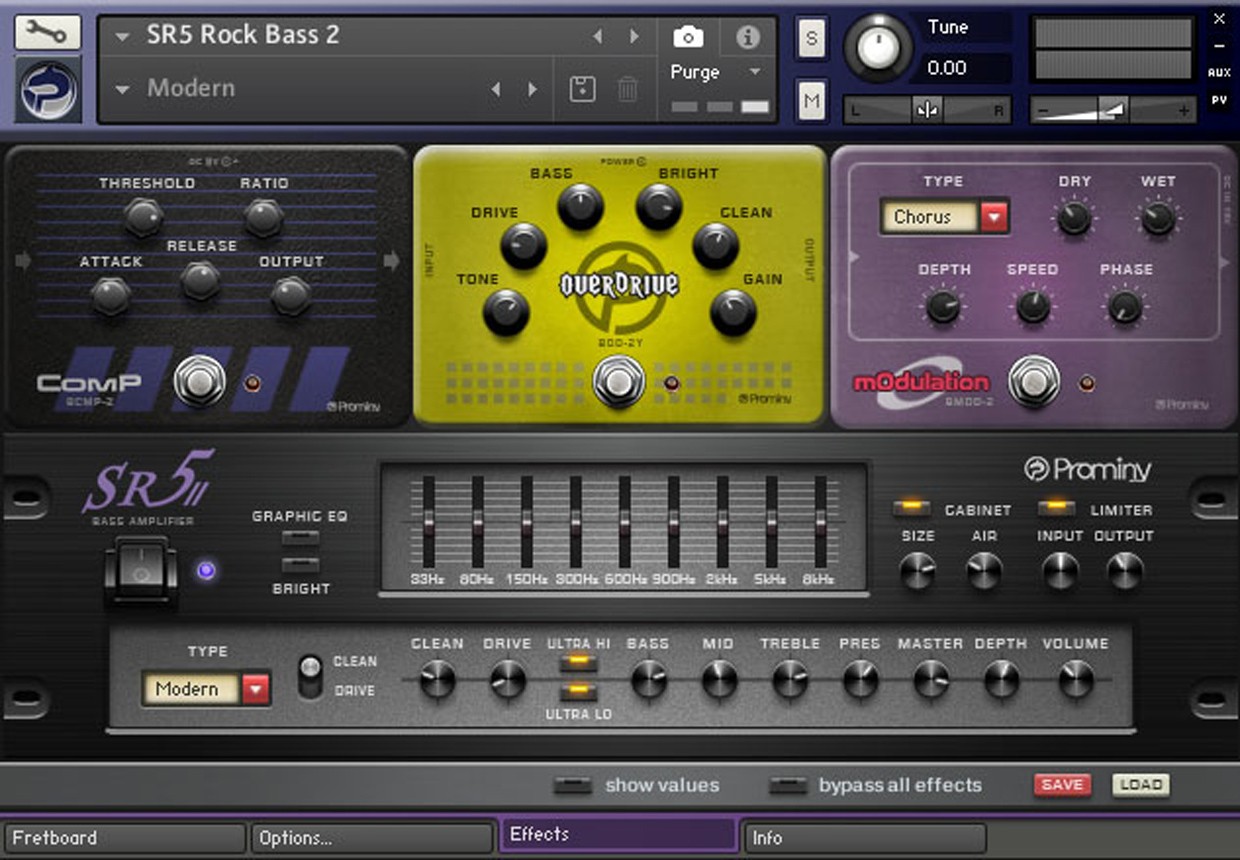 Heavy buzz sustain - The Heavy buzz sustain has a loud buzz / rattle that was intentionally added by plucking the string very heavily. It adds a wildness, richness and reality to your bass tracks.

Heavy hammer-on - Though SR5 Rock Bass (ver.1) already has hammer-on samples, a differenttype of hammer-on samples were added to SR5 Rock Bass 2. The Heavy hammer-on samples emphasize the metallic noise that is generated when the stringstrikes the fret by hammering the string forcefully. The normal hammer-onsamples are often used for 'legato'. On the other hand, the Heavy hammer-on samples are good for 'accent'. For example, you can reproduce the accentedsound with a metallic noise (it's something like slap bass sound) generatedby hammering the string heavily immediately after playing the open string.

Natural harmonics on all frets / all strings - Now natural harmonics is available on all the frets on all the strings.That makes your bass tracks more expressive.

Real down tuning samples included - SR5 Rock Bass 2 captures MusicMan® StingRay®5; one of the most popular5-string bass guitar among bassists. 5-string bass guitars can be playedlow B with normal tuning, but SR5 Rock Bass 2 includes real down-tuningsamples and can play even lower (as low as -4, that allows you to playthe low G) and is suitable for a wide range of musical genres.

Realtime Legato Slide / Realtime Hammer-on & Pull-off - With SR5's Realtime Legato Slide feature using 'real' legato samples, youare able to get perfectly real expressions of the human finger's legatoslide that cannot be reproduced with a slide emulation by changing pitch.Hammer-on & Pull-off samples are real recorded samples as well. RealtimeLegato Slide / Hammer-on & Pull-off is available with all the instrumentsincluding chord instruments except FX instruments.

Chord preset - A large number of chord presets (and more chord shape variations per eachchord) are available with the emulated chords. Our unique recording / programmingmake it possible for you to get a realistic chord sound that is close toa real sampled chord sound.

User Chord - User Chord Editor enables you to build your own chord shapes and make any chords you like. Each string is fully customizable and you can configure how the string is played using the User Chord Editor. (For example, normal sustain or mute or picking noise, always play open string regardless the fret position, strum the string or not, root string, etc.)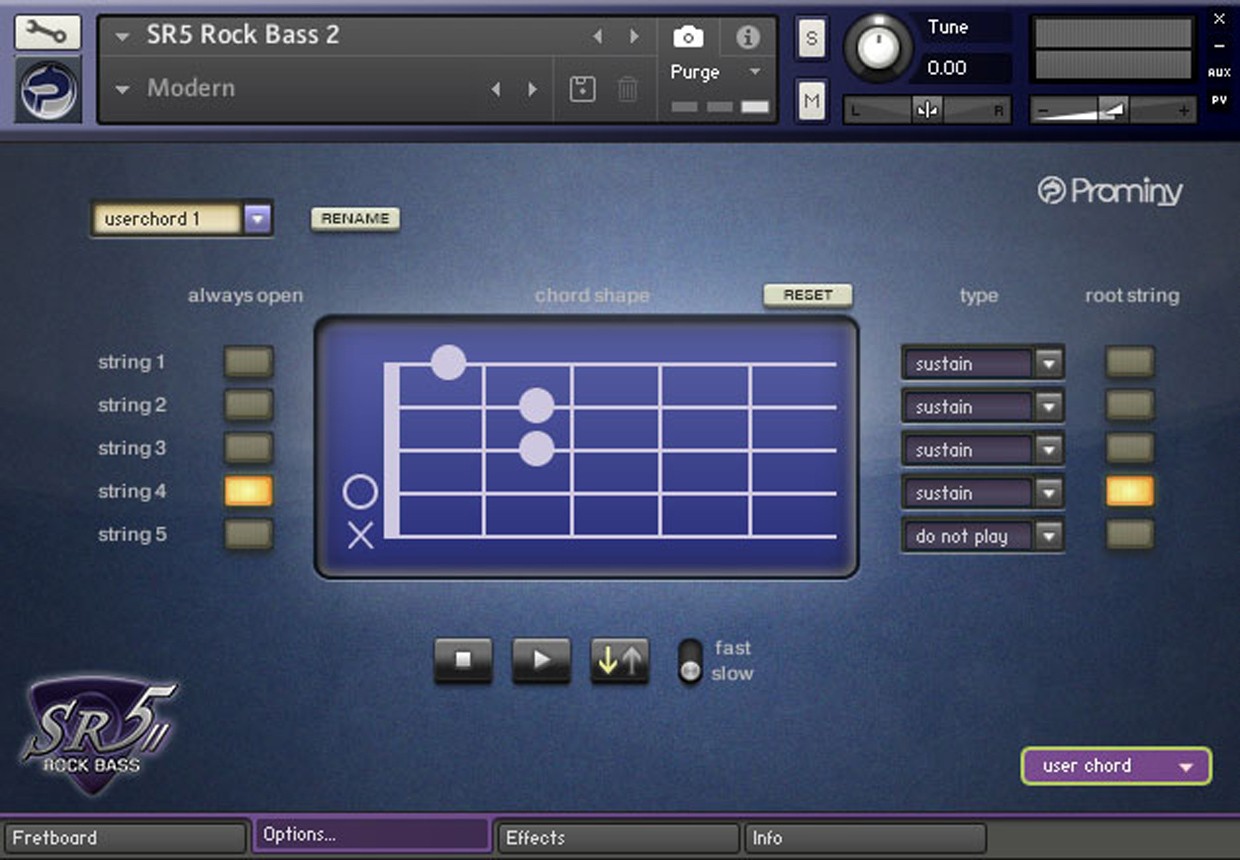 Noise / FX samples - The sound of the guitar is not stopped without any noises. You need totouch the string(s) to stop the guitar sounding. A noise is generated whenyour hand (or guitar pick) touches the guitar. SR5 Rock Bass 2 has varioustypes of noise / FX samples that are essential to make your bass tracksmore convincing.

Direct signals from the bass guitar - You can make your own guitar sound so it suits the music genre you're workingwith by using SR5's built-in amp simulator or your favorite amplifier simulator.

Intelligent Instrument Key Switch with chord recognition -You can instantly select an instrument (articulation) using the Instrument Select Key Switches. All the instruments can be assigned to any key switches and you can create your own key switch mapping. The key switches have a chord recognition feature that enables you to select a chord instrument by not only hitting a key that the chord is assigned, but also by hitting the chord notes in the key switch range. In other words, you don't need to memorize the key switches for the chord instruments. Just hold the chord notes in the key switch range, and you are ready to play the chord.

Customizable Strum Key - As well as the User Chord Editor, you can configure how each string isplayed when you hit the Strum Keys and the Normal Key.

Arpeggio Key - automatically assigned to the Arpeggio Key for the string so you can play arpeggio with the keys. *This is not a so-called 'Arpeggiator'. This is a feature that enables you to play a certain note (string) of the chord individually.

Auto Stroke Detection - With SPI's Auto Stroke Detection feature, SPI automatically detects thecurrent beat position and identify proper stroke direction (down or up).There are several stroke detection modes and you can also control strokedirection manually.

Picking noises are recorded on all frets and strings - Picking noises made while playing a guitar is one of the most importantcharacteristics that identify a live guitar recording. That is why we tookgreat care in capturing many variations of picking noises. Adding thesenoises, with consideration to timing and picking style, will make yourguitar tracks sound natural. When you use picking noise sampled from adifferent position of the fret board than the one you're applying it to,the result is an unnatural sound because the noise will not harmonize withthe original note's sustain sound.
Sound On Sound 10/2019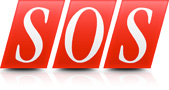 s u m m a r y
A lively sounding and capable virtual bass guitar instrument featuring a high degree of sonic detail. Its tonal character is particularly well suited to energetic rock and heavy metal, and with suitable treatment it also adapts well to many other genres. In this major NKS-compatible update, Version 2 abandons the cumbersome patch-per-articulation Multi approach of version 1, bringing the separate elements together as one all-encompassing NKI instrument with a powerful effects section that really rocks.

This product requires the free Native Instruments Kontakt Player, the latest version can be downloaded through Native Access, Native Instrument's download manager!
The minimum required Kontakt version for this product is stated in the product description or can be found on the manufacturers website.
System Requirements:
Mac:
macOS 10.14 or higher
64 bit
Intel Core i5 or Apple M1 (native)
RAM: 4GB (6GB recommended)
Windows:
Windows 10 or higher
64 bit
Intel Core i5 or similar CPU
RAM: 4GB (6GB recommended)
Supported Interfaces:
Mac (64-bit only): Stand-alone, VST, VST3, AU, AAX
Windows (64-bit): Stand-alone, VST, VST3, AAX
Legacy Versions:
If you require legacy installers of Kontakt Player please refer to this Knowledge Base Article.

Required Registration:
Prominy products require you to register with the manufacturer at www.prominy.com to activate your license. To use Kontakt Player Libraries you also need to register with www.native-instruments.com.
This product requires an activation!
This product requires Native Access for installation, registration and activation. Start the Native Access-Software and log in using your Native Instruments credetials to start the setup.
To sucesfully activate your product Native Access requires a working internet connection.
An Offline Activation on a different computer is Not Available with this product.