Your new Guitar Stomp Board from BBE Sound
Stomp Board is a standalone application and plug-in set containing the host "Stomp Board" with an integrated amp simulator, and 8 premium modelled effect plug-ins from the original BBE Stomp Ware classics. Each pedal is available separately outside of the Stomp Board host and is backwards compatible with the former Stomp Ware product line for your sessions.
Stomp Board acts as a host application/plug-in for 8 guitar effect pedals taken from the original "Stomp Ware" classics and which can be unlimitedly loaded and chained in any order via simple drag/drop, detailed below. It includes a dedicated and finely tuned Gate, 4 integrated Amps to get you up and rocking from the start, a tilt style Tone control for global EQ setting and inbuilt spring reverb alongside input and output knobs and gain staging metering view.
The Pedals :
Free Fuzz - The Free Fuzz was patterned after a rare and sought-after silicon transistor fuzz pedal made famous by players like Jimi Hendrix in the late '60s and provides a wide range of creamy, dynamic fuzz effects with an almost endless amount of sustain for soloing and chunky rhythms.

Green Screamer - The Green Screamer is a vintage overdrive capable of producing a dynamic range of smooth and warm overdrive tones associated with vintage tube amplifiers.

Mind Bender - The Mind Bender is a dual-mode vibrato/chorus that utilizes a BBD (Bucket Brigade Delay) circuit and produces a wide range of warm, lush vibrato, chorus and rotating speaker effects.

Opto Stomp - The Opto Stomp is a transparent optical compressor that provides a wide range of soft-knee compression effects, reminiscent of the best vintage compressors made in the 60s.

Sonic Stomp - The Sonic Stomp is a stomp-box version of our ever-popular Sonic Maximizer. The Sonic Stomp was carefully designed to deliver the same sonic improvement as the rack-mounted 482i Sonic Maximizer, adding clarity, definition and punch to any instrument.

Soul Vibe - The Soul Vibe is a vintage vibe/rotary speaker simulator known for its chewy phase-like textures made popular in the late 60s and 70s by such players as Jimi Hendrix, David Gilmour and Robin Trower.

Tremor - The Tremor is a dual-mode Tremolo/Auto-Pan that utilizes an optical circuit to create a wide range of warm pulsating sounds normally associated with the "vibrato" effect of vintage tube amps.

Two Timer - The Two Timer was inspired by the long discontinued DM-2 Delay, which was known for its warm, haunting reverb and tape-like echoes.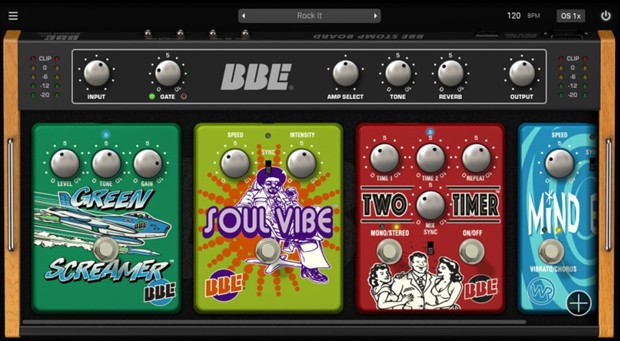 Features Overview
Stomp Board host and standalone application
Inbuilt Amp Simulator (inc. 4 Amps)
Fine tuned Gate specifically designed for guitarists
Tilt style global EQ
Inbuilt Reverb
8 Guitar effect pedals (available inside Stomp Board and as individual plugin)
Added Features and Enhancements in Version 1.3.0
Windows binaries & installers are now signed
Preferences are now common to all plug-ins from the same bundle
Updated authorization window
UI improvements for better contrast with dark backgrounds
Updated Mac installers and uninstallers
User manual updated
Mac:
macOS 10.13 or higher
64 bit
Intel-CPU
Support for M1 & M2 Chip
RAM: 2GB or higher
1024x768 or higher display resolution
Windows:
Windows 8 or higher
64 bit
Intel-/AMD-CPU with SSE2
RAM: 2GB or higher
1024x768 or higher display resolution
Required Registration:
BBE Sound products require you to register with the manufacturer at www.bbesound.com and with my.plugivery.com/redeem to activate your license.
This product requires an activation!
An internet connection is required to authorize / activate the product.