From psychedelic Sitars over "Zitherette" up to the chinese erhu-violin: some of the rarest stringed instruments can be found in this collection of american sound manufakturer Soundiron. Even the strings of a grand piano have been abused and some do-it-yourself-instruments have been built for this collection.
Contains:
The Struck Grand
Twine Bass
Street Erhu
Bizarre Sitar
Frendo
Zitherette
Bowed Bucket Bass
The Struck Grand:
is an extraordinary instrument collection that delves deep into the fine art of piano abuse. This 9 GB collection explores all of the ways a 1926 Steinway Model L parlor grand piano can be "played" from the far side of the hammer. You'll find well over 4000 samples of pick plucks, steel hammers, finger mutes, harmonics, slides, mallets, glisses, scrapes and otherworldly sustaining effects over the full note range. This collection shines as equal part stringed/tuned percussion and super-harp/mega-zither with a huge key range and rich, complex musical character.
The Struck, Harmonic, Mallet and Gliss elements are perfect for dramatic and suspenseful scoring, while the Steel Hammer, Slide and Picked sections area ideal for expressive and nuanced classical and ethnic compositions. With rumbling bass and glistening highs, we've captured each articulation with ultra-close, dry micing right on the strings, for exquisite life-like detail, stunning presence and fidelity.
Twine Bass: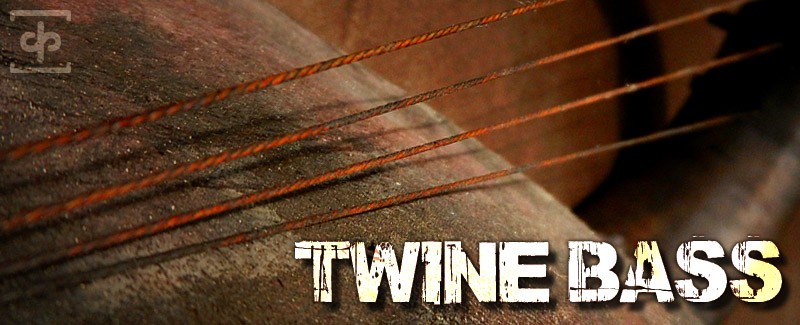 This unique custom instrument collection features a pair of very special instruments: a modified cello and a traditional Kenyan fretless stringed instrument called a Bolon. We strung the cello with rough hemp twine in various tunings and played it as a stand-up bass. We also recorded string slides, muted releases and deep body strikes. We recorded the cello from a very close, yet wide position in order to capture the full bass and tone, since the twine produced a rather delicate sound and did not hold up to extended torture all that well. The resulting sounds are deeply sonorous, with rich, warm resonance, powerful low end and a woody, soft quality. The bolon has a cow's horn for a neck and a gourd as a body, with four twine strings and a goat-skin resonating head that the strings pass directly through. We recorded plucks and a whole range of taps, scrapes, scuffs, slides and other percussive effects on the instrument's body.
The library features our exclusive chord/glissando generator. In Gliss mode, you can choose the speed, scale, timing, up/down direction, pe-note velocity, number of strings and much more. In chord mode, you can auto-strum, with up, down and alternating. You can also control strum tightness, variability, number of strings and the mode/scale that the chord adheres to, with any root note you desire. Both modes allow full multi-chord/gliss polyphony. In the legato presets, we've created a two-handed playing system for finger-tapping, hammer-ons and pull-offs with one hand while independently plucking with the other. Left handed? No problem, just flip it flip it. You can also set the open note to any key you like on the fly, with or without legato, and more…
Street Erhu:

is a truly unique live-performance phrase library featuring thousands of high-quality traditional Chinese Erhu violin phrases. Weighing in at 6.3 GB of content, this collection covers 8 different Erhu violins, ranging from bass to treble and in a variety of tunings. This one-of-a-kind library combines the authenticity of an emotive street musician with granular deep sampling fully controllable through our powerful custom user interface. For the creation of Street Erhu, we worked with veteran street performer Qi Xin Huang and local Erhu craftsman Kenneth Lam. Qi Xin's playing is raw, emotive and authentic, evoking a traditional flavor not possible with a sterile and overly rigid performance. Each erhu sampled in this library offers its own unique flavor, creating a palette of different sounds fit for any stylistic need.
Bizarre Sitar: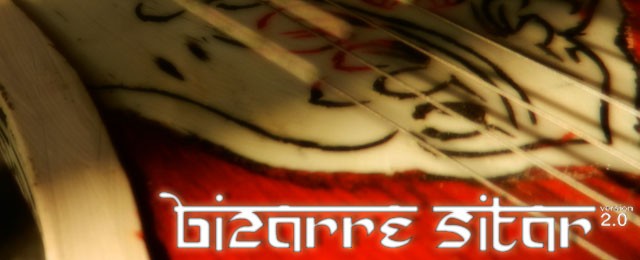 may not seem so strange at first glance. It has most of the elements found on any other sitar, with it's traditional gourd body, both main playable strings and sympathetic resonating strings, parda (adjustable curved frets), kunti (tuning pegs), dandi (neck), ghoraj (main bridge) all complete with orante hand-painted accents. At just over 24″ in length, however, this little beauty is barely half the size of a standard sitar. Simply being small isn't bizarre by any means, but what is bizarre is how it can achieve such a lush, full-bodied sound while being so small. Intended as more decoration than instrument, we feel this little guy has been highly underestimated. Although soft-spoken and possesssing fewer strings than normal (5 main and 6 sympathetic), all this "baby" sitar needed was someone to listen closely. And we did. Very close.
*This library was originally published as "Bizarre Sitar" by Tonehammer.
Frendo: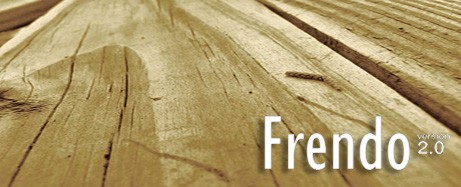 Frendo is a custom-built Soundiron instrument. We created this monster by stringing bailing wire around and through through steel plates and bolts, over galvanize steel piping and across wood planks. It was meant to suffer. You can help it by mistreating it in horrible ways with screwdrivers, bows, drum sticks, mallets and fingers. The instrument holds a vast amount of otherworldly sounds, which is ideal for composers looking for new disturbing, horror-like textures for their scores. Frendo is partially a mallet instrument, recorded with wooden and rubber mallets, but is also a more traditional string instrument, since we recorded finger plucks and bows. It's the sound of Satan's cello, weeping softly for your burning soul.
Zitherette: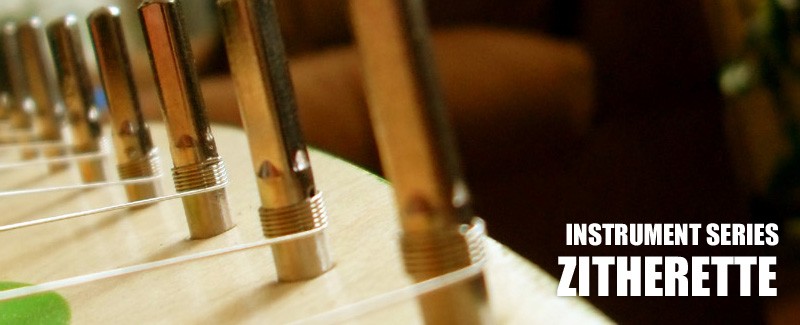 This enchanting little instrument is a simple 8-string fretless zither, roughly 12 x 20 inches in size. Zithers are a broad family of hollow-bodied string instruments common throughout all of Europe and Asia. Variants range from the dulcimer to the Koto, with countless other flavors unique to each region and culture. Common to each of them is the arrangement of multiple strings over a neck-less sound box. The oldest known variant of the zither family dates back to 4th century B.C China, while new additions continue to spring up to this day. Our particular hand-held zither has a smooth, dark tone, with a clean biting attack and long, natural decay. At it's softest, it has a pristine, amost harp-like sound, while the hardest notes bend deeply at the attack, with a pronounced twang.
*This library was originally published as "Zitherette" by Tonehammer.
Bowed Bucket Bass: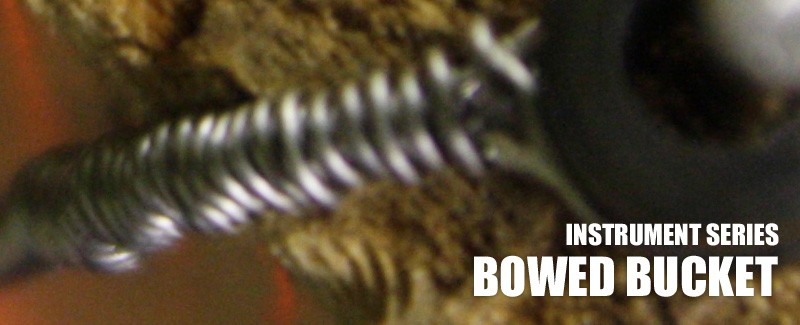 The Bowed Bucket is what happens when you build an instrument out of a 5 gallon plastic bucket, a wooden 4×4 and some cello strings. The bucket was fitted with tuning lugs and then holes were drilled out to allow individual strings to pass through, using the bottom wall as the bridge, so that sound projected outward and down. Then a 4×4 wooden beam was affixed to the bucket and the strings were then stretched up the heavy wooden neck, roughly nailed in place and hand -tuned. Remember that old string and paper cup trick from when you were a kid? Yeah, think bigger.
*This library was originally published as "Bowed Bucket" by Microhammer.

Please notice: This library can not be used with the free Kontakt Player! To use this "Open Kontakt" format, you need a full version of Kontakt, which is included in products such as Komplete or Komplete Ultimate.
The minimum required Kontakt version number for this product is stated in the product description or can be found on the developer's website.
System Requirements:
Mac:
macOS 10.14 or higher
64 bit
Intel Core i5 or Apple M1 (native)
RAM: 4GB (6GB recommended)
Windows:
Windows 10 or higher
64 bit
Intel Core i5 or similar CPU
RAM: 4GB (6GB recommended)
Supported Interfaces:
Mac (64-bit only): Stand-alone, VST, VST3, AU, AAX
Windows (64-bit): Stand-alone, VST, VST3, AAX
Legacy Versions:
If you require legacy installers of Kontakt Player please refer to this Knowledge Base Article.
Required Registration:
Soundiron products require you to register with the manufacturer at www.soundiron.com to activate your license. To use Kontakt Player Libraries you also need to register with www.native-instruments.com.
For your own protection this library is provided as individual personalized files including a Digital Water Mark - DWM!