Create Without Boundaries. Produce Without Limits. Perform Without Fear.
Studio One is the only DAW that lets you record, produce, compose, mix, master, publish, and perform from a single intuitive interface—and its drag-and-drop workflow will supercharge your creativity. While Studio One is loaded with world-class virtual instruments and effects that keep your imagination flowing, it's also a robust creative tool for songwriters and arrangers thanks to its Chord Track and Harmonic Editing, allowing you to quickly audition new harmony and chord structures in Instrument Tracks and even Audio Tracks.
The built-in Project Page handles all of your mastering needs, and when your EP or podcast is done, you can publish directly to SoundCloud without leaving the application. When it comes time to perform and support your record, use Studio One's new Show Page live on-stage to leverage your studio tracks as backing tracks; play virtual instruments live; use the third-generation Ampire live to re-create your studio guitar tones; and Studio One Native Effects to process your live vocals. You can even create and rearrange your entire setlist, show after show. All from Studio One.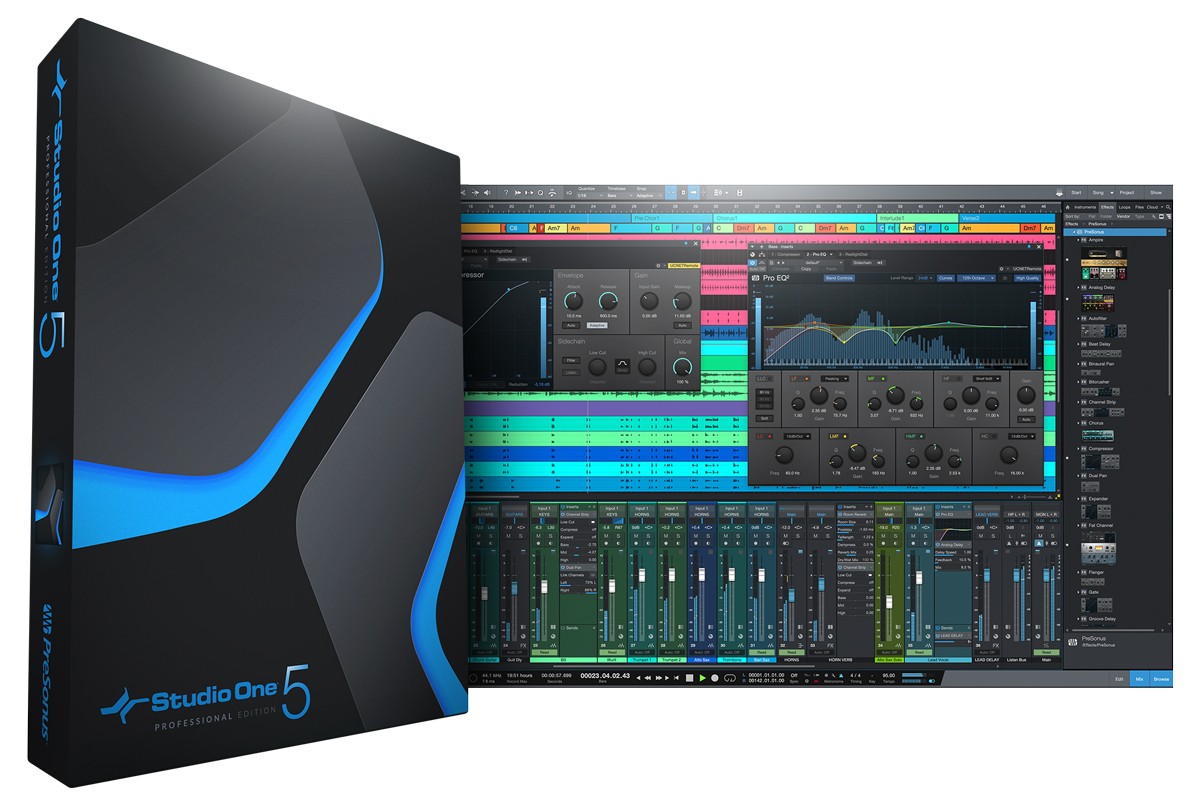 Added Features in Version 5.5
Track Automation on Project Page

Clip Gain Envelopes on Project Page

Listen Bus on Project Page

Track Transform on Project Page

Multiple format export for Digital Release

Target Loudness on Digital Release

Additional high-end dithering algorithm

Drag and Drop MIDI files to Chord Track to extract chords

Create a strum pattern by dragging notes

Ampire optimized for fast preset switching on Show Page
Features:
The only DAW that lets you compose, record, produce, mix, master, and perform all from a single, intuitive application

Perform live with Studio One! Use your recorded assets to bring your studio sound to the live show; play virtual amps live; sequence and re-arrange your Setlist. Use the Arranger track to remix your songs live!

Intuitive single-window work environment with quick and easy drag-and-drop functionality and multi-touch support.

Unlimited audio and instrument tracks, advanced automation features, virtual instruments, buses, and FX channels

Console Shaper emulates the sound of an analog console with control over drive, noise, and even true channel crosstalk, thanks to Mix Engine FX's cross-channel processing

Chord Track manipulates audio and note data of any or all tracks for Harmonic Editing and song prototyping

Five powerful virtual instruments including: Impact XT drum sampler; Presence XT virtual sample-player; Mai Tai polyphonic analog modeling synthesizer; Mojito monophonic subtractive synthesizer; and Sample One XT live sampler and sample editor

Patterns allow for intuitive drum and melody composition via familiar drum machine/step-sequencer style UI

Sound Variations make it easy to manage articulations for complex orchestral libraries with dynamic mapping for Vienna Symphonic Library Synchron Player products, UJAM instruments, and more

Score View for traditional notation, drum notation, and tablature

Available standalone or as part of the PreSonus Sphere membership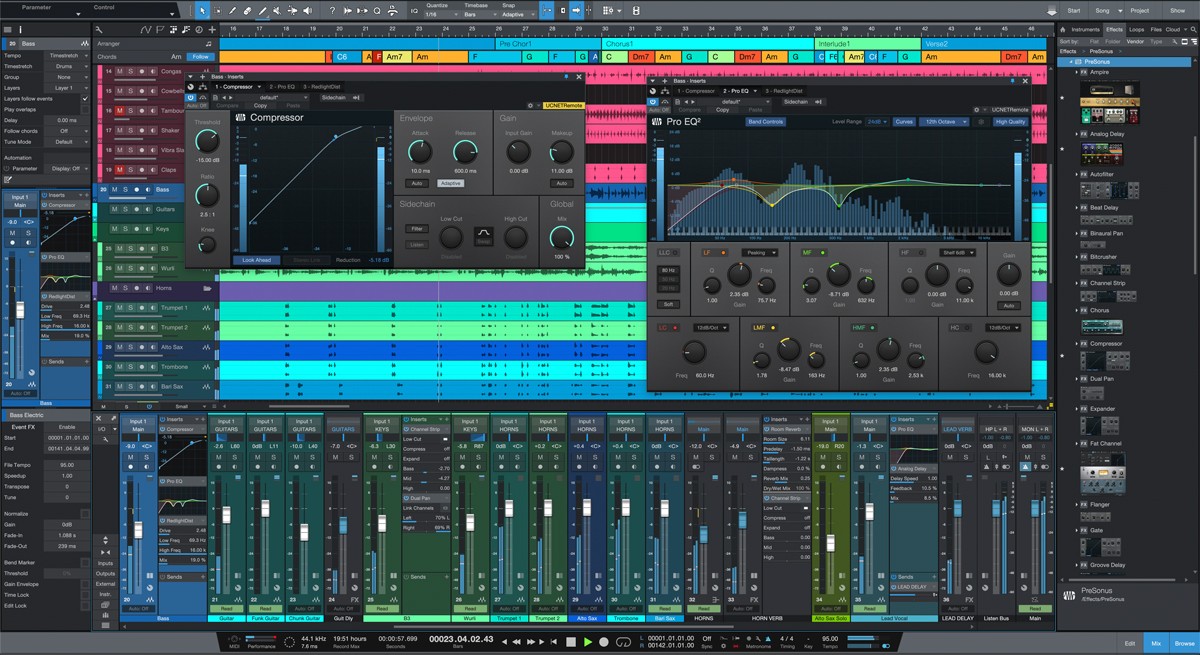 Pristine sound quality with native 64-bit resolution and support for up to 384 kHz audio

Integrated mastering suite with automatic mix updating, DDP, Redbook CD burning, and digital release

Integrated online Cloud Services including the PreSonus Shop, PreSonus Exchange, PreSonus Sphere, and bi-directional SoundCloud integration

Easily integrate external hardware with new Aux Inputs or Pipeline XT; sync Studio One to external hardware with MTC support

Store and recall entire Mixer Scenes

AAF support for easy song/session exchange with other applications for collaboration (Pro Tools, Logic, Nuendo, Final Cut Pro, Premiere, and more)

Arranger Track with innovative Scratch Pads

Build unique sounds with Multi Instrument and Extended FX Chains

Presence XT virtual sample-player instrument(14 GB library included) and Mai Tai polyphonic analog modeling synth with character morphing and modulation matrix

VCA Faders that act as group faders for any number of tracks

Integrated Melodyne Essentials 5 pitch and timing editor with Chord Track integration

Integrated online Cloud Services include the PreSonus Shop, PreSonus Exchange, and unique bi-directional SoundCloud integration

Advanced integration with PreSonus Sphere Workspaces. Export stems and mixes, or drag files to and from a Workspace right from your Studio One Browser

37 Native Effects with freshly redesigned UI, 5 virtual instruments, 4 Note FX, plus 64-bit AU, VST2, VST3, and ReWire support

Use Pro Tools, Cubase, Sonar, and Logic shortcut key commands or create your own

Compatible with ASIO-, Windows Audio-, and Core Audio-compliant audio interfaces
Mac:
macOS 10.14 or higher
64 bit
Intel Core i3 or higher (Native support for Apple Silicon)
RAM: 4GB (8GB or higher recommended)
1366 x 768 or higher display resoultion (Retina display recommended)
A multi-touch enabled monitor with TUIO support is required for touch operation
Windows:
Windows 10 or Windwos 11
64 bit
Intel Core i3 or AMD A10 processor or higher
RAM: 4GB (8GB or higher recommended)
1366 x 768 or higher display resoultion (high-dpi monitor recommended)
A multi-touch enabled monitor is required for touch operation
Speicherplatz für Inhalte:
40 GB hard-drive space (Studio One Professional)
20 GB hard-drive space (Studio One Artist)
Required Registration:
Presonus products require you to register with the manufacturer at www.presonus.com to activate your license.
This product requires an activation!
An internet connection is required to authorize / activate the product.