Symphonic Orchestra
There is no other orchestral product on the market that offers such upward compatibility for beginners to professional composers, and it is the most awarded orchestral collection.

EW-178 EWQLSO PLATINUM COMPLETE contains 24-bit samples, each with three mic positions and full articulations (117GB).
The boxed/shipping version will be delivered on an external USB 3.0 hard drive for fast and easy installation!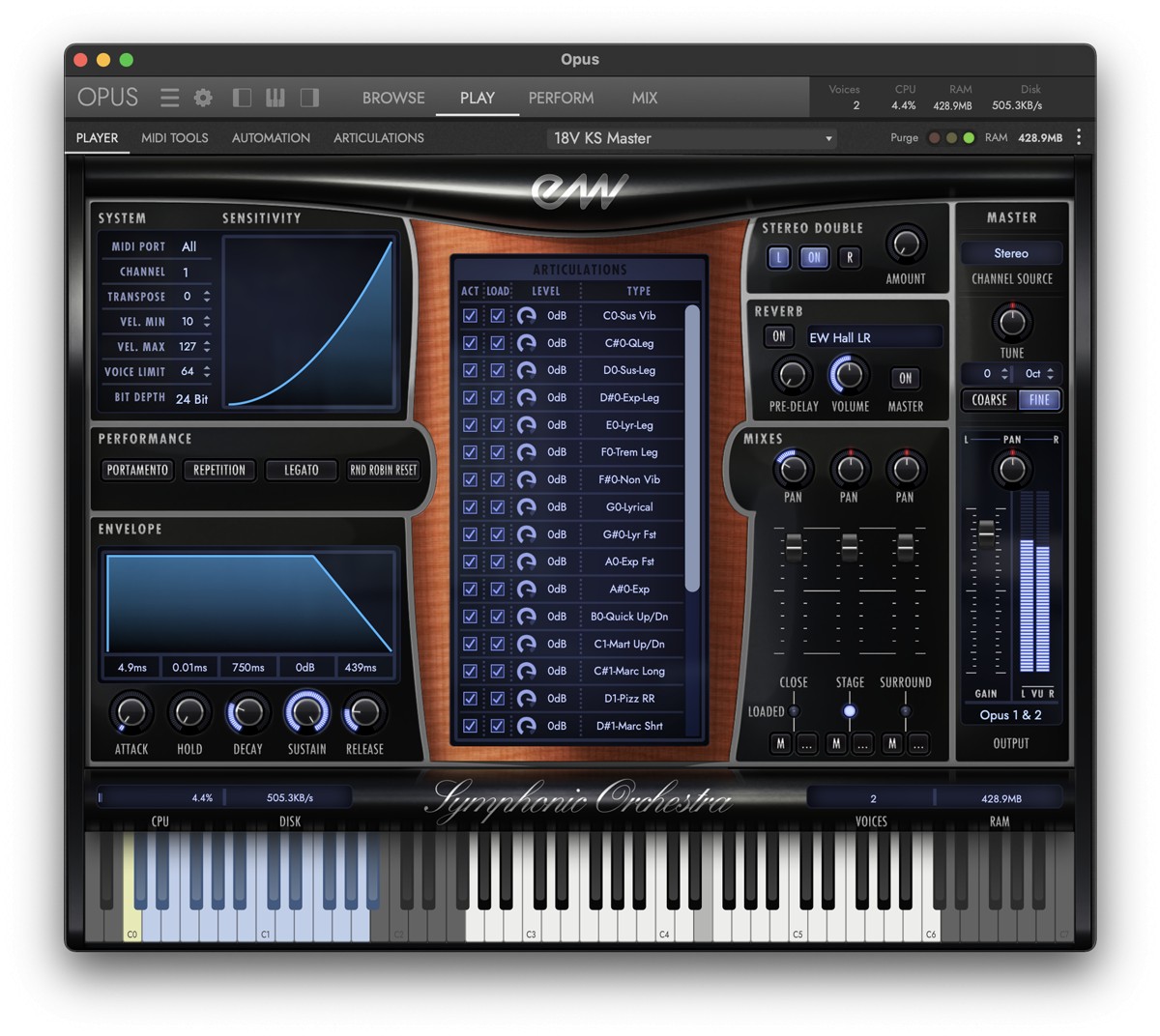 Some of the new key features include:
• An intuitive custom interface.
• Intelligent performance section including portamento, repetition, legato
• Round robin reset.
• Offers improved articulation window and controls.
• On-screen mic position mixing with Platinum and Platinum Plus versions.
• Switchable 24-bit/16-bit depth with Platinum Plus version.
• State-of-the-art convolution reverb with pre-delay.
• Convolution reverb includes the hall the orchestra was recorded in.
• An intelligent release trail engine that follows note-on samples volume at all times.
• Improved sound quality with high-resolution audio engine.
• Hi-fidelity one pole filter for natural cross-fades.
• Stereo image editing is now possible using channel sourcing.
• Original and Pro XP expansions combined into one version.
The Way an Orchestra Should Sound
Each instrument and orchestral section is chromatically sampled at three different mic positions (close, stage and hall) allowing you to mix together instantly any combination for the ultimate in real-time tone and ambience control.
Multiple Mic Positions - All instruments were sampled with three different mic positions, allowing you to mix together any combination of mics using the interface for the ultimate in real-time tone and ambiance control. This feature enables users to customize the sound of the orchestra to their own requirements. Please note: while most computers suitable for running professional music software will run one of the mic positions (what you typically get with other orchestra libraries), you may need a more advanced system to have all options available.
Mic Mixer - Control all mic positions for the orchestra, choirs, pianos, and other instruments with multiple mic positions with the built-in mic mixer. Now taken a step further, do it right in the patch. Load, unload, adjust, pan, mute mic positions as you wish.
Load MORE thanks to 64-bit support - **64-bit support** allows you to load many more instruments and voices, limited only by your system RAM (32-bit support is included also).
Networking Support* - If you still need more power, our NETWORK CONTROL* allows you to load instruments on other machines controlled from your host computer. No more trips back and forth between computers, no more KVM switching when loading projects. No need to buy additional software.
As Beautiful As It Sounds - Interface designed to eliminate clutter, including only the controls needed for each individual virtual instrument.
All instruments are listed in one browser - Easy to use browser displays all of your instruments. Favorites section to group the instruments you use most. Preview your instrument of choice in an easy-to-use column viewer. Load instruments into one instance to take advantage of your sequencer´s "instrument tracks", or many if you so desire. Interface automatically changes to display current instrument
Articulations - Forget browsing through complicated patch names: pick the instrument and play. Turn on/off articulations as you wish. Articulations list also serves as reference for all expressions within the instrument (no need to look up key-switches in charts). Save your favorite configuration for quick retrieval.
Legato Detection - Senses legato and repetitive playing and responds accordingly.
Stereo Handling - Allows the user to manipulate stereo samples in very useful ways. Stereo Swap allows the user to instantly swap the left and right channels
Mono from left , Mono from right, or Mono Sum allow for instant conversion from stereo to mono.
Playback Engine - Highest quality resampling engine. Built from the ground up to create the most intuitive instruments possible. EastWest/Quantum Leap now design instruments every step of the way without compromise.
Effects Engine - The best sounding and most powerful effects engine out there, built from the ground up for the highest possible quality. Reverb section includes multiple impulse responses from halls, and the famous EastWest Studios and live chambers (more RIAA certified Platinum and Gold records awarded than any other studio) The smoothest filters you´ll ever hear


Bonedo, 4 from 5
This library includes "Opus" as a Sample-Player.
Mac:
macOS 10.13 or higher
64 bit
Quad-Core CPU (Octa-Core recommended)
2,7 GHz or higher
RAM: 16GB (32GB or more recommended)
SSD hard drive (SATA or PCIe)
Windows:
Windows 10 or higher
64 bit
ASIO sound driver
Quad-Core CPU (Octa-Core recommended)
2,7 GHz or higher
RAM: 16GB (32GB or more recommended)
SSD hard drive (SATA or PCIe)
Required Registration:
East West products require you to register with the manufacturer at www.soundsonline.com and with www.ilok.com to activate your license.
This product requires an activation!
You can either "soft" activate on your computer without addditional hardware or transfer the license to an iLok USB dongle which has to be purchased separately. The iLok dongle can be used to run the protected software on different computers. Your licenses can be easily manged using the iLok Licence Manager. To protect your investment against theft or loss we recommend the iLok Zero Downtime protection with TLC.
An internet connection on any computer and a free user-accout at www.ilok.com is required to authorize the product.
Please check with the software manufacturer which iLok version is required at least if you want to use a hardware iLok!