SYNCHRON-ized Saxophones - Take Five
Recorded at the Silent Stage

Wide variety of articulations for symphonic music and Jazz

Re-edited and optimized for the Vienna Synchron Player

Mixer presets for placement at Synchron Stage Vienna

Low crossgrade prices for users of VI Series Saxophones
This library is based on the VI Collection Saxophones and offers five solo instruments that were recorded in the tight and controlled ambience of Vienna's second studio, the Silent Stage. The entire sample database with an extensive range of articulations was re-edited, updated and optimized for the Vienna Synchron Player.
All instruments are perfectly positioned at the virtual Synchron Stage Vienna, utilizing the Synchron Player's convolution reverb based on Vienna MIR technology. Presets such as close, classic, and distant make it easy to place and reverberate the instruments with pre-configured combinations of convolution and algorithmic reverbs. Further mixer presets such as Smokey, Dark, Hard Compressed or Smooth Delay help you dial in the right mood for your project or serve as great starting points for your own timbre creations.
By selecting the "MIR Unprocessed" preset without any reverb or placement, you can use the saxophones completely dry, place them anywhere in the stereo field, and incorporate any reverb of your preference, such as the rooms provided by Vienna MIR Pro 3D.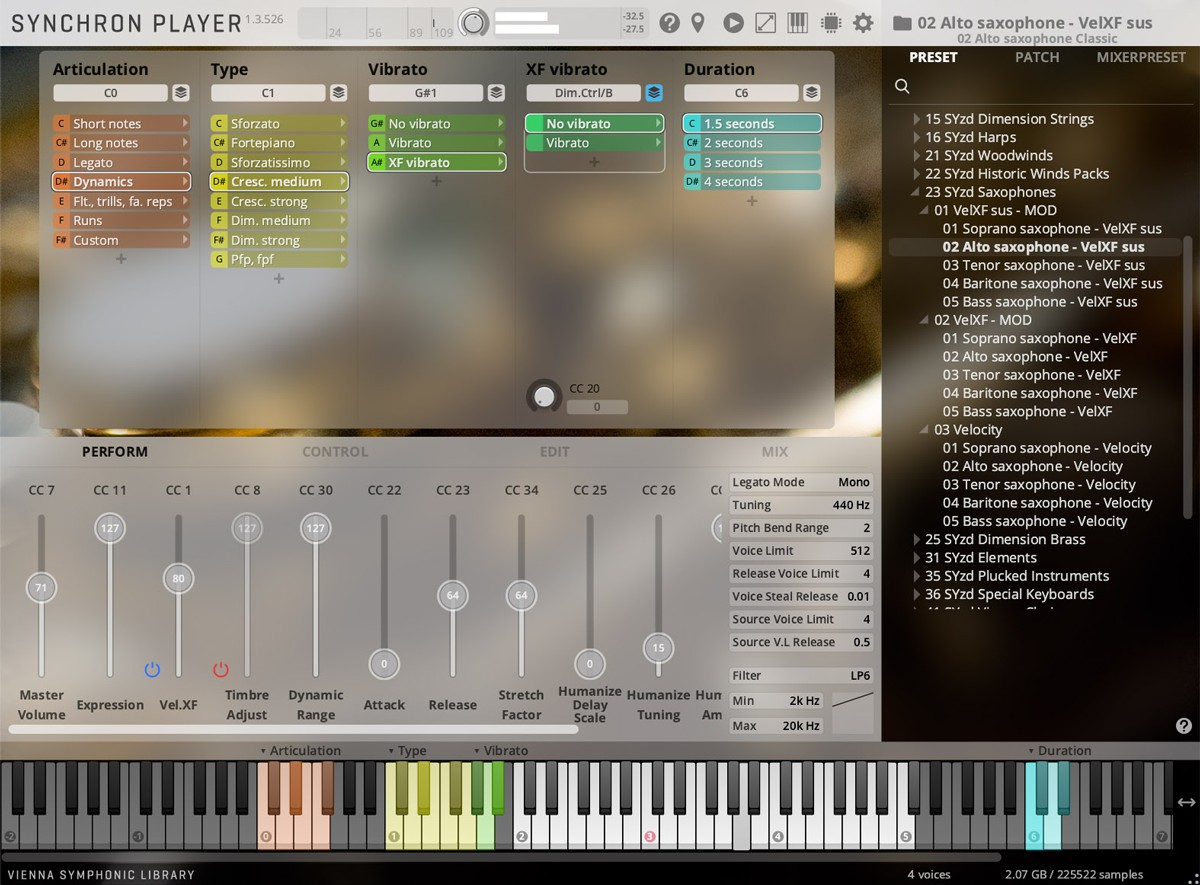 The possibilities of the Synchron Player bring more flexibility, playability, and liveliness to the sample database, with features such as timbre adjust, time-stretching, and advanced real-time algorithms. Notes such as portato, crescendos, and diminuendos can be played shorter than their recorded length and are still automatically provided with authentic release sounds. This way, for instance, you can use the first part of crescendo notes as soft portato articulations, or the first part of diminuendo notes as an espressivo technique with a slight decrescendo that sounds very musical and natural.
The SYNCHRON-ized Saxophones Collection includes a host of articulations that enable the instruments to be performed in a variety of genres, from symphonic music to jazz, rock and pop. In addition to a large selection of regular articulations including short notes, long notes, legatos, portamentos, glissandos, trills, flutter tongues, runs, repetitions, etc., the library offers specialties such as bends, falls, tongue slaps, dirty notes, key noises, and more.
Robert Bernhard, the musician who wholeheartedly played his Selmer Mark VI series instruments (reissues of the famous vintage saxes of the Sixties), has profound experience in orchestral music, as well as in jazz, funk, and blues. His nuanced performances exploit the entire range of the instruments, from sensitive to aggressive, from whispering to screaming.
*Upgrades and User Discounts: You already own VSL Products?
After the login you can check in the shopping cart if you are entitled for a VSL User-Discount and apply it. This works for Upgrades, Crossgrades, EDU products and also when you complete Bundles. Simply add the desired products to your shopping cart and then check for the VSL User-Discount.
Please note that all discounted user-specific orders must be processed manually by our sales team and therefore may take up to one business day to be completed.
Mac:
macOS 10.14 or higher
64 bit
Intel Core i7/i9/Xeon/M1/M2
RAM: 8GB (16GB recommended) - Big Bang Orchestra, SYNCHRON-ized, Smart Series
RAM: 16GB (32GB recommended) - Synchron Libraries, SYNCHRON-ized Dimension Strings & Brass
SSD hard drive recommended
Windows:
Windows 10 or higher
64 bit
Intel Core i5/i7/i9/Xeon
RAM: 8GB (16GB recommended) - Big Bang Orchestra, SYNCHRON-ized, Smart Series
RAM: 16GB (32GB recommended) - Synchron Libraries, SYNCHRON-ized Dimension Strings & Brass
SSD hard drive recommended
Free hard drive space according to the library size.
Required Registration:
Vienna Symphonic Library products require you to register with the manufacturer at www.vsl.co.at and with www.ilok.com to activate your license.
This product requires an activation!

You can either "soft" activate the software on your computer without addditional hardware or transfer the license to an iLok USB dongle which has to be purchased separately. The iLok dongle can be used to run the protected software on different computers. Your licenses can be easily manged using the iLok Licence Manager. To protect your investment against theft or loss we recommend the iLok Zero Downtime protection with TLC.
An internet connection on any computer and a free user-accout at www.ilok.com is required to authorize the product. In order to download and install your software products and sample libraries authorized via iLok, please use the Vienna Assistant.
Please check with the software manufacturer which iLok version is required at least if you want to use a hardware iLok!