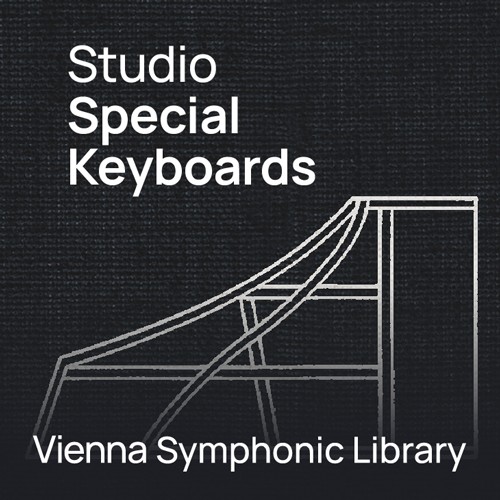 SYNCHRON-ized Special Keyboards

***Crossgrade for owners of VI Special Keyboards
From Baroque to the Avant-garde
Harpsichord, harmonium, prepared piano

Optimized for the Vienna Synchron Player

FX Presets for unexpected and and mysterious sounds

Authentic placement in the Synchron Stage Vienna, one of the world's best sounding scoring stages

Production-ready sound, out of the box
This library is based on the VI Collection Special Keyboards, optimized and enhanced for the Vienna Synchron Player. With its straightforward preset and patch structure, the various registers and techniques are clearly laid out and easily accessible. Expertly crafted mixer presets with the customized impulse responses from Synchron Stage Vienna make placing these instruments on various spots on the scoring stage within your mix fast and simple, delivering the perfect sound out-of-the-box. You can also turn off the player's convolution reverb and algorithmic reverb and place the dry samples in any other environment.
In addition to the "classic" presets, the new FX Presets offer otherworldly, mysterious and unexpected sounds, making use of the Synchron Player's internal mixer with its integrated audio effects and routing options.

The harpsichord has a famously bright sound with rich overtones. Typically a Baroque instrument, the harpsichord has played a minimal role in classical and romantic music. In modern literature, however, it has been rediscovered by a broad range of musicians, and is also used poignantly and effectively in film and TV music. This two manual instrument offers the choirs 8' solo, 8' double, and tutti (a combination of two 8' choirs and one 4' choir).
The harmonium is a free-reed instrument, meaning that air streaming past reeds of different lengths causes them to vibrate. Unlike organ pipes, the harmonium's reeds produce more disharmonic overtones, creating a unique, undulating sound.
The prepared piano is a technique that became known to a wider public around 1940 and is primarily associated with the innovative composer John Cage, who inserted objects such as erasers, nails, wire and paper between a piano's strings causing them to produce additional tones, harmonics, or percussive sounds. In the recording sessions, our team also articulated the Bösendorfer Imperial's strings with their bare hands (e.g., for creating evocative glissandos) and with wood mallets in order to achieve a multitude of fresh sounds and colors.
World-Class Acoustics
For SYNCHRON-ized Special Keyboards, our software developers added a specifically designed convolution reverb derived from Vienna MIR Pro to the Synchron Player, featuring the outstanding and unique ambience of the 540 m² (5,813 sq.ft.) main hall of Synchron Stage Vienna. The perfectly engineered reverberation and placement presets combine customized impulse responses for many spots on stage with expertly crafted reverb settings. By adding the ambience of Synchron Stage Vienna's Stage A to the dry samples in real-time, SYNCHRON-ized Special Keyboards perfectly blend with any other product of our Synchron Series, resulting in a production-ready sound "out of the box".
Library Content: Samples 4.265 | Download 1,6 GB | Installed 5,4 GB
*Upgrades and User Discounts: You already own VSL Products?
After the login you can check in the shopping cart if you are entitled for a VSL User-Discount and apply it. This works for Upgrades, Crossgrades, EDU products and also when you complete Bundles. Simply add the desired products to your shopping cart and then check for the VSL User-Discount.
Please note that all discounted user-specific orders must be processed manually by our sales team and therefore may take up to one business day to be completed.
Mac:
macOS 10.14 or higher
64 bit
Intel Core i7/i9/Xeon/M1/M2
RAM: 8GB (16GB recommended) - Big Bang Orchestra, SYNCHRON-ized, Smart Series
RAM: 16GB (32GB recommended) - Synchron Libraries, SYNCHRON-ized Dimension Strings & Brass
SSD hard drive recommended
Windows:
Windows 10 or higher
64 bit
Intel Core i5/i7/i9/Xeon
RAM: 8GB (16GB recommended) - Big Bang Orchestra, SYNCHRON-ized, Smart Series
RAM: 16GB (32GB recommended) - Synchron Libraries, SYNCHRON-ized Dimension Strings & Brass
SSD hard drive recommended
Free hard drive space according to the library size.
Required Registration:
Vienna Symphonic Library products require you to register with the manufacturer at www.vsl.co.at and with www.ilok.com to activate your license.
This product requires an activation!

You can either "soft" activate the software on your computer without addditional hardware or transfer the license to an iLok USB dongle which has to be purchased separately. The iLok dongle can be used to run the protected software on different computers. Your licenses can be easily manged using the iLok Licence Manager. To protect your investment against theft or loss we recommend the iLok Zero Downtime protection with TLC.
An internet connection on any computer and a free user-accout at www.ilok.com is required to authorize the product. In order to download and install your software products and sample libraries authorized via iLok, please use the Vienna Assistant.
Please check with the software manufacturer which iLok version is required at least if you want to use a hardware iLok!