SYNCHRON-ized Vienna Choir - Celebrating the Human Voice
Completely re-edited sample database

Optimized for the Vienna Synchron Player

Production-ready sound, out of the box

Recorded in the tight, controlled ambience of the Silent Stage

Mixer Presets for authentic placement at Synchron Stage Vienna

Switch off internal reverb for placement in any virtual acoustic environment
This Collection brings the performances of Vienna Symphonic Library's acclaimed VI Series Vienna Choir to the powerful capabilities of the Vienna Synchron Player. The entire sample database was re-edited, updated and optimized for Vienna's proprietary sample player to achieve improvements in terms of authenticity, usability and flexibility.
The ensembles of sopranos, altos, tenors and basses were recorded in Vienna's second studio, the Silent Stage, a recording facility with a tight, controlled ambience specifically designed and built for recording samples. The short ambience of this room allows for placement of the ensembles in any virtual acoustic environment.
Using the Synchron Player's reverberation and placement presets you can put each ensemble at its perfect spot in the large hall of Vienna's own scoring stage, Synchron Stage Vienna, with options such as close, classic, and distant. This way they perfectly blend with any other product of the Synchron Series, resulting in a production-ready sound "out of the box".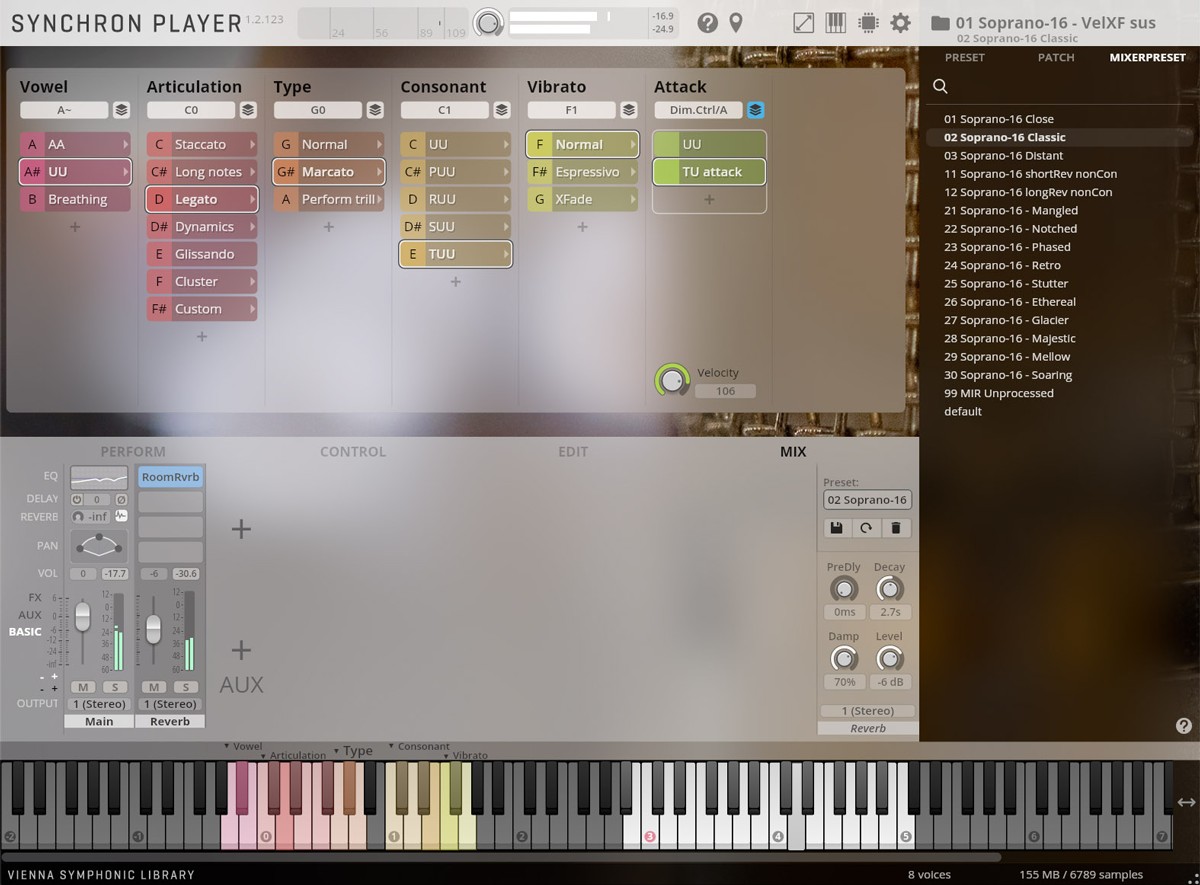 But these ensembles are much more flexible. By turning off the internal convolution and algorithmic reverb of the Vienna Synchron Player the singers can be placed in any virtual acoustic environment, from dry closets to cathedrals, from the authentic natural rooms provided by Vienna MIR Pro 3D to artificial reverb and delay effects. You'll find a variety of FX presets in the Mixer Preset menu of the Synchron Player.
Vienna's team of sound editors recreated a perfectly balanced and pristine-sounding sample database that lives up to the high standards of the SYNCHRON-ized libraries. The meticulously balanced volume levels of the recordings guarantee seamless note transitions when moving from one articulation to the next. Velocity crossfading has been further optimized for extra-smooth volume changes. All legato transitions have been considerably improved, and the new release sample technology greatly increases the flexibility and usability of many articulations. Notes such as crescendos and diminuendos can be played at various lengths and always trigger the correct release sounds. This way, for instance, you can use the first part of crescendo notes as soft portato articulations, or the first part of diminuendo notes as an espressivo technique with a slight decrescendo that sounds very musical and natural.
The SYNCHRON-ized Vienna Choir Collection includes patches of each individual ensemble, but also layered patches featuring a Female Choir, a Male Choir, and the Full Choir. If you have the SYNCHRON-ized Soprano Choir installed, there's a bonus patch that combines the ensembles of both Collections for a powerful group of 32 singers.
*Upgrades and User Discounts: You already own VSL Products?
After the login you can check in the shopping cart if you are entitled for a VSL User-Discount and apply it. This works for Upgrades, Crossgrades, EDU products and also when you complete Bundles. Simply add the desired products to your shopping cart and then check for the VSL User-Discount.
Please note that all discounted user-specific orders must be processed manually by our sales team and therefore may take up to one business day to be completed.
Mac:
macOS 10.14 or higher
64 bit
Intel Core i7/i9/Xeon/M1/M2
RAM: 8GB (16GB recommended) - Big Bang Orchestra, SYNCHRON-ized, Smart Series
RAM: 16GB (32GB recommended) - Synchron Libraries, SYNCHRON-ized Dimension Strings & Brass
SSD hard drive recommended
Windows:
Windows 10 or higher
64 bit
Intel Core i5/i7/i9/Xeon
RAM: 8GB (16GB recommended) - Big Bang Orchestra, SYNCHRON-ized, Smart Series
RAM: 16GB (32GB recommended) - Synchron Libraries, SYNCHRON-ized Dimension Strings & Brass
SSD hard drive recommended
Free hard drive space according to the library size.
Required Registration:
Vienna Symphonic Library products require you to register with the manufacturer at www.vsl.co.at and with www.ilok.com to activate your license.
This product requires an activation!

You can either "soft" activate the software on your computer without addditional hardware or transfer the license to an iLok USB dongle which has to be purchased separately. The iLok dongle can be used to run the protected software on different computers. Your licenses can be easily manged using the iLok Licence Manager. To protect your investment against theft or loss we recommend the iLok Zero Downtime protection with TLC.
An internet connection on any computer and a free user-accout at www.ilok.com is required to authorize the product. In order to download and install your software products and sample libraries authorized via iLok, please use the Vienna Assistant.
Please check with the software manufacturer which iLok version is required at least if you want to use a hardware iLok!