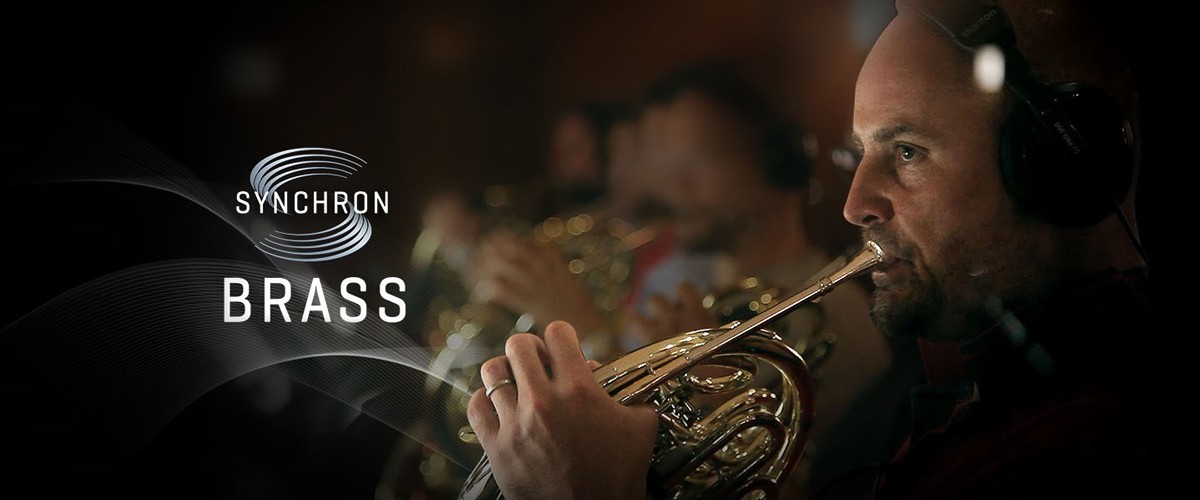 Synchron Brass - Magnificent Power
Versatile orchestral brass at every scale

8 Solo Instruments and 9 ensembles

Fantastic sampling depth for a new level of dynamic expressivity and musicality

New feature "Timbre Adjust" for even more expressive possibilities

9 Microphone positions with pre-configured mixer presets, signature and FX Presets

Expression Maps for Sibelius, Dorico and Cubase
Crossgrade Discounts
Crossgrade discounts towards the Standard Library and towards the Full Library of Synchron Brass are available from these Big Bang Orchestra Packs:
Big Bang Orchestra: Hercules - Low Brass
Big Bang Orchestra: Izar - Low Brass Clusters
Big Bang Orchestra: Jupiter - Horns
Big Bang Orchestra: Kopernikus – Trumpets
Big Bang Orchestra: Zodiac – Supermassive Ensembles
Please log in your bestservice.de customer account, add the desired product to the shopping cart and click on Request VSL User Discount to see your personal crossgrade prices.
"Breathtaking." "Nothing short of stunning." "The best I've ever heard." It's reactions like these we proudly receive after clients from Hollywood and all over the world experience the acclaimed brass sections in scoring sessions at Synchron Stage Vienna. It's that extra magic that happens when superb musicians are given the opportunity to interact with the acoustics of an outstanding room that emphasizes the bold characteristics of brass instruments, inspiring them to deliver stellar performances.

Instruments:
Trumpet 1 (Marc Osterer)
Trumpet 2 (Peter First)
Trumpet Ensemble (4 players) *
Trumpet Ensemble (6 players)
Horn 1 (Péter Keserű)
Horn 2 (Viliam Vojčík)
Horn Ensemble (6 players) *
Horn Ensemble (12 players) *
Tenor Trombone (Matthias Reindl)
Bass Trombone (Bernhard Vierbach)
Cimbasso (Stefan Hirt)
Bass Tuba (Lukas Hanspeter)
Tenor trombone ensemble (4 players)
Trombone ensemble (9 players) *
Low Brass Ensemble (4 bass trombones + bass tuba) *
Low Brass Ensemble, unison and clusters (5 players + contrabass tuba) *
Giant Tutti Brass (28 players: 6 trumpets, 12 horns, 9 tenor/bass trombones, 1 tuba)
* also included in the Big Bang Orchestra series
Creating Synchron Brass has been an exhilarating experience for our production team as well as for the musicians. Sampling sessions are mentally and physically challenging, but after 20 years of sampling and several years of recording film scores in Vienna, taking part in VSL's sampling sessions is considered a badge of honor among many musicians, and we're thrilled we were able to enlist the talents of these top-notch players.

Lest we forget, it's the musicians behind our libraries that make the sounds live and breathe. Every one of them possesses vast experience and mastery of their instruments, but each has a different story. As examples, here are two who have lent their talents to numerous film score recordings at Synchron Stage Vienna, and also played solo instruments on Synchron Brass.

Solo Trumpet 1 was played by Marc Osterer who was born and raised in New York City. He attended Manhattan School of Music, played on Broadway shows, at Birdland, Jazz at the Lincoln Center, toured festivals from Coachella to Salzburg, and was the principal trumpet of the Mexico City Philharmonic for five years before moving to Austria to play on worldwide tours with electro-swing act Parov Stelar and joining the Synchron Stage Orchestra.
Solo double horn player Péter Keserű hails from Kiskunfélegyháza, Hungary. After playing principal horns in symphony orchestras such as the Budapest Concert Orchestra, the Hungarian Symphony Orchestra Budapest and the Bruckner Orchestra of Linz, Austria he has been principal horn with the ORF Vienna Radio Symphony Orchestra since 2008, and in recent years with the Synchron Stage Orchestra.

Developing a new generation of sampled brass ensembles and solo instruments involves much more than placing first-call musicians in a magnificent hall. The experiences and expectations of scoring stage clients as well as two decades of sampling know-how informed the way the performances were recorded, both in terms of creating the score as well as engineering and mic placement. With our mission in mind to develop virtual instruments that let you create coherent and compelling performances with ease, the editing team painstakingly balanced and matched all dynamic levels of the entire sample database for seamless transitions from one articulation to another, perfectly matching release samples, and smooth velocity crossfades.
Timbre Adjust
As an alternative and addition to velocity crossfade, the Synchron Player offers a brand-new feature: Timbre Adjust, assigned to CC8 by default. Especially brass solo instruments are capable of creating subtle volume and timbre variations, and this new intelligent filter lets you apply dynamic changes while staying in one velocity layer. It can also be used to create variants of articulations that have only one velocity layer (such as sforzatissimo) or to prevent velocity crossfade artifacts that may occur with brass solo instruments.
Synchron Brass offers a wide variety of articulations and phrases, and features like Timbre Adjust, integrated time-stretching, and the Synchron Player's release sample technology increase its flexibility and expressive possibilities immensely, allowing you to easily manipulate samples in real-time to create lively, emotional and captivating performances.

Multiple Microphone Positions
To capture the spectacular ambience of "Stage A" of Synchron Stage, our engineers employed up to nine separate phase-coherent microphone configurations to provide a broad range of room options. In addition to the close, mid, Decca tree and surround microphones, the solo horns were also recorded with a condenser mic placed behind the musician as well as a ribbon room mic, all of them available as separate channels in the mixer section of the Vienna Synchron Player.

Pre-configured mixer presets provide a wide variety of tonal characteristics, from close to ambient, from lush to sparkling, from natural to heavily processed. As with all Synchron Libraries, you can mix your brass sound in stereo, 5.1 surround or even 9.1 Auro 3D, or any other immersive audio format, such as Dolby Atmos.

Microphone Setup - Standard & Full Library
The Standard Library and Full Library of Synchron Brass both include the same articulations. The difference lies in the number of provided microphone positions:
1. Close Mic (mono) - Standard & Full Library
2. Solo Horn Back Mic (mono) - Full Library Only
3. Mid Mic – Stereo (L/R) - Standard & Full Library
4. Main/Room Mic – Decca Tree Stereo (L/R) - Standard & Full Library
5. Main/Room Mic – Decca Tree Mono (Center) - Standard & Full Library
6. Main Surround – Stereo (L/R) - Full Library Only
7. High Stereo (3D) – Stereo (L/R) - Full Library Only
8. High Surround (3D) – Stereo (L/R) - Full Library Only
9. Solo Horn Room Mic Ribbon – Stereo (L/R) - Full Library Only
The main surround microphone settings may also be used instead of the main stereo room mics in order to achieve a wider and more ambient mix. Blending surround signals with the other microphone signals creates a denser, more lush overall sound, even in stereo applications.

Room Mix Presets feature an excellent mix-down to stereo from the Decca tree and surround mic positions for a CPU and RAM-saving sound that's perfectly balanced right out-of-the-box. A host of Mixer Presets is available in the categories of "Decca Tree Multi-Mic", "Surround to Stereo Downmix", and "Surround".
The Standard Library and the upgrade to the Full Library are separate downloads.
Immersive Sound and Auro 3D
Auro 3D is an immersive audio technology that allows for three-dimensional sound perception. The Belgian company Auro Technologies developed this technology based on a special speaker configuration, adding four additional speakers to a 5.1 surround configuration. These speakers (so-called "Heights") are situated above the front and surround speakers and generate acoustic reflections that are perceived naturally due to the fact that sounds originate from around as well as from above the listener. Thanks to the comprehensive selection of discrete audio channels of Synchron Brass (Full Library) you may mix your instruments in Auro 3D as well as in Dolby Atmos.
Recorded at Synchron Stage Vienna
Our historical scoring stage in the heart of Vienna offers cutting-edge recording technology and superior acoustics for a wide variety of ensembles and musical styles.

Since its opening in 2015, many international composers and film studio executives were amazed by our facility's outstanding features and possibilities. Hans Zimmer's Remote Control Productions recorded a whole slate of productions, including music for the feature film "Inferno" and the Golden Globe-winning Netflix series "The Crown". Harry Gregson-Williams recorded his score for "The Meg" at Synchron Stage Vienna, Lorne Balfe "Ad Astra", and BBC's "Blue Planet II". What's more, many orchestral productions for major Chinese, Japanese and South Korean blockbusters were recorded at Synchron Stage. The Wiener Symphoniker and the Vienna Radio Symphony Orchestra were among the ensembles who recently recorded projects here.

*Upgrades and User Discounts: You already own VSL Products?
After the login you can check in the shopping cart if you are entitled for a VSL User-Discount and apply it. This works for Upgrades, Crossgrades, EDU products and also when you complete Bundles. Simply add the desired products to your shopping cart and then check for the VSL User-Discount.
Please note that all discounted user-specific orders must be processed manually by our sales team and therefore may take up to one business day to be completed.
Mac:
macOS 10.14 or higher
64 bit
Intel Core i7/i9/Xeon/M1/M2
RAM: 8GB (16GB recommended) - Big Bang Orchestra, SYNCHRON-ized, Smart Series
RAM: 16GB (32GB recommended) - Synchron Libraries, SYNCHRON-ized Dimension Strings & Brass
SSD hard drive recommended
Windows:
Windows 10 or higher
64 bit
Intel Core i5/i7/i9/Xeon
RAM: 8GB (16GB recommended) - Big Bang Orchestra, SYNCHRON-ized, Smart Series
RAM: 16GB (32GB recommended) - Synchron Libraries, SYNCHRON-ized Dimension Strings & Brass
SSD hard drive recommended
Free hard drive space according to the library size.
Required Registration:
Vienna Symphonic Library products require you to register with the manufacturer at www.vsl.co.at and with www.ilok.com to activate your license.
This product requires an activation!

You can either "soft" activate the software on your computer without addditional hardware or transfer the license to an iLok USB dongle which has to be purchased separately. The iLok dongle can be used to run the protected software on different computers. Your licenses can be easily manged using the iLok Licence Manager. To protect your investment against theft or loss we recommend the iLok Zero Downtime protection with TLC.
An internet connection on any computer and a free user-accout at www.ilok.com is required to authorize the product. In order to download and install your software products and sample libraries authorized via iLok, please use the Vienna Assistant.
Please check with the software manufacturer which iLok version is required at least if you want to use a hardware iLok!