Your Hands-on Synchron Stage Orchestra
The entire Synchron Stage Orchestra at your fingertips

Powerful sections from Synchron Duality Strings, Synchron Brass, Woodwinds, Percussion, Choir + solo instruments

Quick orchestrations for sketching, scoring and live playing
Get your hands on a full-blown orchestra that's easy and fun to play! The Synchron Smart Orchestra brings the power of Vienna's acclaimed Synchron Stage Orchestra to your studio, laid out over the entire keyboard and ready to play with a mesmerizing sound right out of the box.
Whether you're playing the entire orchestra including choir and percussion at once, or you're playing the individual sections separately, this powerful and versatile software instrument can be used in so many different ways. It's great for playing live, for quickly creating powerful orchestrations, for sketching ideas, and for getting new ideas in the first place.
What's more, you can play the orchestra or each section with your left hand and one of nine solo or lead voices with your right hand at the same time – perfect for those beautiful melodies soaring above the orchestra! These solo/lead instruments are available: Violin ensemble, cello ensemble, flute, oboe, clarinet, trumpet, horn, harp, celesta.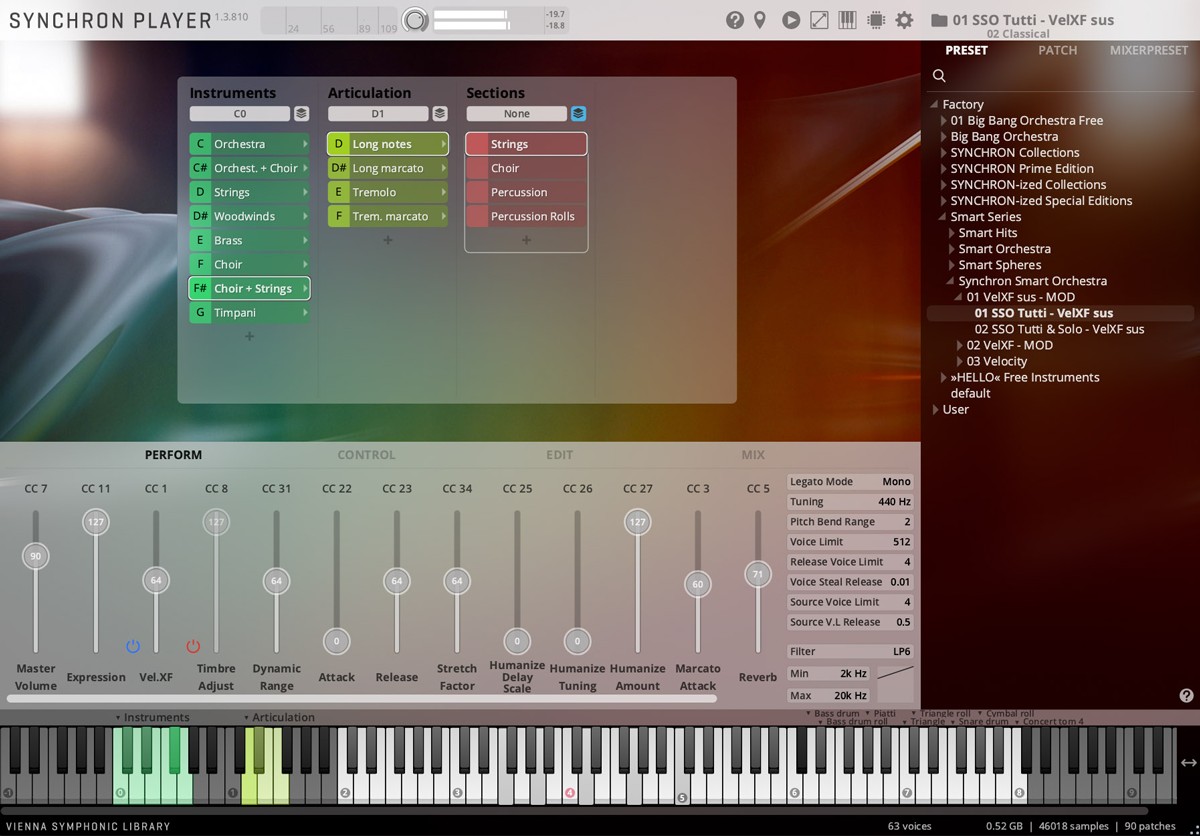 To refine your arrangements, you can place each orchestra section, as well as each solo instrument with its full range, on separate tracks of the DAW, which makes the Synchron Smart Orchestra an extremely simple to use and resource-saving orchestral library that delivers impressive results in an instant. Creating a big symphonic track has never been faster or easier!
While the previously released Vienna Smart Orchestra includes VI Series instruments recorded at the Silent Stage and placed on the virtual Stage A using the Synchron Player's internal convolution reverb, the performances of the Synchron Smart Orchestra were recorded with the ambience of the large hall of Synchron Stage Vienna, where the finest musicians lend their talent and artistry to film and TV score recordings on a daily basis.
The performances of the ensembles and percussion were taken from these libraries:
Tutti Strings, Violin & Cello Ensemble Legato: Synchron Duality Strings
Tutti Brass: Big Bang Orchestra: Altair - Section Essentials
Tutti Woodwinds: Big Bang Orchestra: Neptune - Tutti Woodwinds
Tutti Choir: Big Bang Orchestra: Ganymede - Choirs
Unpitched Percussion: Synchron Percussion I
The performances of the solo instruments are all-new recordings specifically created for this product (except for horn, harp, and celesta). A novel way of recording and mapping legatos makes for especially authentic note connections, as previously evidenced in the lyrical legato of the solo horn included in the Synchron Brass Collection, which is also part of the Synchron Smart Orchestra.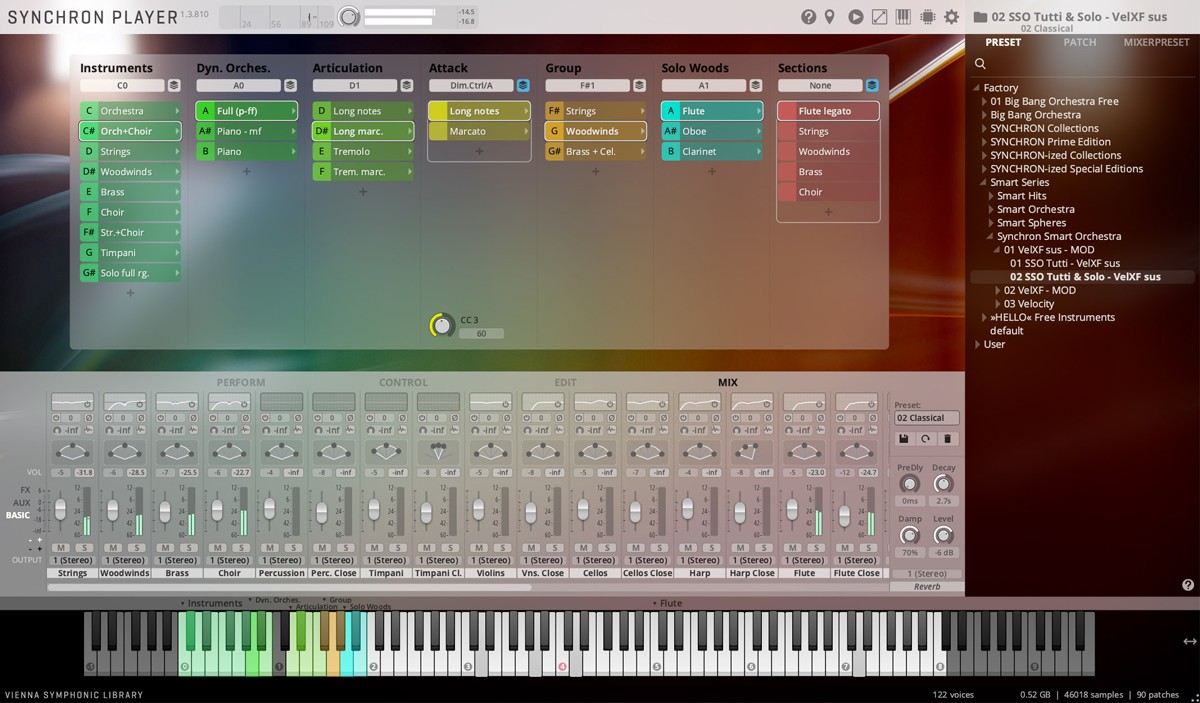 All sections and solo instruments are available on separate channels in the mixer of the Vienna Synchron Player where you can fine-tune the overall balance and adjust each sound to your liking using the on-board effects. The mixer presets Close, Classical, Long and Lush get you started with a well-balanced, cohesive sound straight away.
The "Tutti" presets include all orchestra sections without the solo/lead voices. The full span of the orchestra ranges from C2 to C6 on the keyboard, with the most common unpitched percussion instruments mapped from D6 upwards.
With the "Tutti & Solo" presets, nine solo/lead voices are mapped from C5 upwards. These presets also include an option to lower the volume of the orchestra to mezzoforte or to piano, helping the lead instrument played with the right hand to stand apart from the orchestra played with the left hand. In case the broader note range of an instrument is needed, all solo/lead instruments are also available separately with their full note ranges.
*Upgrades and User Discounts: You already own VSL Products?
After the login you can check in the shopping cart if you are entitled for a VSL User-Discount and apply it. This works for Upgrades, Crossgrades, EDU products and also when you complete Bundles. Simply add the desired products to your shopping cart and then check for the VSL User-Discount.
Please note that all discounted user-specific orders must be processed manually by our sales team and therefore may take up to one business day to be completed.
Mac:
macOS 10.14 or higher
64 bit
Intel Core i7/i9/Xeon/M1/M2
RAM: 8GB (16GB recommended) - Big Bang Orchestra, SYNCHRON-ized, Smart Series
RAM: 16GB (32GB recommended) - Synchron Libraries, SYNCHRON-ized Dimension Strings & Brass
SSD hard drive recommended
Windows:
Windows 10 or higher
64 bit
Intel Core i5/i7/i9/Xeon
RAM: 8GB (16GB recommended) - Big Bang Orchestra, SYNCHRON-ized, Smart Series
RAM: 16GB (32GB recommended) - Synchron Libraries, SYNCHRON-ized Dimension Strings & Brass
SSD hard drive recommended
Free hard drive space according to the library size.
Required Registration:
Vienna Symphonic Library products require you to register with the manufacturer at www.vsl.co.at and with www.ilok.com to activate your license.
This product requires an activation!

You can either "soft" activate the software on your computer without addditional hardware or transfer the license to an iLok USB dongle which has to be purchased separately. The iLok dongle can be used to run the protected software on different computers. Your licenses can be easily manged using the iLok Licence Manager. To protect your investment against theft or loss we recommend the iLok Zero Downtime protection with TLC.
An internet connection on any computer and a free user-accout at www.ilok.com is required to authorize the product. In order to download and install your software products and sample libraries authorized via iLok, please use the Vienna Assistant.
Please check with the software manufacturer which iLok version is required at least if you want to use a hardware iLok!