Warm Up Your Sound.
Tape recordings have a musical quality that digital mixes often lack. TAIP brings this quality into your DAW.
It will add some authentic analog heat to your tracks, without the need to route any audio outside the box.
Tape plugins are not a new concept. However, Baby Audio's emulation method is. Instead of using traditional DSP, they've developed TAIP around an AI algorithm designed to decipher the invisible nuances of analog circuits.
The result is a truly faithful tape emulation that's intuitive and creative in use - with some added features to accommodate a modern workflow. Use TAIP to bring a touch of warmth and glue to your tracks, or 'drive it like you hate it' as an alternative to your distortion plugins.
Highlights
AI-powered algorithm, giving you the true warmth and behavior of analog tape

Flexible feature set, allowing you to create a custom 'tape flavor' for any need

Use TAIP to add musical saturation and glue to drums, instruments, vocals and beyond

Switch between three backgrounds (Black / Gray / White)

Plugin window fully resizable

Read more about our AI emulation approach further below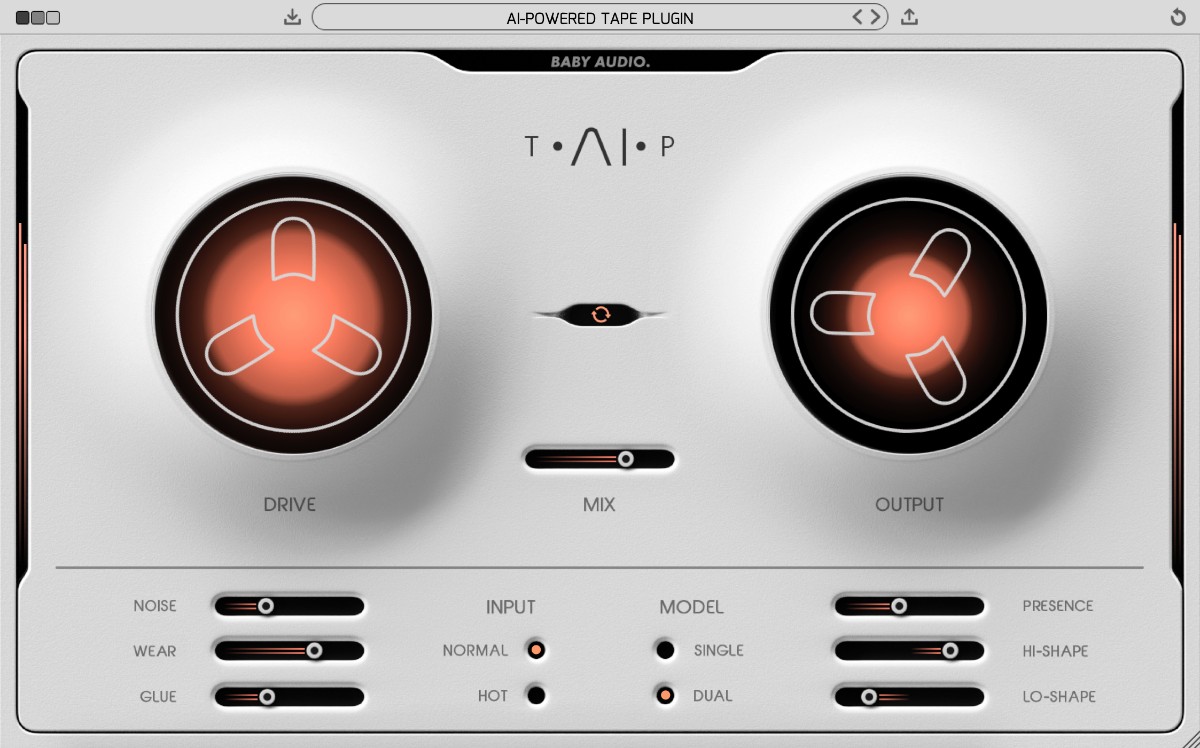 Putting the 'AI' in TAIP.
'AI' is an overused - and often misused - term. But Baby Audio believe it's the future of music technology. It just needs to be used genuinely and with a legitimate purpose.
For a hardware emulation project like TAIP, AI offers an alternative - and in their opinion more faithful - approach over the traditional DSP method. Where a normal DSP emulation would entail 'guesstimating' the effect of various analog components and their mutual dependencies, Baby Audio can use AI / neural networks to accurately decipher the sonic qualities that make a tape machine sound and behave in the way it does. This happens by feeding an algorithm various training data of dry vs. processed audio and teaching it to identify the exact characteristics that make up the difference. Once these differences have been learned by the AI, we can apply them to new audio.
This process may sound overly digital for a plugin that brings an analog sound. But the reality is that 'analog' and 'digital' are two fundamentally different domains. To get a computer to behave (or sound!) in a certain way, it helps to think like it does. Re-creating an 'analog-style' signal path in DSP is thinking about the problem like a human. The AI approach helps us solve the problem like a machine would - for a more faithful emulation.
Presets
TAIP comes loaded with 135 presets created by friends of BABY Audio - including:
Mark Needham (Fleetwood Mac, The Killers, Bloc Party, Elton John)

Max Jaeger (Ariana Grande, Kanye West, Drake, Calvin Harris)

Eestbound (Travis Scott, Young Thug, Jazz Cartier)

Rob Kleiner (Sia, Britney Spears, David Guetta, Cee Lo)

Cesar Sogbe (Prince, David Byrne, Jennifer Lopez)
Mac:
macOS 10.7 or higher (including Catalina and Big Sur)
Windows:
Required Registration:
BABY Audio products require you to register with the manufacturer at www.babyaud.io to activate your license.
This product requires an activation!
An internet connection is required to authorize / activate the product.