ToneSpot Acoustic Express - Best tone of string instruments spotted easily
improve the sound of your string instruments like acoustic guitars, pianos, classical string instruments, banjo or mandolin... No more tweaking. Get inspired by the sound and explore some new colors. Across genres & styles, Immediatelly. Dirt cheap.
Express delivers exactly the same sound quality and exactly the same amount of processing power, but with minimum controls so you can get the sweetspot of your tone super-fast. ToneSpot Acoustic Express is a preset-based plug-in that improves your tone in one click.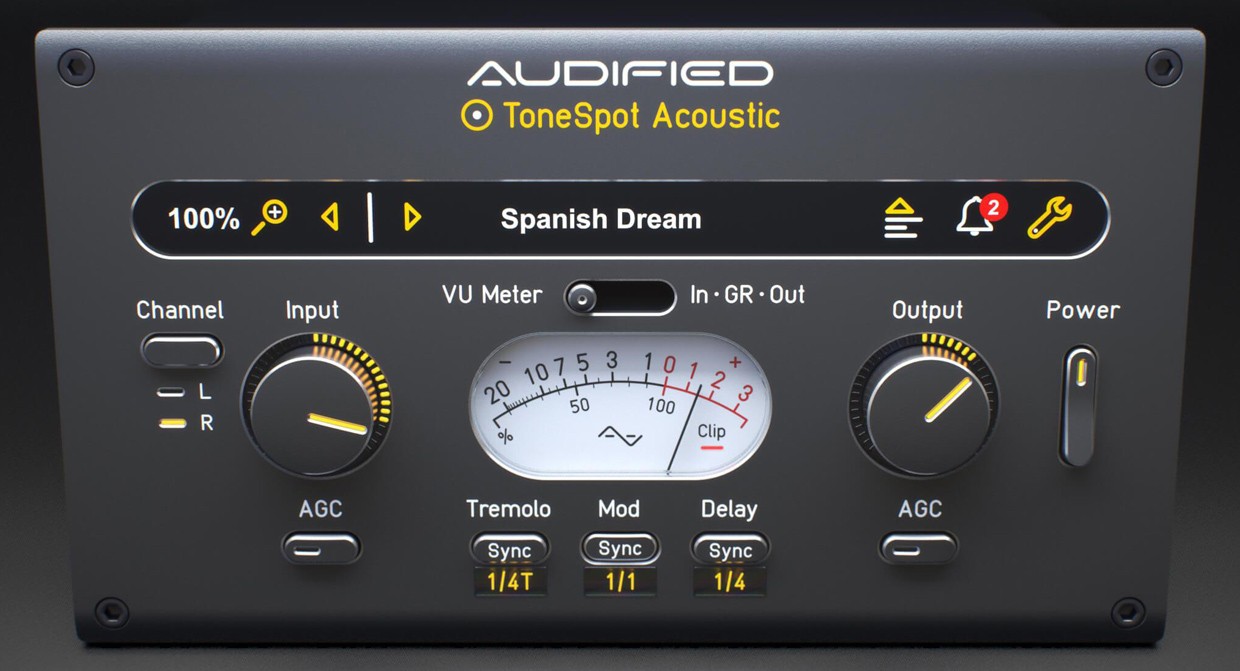 Tone Hunting
You need that outstanding tone you are hearing on your favorite album. So you bought an awesome instrument and a fantastic amp. Maybe you have also bought some beautiful stomp boxes, expensive rack units and phenomenal microphones. You use many hi-end plug-ins.
But what? Your dream-tone is not there when recorded and mixed with the rest of the band? You are endlessly tweaking and tweaking your sound, you tried everything. No success.
Why?
Acoustic instruments can take a lot of processing even the natural tone is needed. It's because of the context. Acoustic instruments can fight against busy arrangement with several layers of instruments clashing into each other. Or the recordings are sounding too sterile, thin or harsh. So you need the tone that can cut through. The tone has to be harmonically rich and fat sounding, but it also needs to have a lot of clarity and tightness at the same time. But it's not all! Even if the instrument is heavily processed, it also has to be very natural sounding at some point so everyone knows what instrument is played.
What matters? Music or Sound?
Both. Great musical ideas need a great sound. Music industry changed over years. The quality of sound and sound aesthetics often determine the success of the music. It's not enough to write good music anymore. You need breathtaking sound to get attention.
And... If you have an inspiring sound, you write and play better music. You have the ideas, we have the tool, so… Lets get inspired by the sound
Mac:
macOS 10.11-11.1
Apple Silicon compatible
Windows:
Required Registration:
Audified products require you to register with the manufacturer at www.audified.com to activate your license.
This product requires an activation!
An internet connection is required to authorize / activate the product.