Drums played by blues legend Tony Coleman
SONiVOX is proud to offer Tony Coleman Drums, an amazing drum instrument for drummers, producers, and songwriters. A legend in the R&B/Blues world, Tony is renowned for his work with B.B. King, Etta James, Buddy Guy and Albert King. He's been the irresistible pulse and unstoppable power behind some of the world's most infectious, soulful and unforgettable music. And now, in your creative hands, his one-of-a-kind sound is in your band!
The sound and feel of Tony's illustrious drumming was expertly captured at the lauded Ardent Studios in Memphis, TN, on the best recording gear available. Each individual kick drum accent, snare hit and cymbal strike was tracked to a Studer 2-inch analog tape machine to acquire the highly-desirable affect of tape compression. Complemented by a high-definition audio engine, each sample translates the session's impeccable realism and detail to any modern digital audio workstation. Tony imparts his unique touch every individual note he plays, and that's exactly what you get.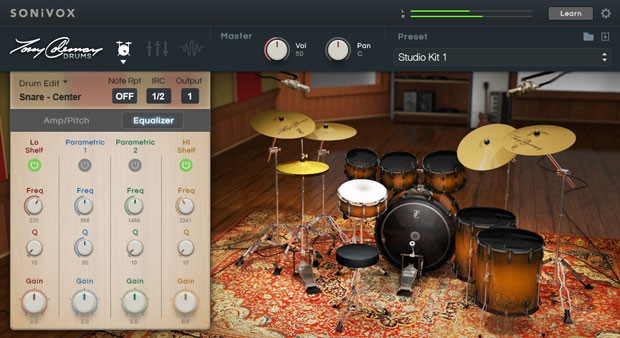 Using a MIDI keyboard, electronic drums, or pad controller, users can access 20 Gigabytes of Tony's top-tier blend of playing, sound, nuance and touch to enhance their songs and performances. When you put these together yourself, you've got the genuine sound of an R&B legend.

Additionally, drum/cymbal strikes can be adapted to any project by way of the instrument's powerful editing and mixing capabilities. Users can adjust pitch, envelope, EQ, and filter settings for each drum or cymbal, bringing versatility to the modern musician's arsenal. An all-new mixer provides per-part level, panning, and ambiance control—giving users the ability to tap into the coveted textures of Ardent's world-class live room. Post-processing effects include compression, reverb and EQ.

This instrument brings extraordinary sound and a contemporary feel to even the most modest studio. We think you'll agree that Coleman was the perfect drum source, and incorporating Ardent's collection of elite analog studio gear delivers the impressive results you're looking for. The audio engine we used is icing on the cake—close your eyes and Tony's sound is right there.
Product Features
Over 20 GB of expertly captured drum samples played by blues legend Tony Coleman

Recorded at Ardent Studios using top-shelf microphones and pre-amps

Select kick and snare drums feature 2-inch Studer tape compression

Intelligent Rhythm Control corrects note timing without sacrificing musically

All-new audio engine for uncanny realism in any DAW

Comprehensive part editing; pitch, compression, filters, and EQ

Studio-grade master effects; reverb, compression, and EQ
Tony Coleman's Kit:
Mapex Black Panther snare (maple)

Mapex Saturn Series Kit: 10", 12", 13" Toms; 14", 16" Floor Toms; 22" Bass Drum

Ride: Sabian 22" AAX

Crash: Sabian 18" AAX, 20" Vault, 18" AAX Fast Crash

Hi Hat: Sabian 16" AA
Mac:
macOS 10.10 or higher
Intel Core i5
2.3 GHz
RAM: 4GB (8GB recommended)
Windows:
Windows 10-11
Intel Core i5
2.3 GHz
RAM: 4GB (8GB recommended)
Required Registration:
SONiVOX products require you to register with the manufacturer at www.sonivoxmi.com and with my.plugivery.com/redeem to activate your license.
This product requires an activation!
An internet connection is required to authorize / activate the product.