To use Try-Sound 2.0 (public beta version) you need:
a free Best Service User Account
a Mac or PC
a working audio workstation with VST or AU plugin support
a master keyboard is highly recommended
Click on DAWconnect to download the latest version of our advanced cloud solution. Run the installer and carefully follow the instructions on screen. Finally make sure the DAWconnect plug-in is available as a virtual instrument in your audio workstation.
To book a session please proceed as follows:
Browse the Best Service website for products with the
Try-Sound Icon

Simply click on this icon to book a free session.

If you prefer to select from a list of currently available products visit the Try-Sound homepage
After you selected your preferred time slot click "Book Session" to request your personal access code.
Run your DAW / audio software and load the DAWconnect plug-in.
Signing in with DAWconnect
Please copy the login credentials from the booking page or the email with the booking confirmation into your clipboard and then paste them into the DAWconnect login window using the clipboard icon

You can also type in your login credentials. The first part is the "Session", the second part is the "PIN".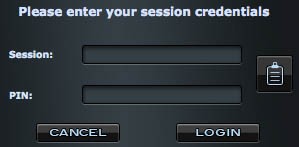 Please note that a session will automatically be terminated after 10 minutes of inactivity.
Automatic Latency Settings
After you succesfully logged in to Try Sound, we will first determine the best DAWconnect settings depending on your internet connection. We highly recommend you to leave this option enabled for every session.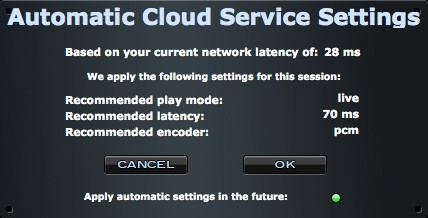 The main DAWconnect controls:

- Online / Offline connects or disconnects you from the Try-Sound Server.
- The Connection Error button indicates transmission errors and lets you reset these.
- With the Live/Safe Mode button you can choose your priority: speed or stability.
Right clicking this button lets you quickly change the latency.

Please note that you will have to close the settings panel or the dropp down menu to apply
any latency changes.
- Here you can open the control interface.
- Show Editor opens the user interface of the loaded plugin.
The DAWconnect user interface: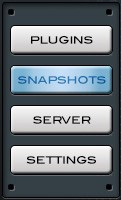 PLUGINS - Here you can see all available plugins in this session
SNAPSHOTS - Here you can load preconfigured instrument settings
SERVER - Here you can see all available servers
SETTINGS - Here you can configure video and audio settings
The main settings panel: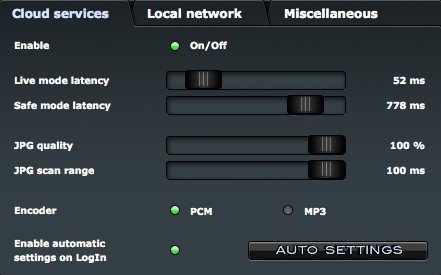 If you want to change the settings applied by the automatic network probe, you can do it on this panel.
If your session has too many dropouts, please first make sure that your internet connection is not blocked by anything else (like downloads or streaming). Reducing the JPG scan rate and JPG quality, or closing the GUI with the "Hide Editor" buitton can significantly take some load of your internet connection. If that is still not enough, please switch to MP3 compression.
Have fun!
Browser not supported
Please use a browser which supports .mp3 files.