The Finest in Analog Sounds
In a world filled with reproductions and ever increasing complexity, Ultra Analog imposes itself as a unique and powerful synth that is fast, easy, and remarkably versatile. Ultra Analog is highly efficient, find the sound you want fast and tweak it to perfection thanks to the categorized browser and ergonomic interface. Whether it's for day to day synth work or particular sound design tasks, Ultra Analog will deliver the entire analog sonic range with every control at your fingertips whenever your creative outbursts demand it.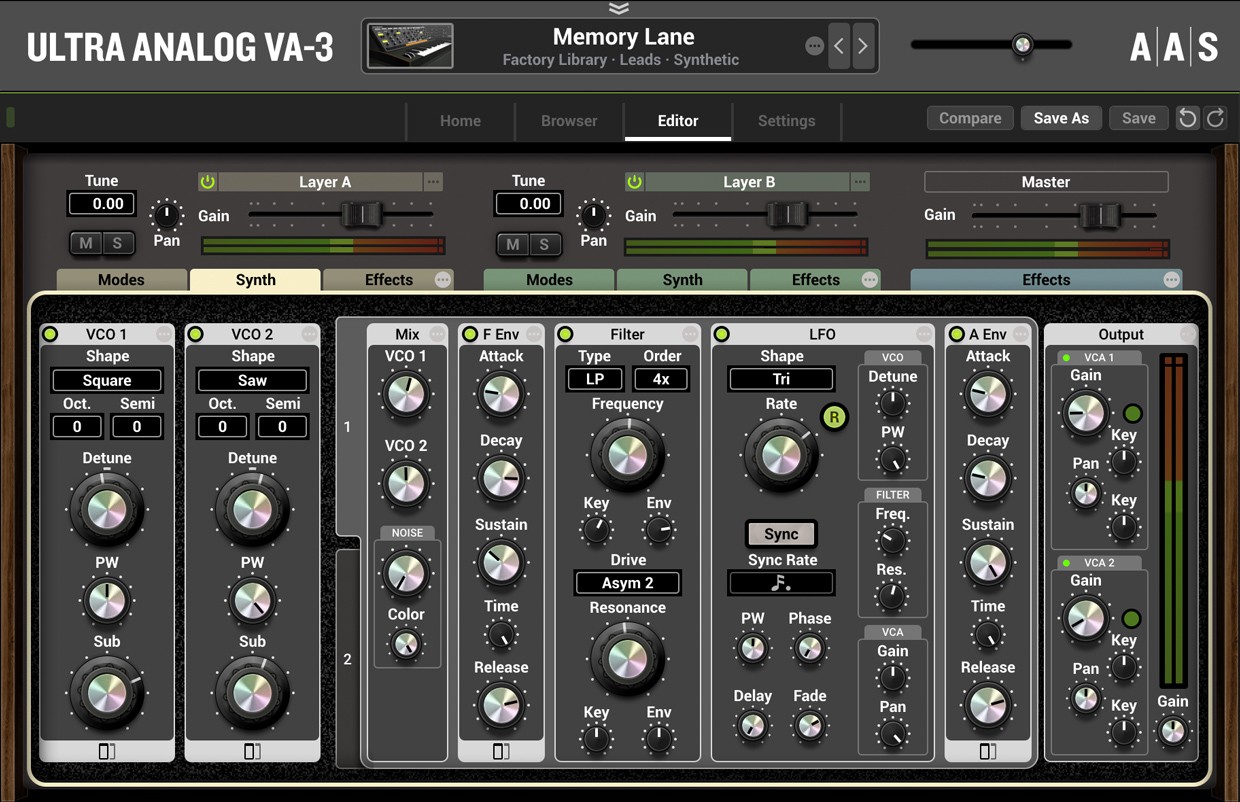 The superb preset library created by the best professional sound designers represents a sensational journey through all the colors of the analog spectrum—from vintage synthesizers to modern VAs. Ultra Analog is packed with premium performance features: keyboard modes, unison, portamento and glide functions, and a complete set of MIDI features. And for even more action, Ultra Analog provides a user programmable pattern arpeggiator and shortcuts to the high quality effects. The FX panel wraps up Ultra Analog VA-3 as an all-inclusive package with awesome polishing tools. The completely renewed factory library has well over 1000 production-ready sounds classified for fast and intuitive exploration.
Features
Virtual analog software-synthesizer
Standalone or plugin operation
Arpeggiator
Host tempo synchronization for effects and modulations
Multimode filter including low-pass, high-pass, band-pass, notch, and formant types
Compressor, equalizer, delay, distortion, phaser, chorus, flanger, wah wah and notch filters
Reverb
Limiter
Factory library including over 1000 production-ready sounds
Features in Version 3
Home view - the Home view presents a distraction free and laid-back browsing and tweaking experience.
Two-Voice Multitimbral - Two independent timbres—stacked or split—create performance-friendly, texture-full, and spacious sounds.
Macros - Four performance macros per layer that respond to user-defined MIDI controls. Each and every sound features modulation, timbre, envelope, and effect morphing assignments that can be played in real time for enhanced expressivity and sonic dimension.
Browser - The brand-new browser offers an efficient way to home in on the right sounds thanks to the Packs, Sounds, Categories, and Creators views.
Factory Library - Ultra Analog VA-3's factory library contains 560 additional sounds as well as refined versions of the 800+ Ultra Analog VA-2 presets.
Ladder Filter - Ultra Analog VA-3's multi-mode modules now star a brand-new ladder-type filter for that classic low-pass response
Mac:
macOS 10.11 or higher
64 bit
Intel Core i5 or higher
Apple M1 processor or higher
Apple M1 compatibility Information
Windows:
Windows 10 or higher
64 bit
Intel Core i5 or higher
Required Registration:
AAS products require you to register with the manufacturer at www.applied-acoustics.com to activate your license.
This product requires an activation!
An internet connection is required to authorize / activate the product.