The Dark Sounds of Aztec Death Whistles
As an introduction to the strong MNDALA 2 Engine, Ultrasonic Death Whistle (UDW) was created. These two when combined provide for unmatched creative potential and limitless sound design.
Features
17 Presets
13 Individual Instruments
Up to 14 Round Robins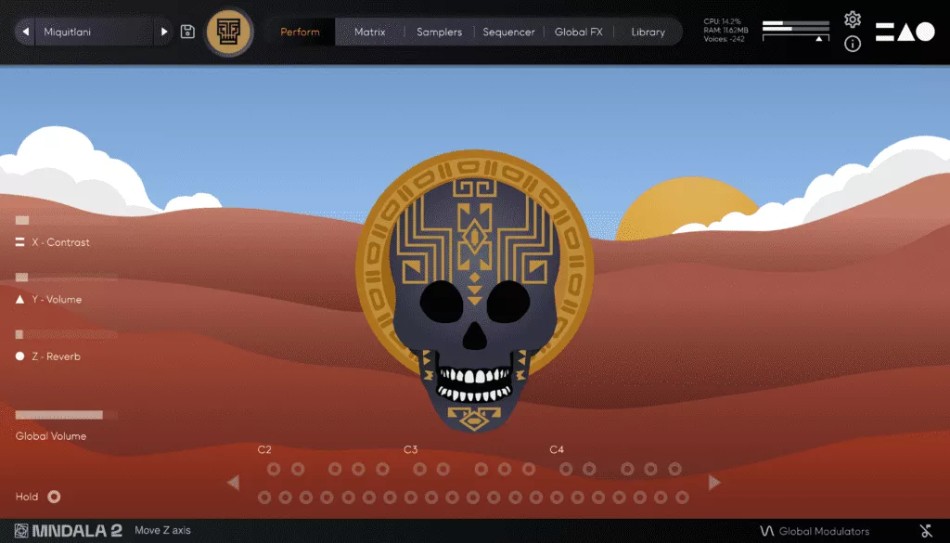 3-Axis Universal Controls - Simply map your favourite controller once for all plugin instances.
Intuitive Performance GUI - Custom animation driven performance interface & mouse hover interactions.
Industry Leading Audio Quality - 384khz/32-bit extended ultrasonic range sample sources
Instruments included:
All of the following instruments are different death whistles.
Yuuali (Night), Yuualtotome (Night Bird), Ehecatl (Wind), Tlilcoatl (Viper), Ixehua (Ghost), Coyochoca (Coyote), Izhuayo (Forest), Ixpoctic (Vision), Cuaxicalli (Skull), Ozomatl (Monkey), Tecuyoa (Howl), Huentlalia (Altar), Tzatzllia (WarCry)
Mac:
macOS 10.11 or higher
Apple Silicon compatibility
64 bit
Windows:
Windows 10 or higher
64 bit
Required Registration:
Mntra Instruments products require you to register with the manufacturer at www.mntra.io to activate your license.
This product requires an activation!
An internet connection is required to authorize / activate the product.