UltraTap - A unique Multi-tap Effect
UltraTap is an unique multi-tap effect that's capable of rhythmic delays, glitchy reverbs, huge pad-like volume swells and extraordinary modulation. It's the perfect tool for creating drum fills, vocal choruses, swelling guitar chords and other evolving effects. Producers, engineers, sound designers and musicians will have loads of fun discovering its multiple uses.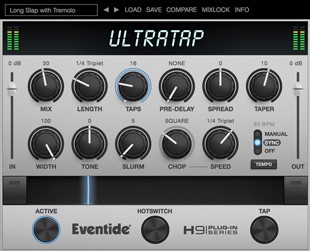 UltraTap is designed for real-time manipulation. The Ribbon Controller allows you to program two settings for any combination of the controls and seamlessly morph to any sound between them. The programmable HotSwitch allows you to instantly jump to an alternate sound at the push of a button. This combination of controls is intended to bring you as close as possible to the experience of tweaking real hardware.
This unique effect has been ported directly from the award-winning H9 Harmonizer multi-effect pedal. A fan favorite for years, UltraTap is not a one-trick pony. All of the presets have been converted to the plug-in as well as newly created factory and artist presets. Now you can use all the delays, reverbs, chorus and modulation effects that guitarists and synth players have grown to love. Best of all, the programmable Ribbon Controller has been optimized for live use with your favorite DAW.
Mac:
macOS 10.9 or higher
Apple Silicon compatible
64 bit
Windows:
Windows 8.1 or higher
64 bit
Required Registration:
Eventide products require you to register with the manufacturer at www.eventideaudio.com and with www.ilok.com to activate your license.
This product requires an activation!
You can either "soft" activate on your computer without addditional hardware or transfer the license to an iLok USB dongle which has to be purchased separately. The iLok dongle can be used to run the protected software on different computers. Your licenses can be easily manged using the iLok Licence Manager. To protect your investment against theft or loss we recommend the iLok Zero Downtime protection with TLC.
An internet connection on any computer and a free user-accout at www.ilok.com is required to authorize the product.
Please check with the software manufacturer which iLok version is required at least if you want to use a hardware iLok!