*VSL Upgrade policy – get your personal upgrade discount in our shop!
Based on available registrations in your VSL User Account VSL Software and Software-Bundles might qualify for an upgrade/complimentary discount. To check for any possible discount simply enter your VSL login email in our basket when requested. Any available discounted price will be calculated immediately. By upgrading from a software pack you can complete the respective Software Bundle discounted!
Please allow up to one work day for delivery of personal upgrades or discounted licenses.


Convolution Reverb for Vienna Instruments
MIRx is a convolution reverb extension for Vienna's proprietary sample players Vienna Instruments based on their revolutionary MIR (Multi Impulse Response) technology. It is a convenient and affordable way to integrate the exceptional acoustics of Synchron Stage Vienna's large Stage A directly into these sample players.
Using pre-configured Multi Impulse Responses from Vienna MIR Pro, each instrument or ensemble in your Vienna Instruments arsenal will find its perfect position on stage at the touch of a button. Simply turn on the MIRx option in your player's reverb window, select one of the presets for your loaded instrument and it will be placed and aligned at the appropriate spot on stage. Creating a perfectly balanced orchestral sound has never been easier.

The MIRx Synchron Stage Vienna reverb expansion allows users to seamlessly mix their Vienna Instruments Collections with exactly the same ambience found in the landmark Synchron Series Collections, bringing all of Vienna's award-winning instruments together under one roof.
MIRx Synchron Stage Vienna offers two orchestral seatings: The "Portrait" presets place your instruments longitudinally on stage, with the first violins and violas on the left, second violins on the right, cellos further back on the right and basses in the middle. The sound of this traditional setup offers ample room character and leans toward a more "classical" approach. The "Wide" (landscape) presets place the instruments transversely on stage, with the second violins next to the first violins on the left, violas and cellos on the right and the basses further back on the right. The sound of this setup delivers a slightly dryer "scoring stage" character with a shorter reverb time that matches the sound of Vienna's Synchron Libraries that were actually recorded on this very stage, such as Synchron Strings Pro and the Big Bang Orchestra Series.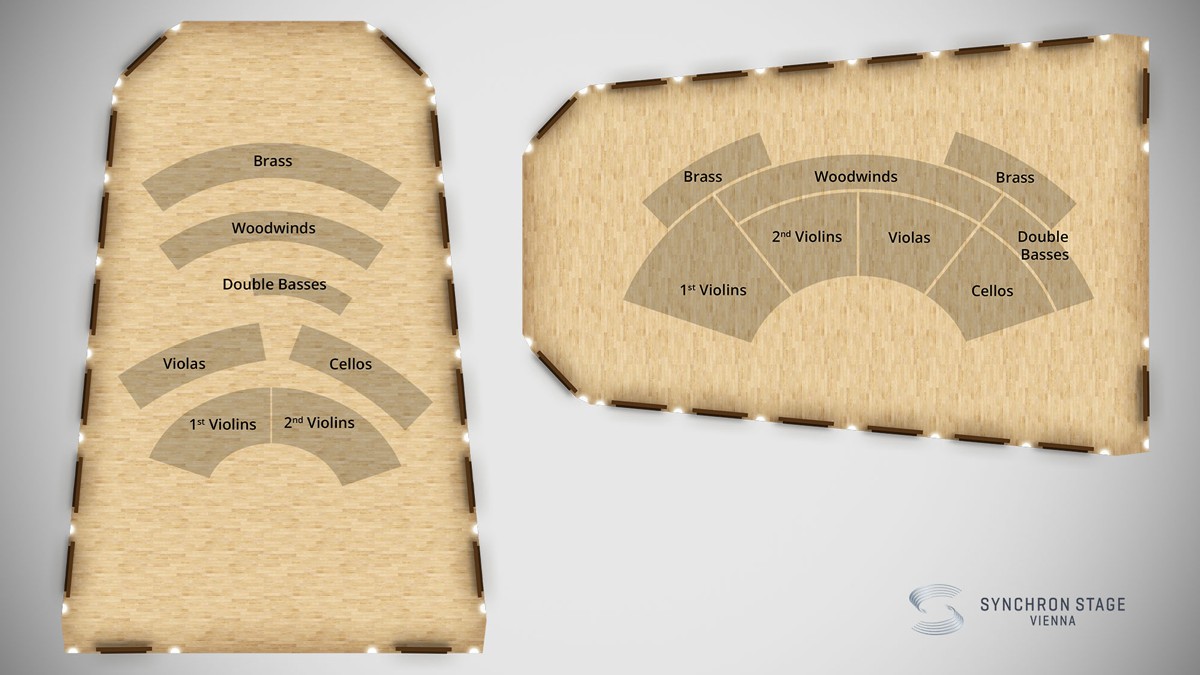 Synchron Stage Vienna's Stage A is Vienna Symphonic Library's own scoring stage in the heart of Vienna. It features a reverb time of 1.6 to 1.8 seconds, and in contrast to other scoring stages, there is no masking effect on the low frequencies. It is characterized by a lush and warm sound, while at the same time providing excellent localization, both in depth and in the stereo panorama. Since its opening in 2015, clients from Hollywood and all over the world have recorded music for films, games, documentaries, commercials and classical recordings here. The hall's extraordinary acoustics have been praised by composers Hans Zimmer, Harry Gregson-Williams, and Steven Price, to name a few, and can be heard on projects such as The Meg, Ad Astra, The Crown, Blue Planet II, and commercial projects for Apple, Rolex, Mercedes, and many others.
*Upgrades and User Discounts: You already own VSL Products?
After the login you can check in the shopping cart if you are entitled for a VSL User-Discount and apply it. This works for Upgrades, Crossgrades, EDU products and also when you complete Bundles. Simply add the desired products to your shopping cart and then check for the VSL User-Discount.
Please note that all discounted user-specific orders must be processed manually by our sales team and therefore may take up to one business day to be completed.
Mac:
macOS 10.13 or higher
64 bit
Intel Core i3 (Intel Core i5/i7/Xeon recommended)
RAM: 4GB (12GB recommended)
Vienna Instruments PRO from Version 2.6.60 or higher
Windows:
Windows 8.1/10 or higher
64 bit
Intel Core i3 oder AMD Athlon 64X2 (Intel Core i5/i7/Xeon recommended)
RAM: 4GB (12GB recommended)
Vienna Instruments PRO from Version 2.6.60 or higher

This product requires an activation!
You can either "soft" activate the software on your computer without addditional hardware or transfer the license to an iLok USB dongle which has to be purchased separately. The iLok dongle can be used to run the protected software on different computers. Your licenses can be easily manged using the iLok Licence Manager. To protect your investment against theft or loss we recommend the iLok Zero Downtime protection with TLC.
An internet connection on any computer and a free user-accout at www.ilok.com is required to authorize the product. In order to download and install your software products and sample libraries authorized via iLok, please use the Vienna Assistant.
Please check with the software manufacturer which iLok version is required at least if you want to use a hardware iLok!