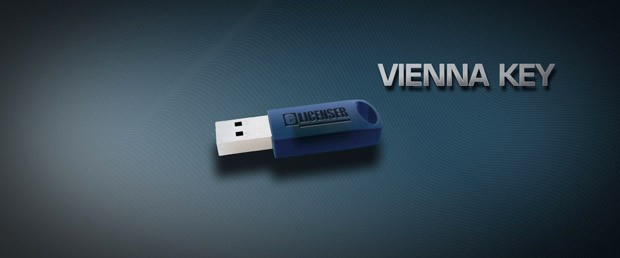 USB Protection Device
The ViennaKey is necessary to run any VIENNA INSTRUMENT. This USB protection device (eLicenser) is not included in the box of any collection, it is a separate item you have to get additionally.
You will need one ViennaKey for every computer you want to run a VIENNA INSTRUMENT on. So you'll have to order at least one ViennaKey with your first purchase.
Customers who order the complete SYMPHONIC CUBE will get one ViennaKey for free.
You can use one ViennaKey for all of your VIENNA INSTRUMENTS Collections if you want, as long as you run them on one machine. Of course you can also run several Collections on more than one computer, e.g., Solo Strings and Chamber Strings on Computer A and Orchestral Strings and Brass on Computer B. This will require the purchase of two ViennaKeys, one for each computer. This way you can distribute your Vienna Instruments as you wish over several computers. You can also move the licensing information from one ViennaKey to another, but you can't have the same Collection on two ViennaKeys at the same time.
If you already own a Syncrosoft/eLicenser USB protection device (from Steinberg for instance), you can use it for the VIENNA INSTRUMENTS, too. Please download the latest "License Control Center" from the eLicenser website so all the relevant VIENNA INSTRUMENTS information is available on your ViennaKey.
The system requirements can be found in the product description or on the manufacturer's website.