Based on an old Fender Rhodes Mark I
Vintage Electric is based on a reproduction of a vintage electric piano Fender Rhodes Mark I (1976) with a full range of dynamics (from soft to distorted sounds), release noise and pedal resonance.
The Sound
The Instrument - "Vintage Electric" is based on an old Fender Rhodes Mark I electric piano made in 1976.
Editing - up to 16 dynamic layers were used for each note of the instrument; a dynamic response control and effects.
Settings - To find out the best sounds from the piano Paolo Principi had to work with the screwdriver note by note.
Envelopes - All the samples of the Vintage Electric has been recorded for all the duration for a natural decay of sounds.
Recording - recorded with the amazing Apogee Symphony I/O mkii sound card for the best audio resolution and musical details.
Presets - The 4 presets allow the musician to find his own sound: from soft sound to hard and distorted. The presets with "Envelope" in the name don't use the "Note Off velocity" for resonance (forcontroller keyboard with fixed Note Off velocity trasmission).
Analysis - By a careful analysis of the sound Paolo Principi has found a great variation of the harmonic spectrum during the dynamic range of the tines.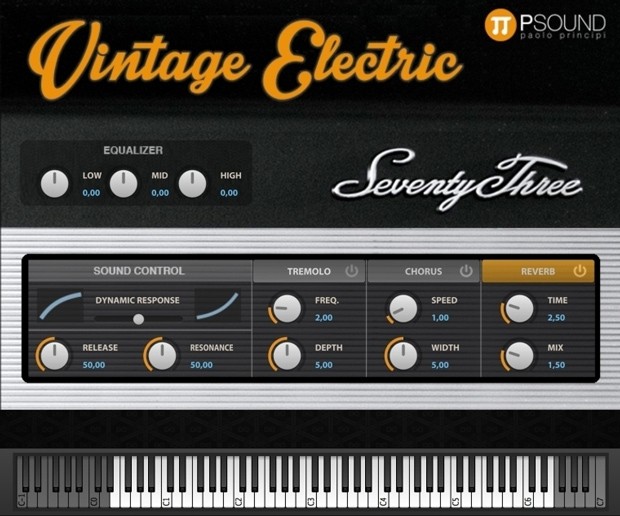 Specifications
Fender Rhodes Mark I (1976) implementation
2,2 GB Storage
24 bit resolution
All samples with natural decay (no loop)
Up to 16 velocity layers
Pedal resonance (with control)
Key-off noise level (with control)
Tremolo effect (with controls)
Adjustable Dynamic Curve
Chorus effect (with controls)
Convolution Reverb (with controls)
Equalizer (Low, Mid, High)
Powered by UVI Engine XT™
Requires UVI Workstation v2.5.6 or later
UVI.net provides UVI Workstation for free!
UVI Falcon full Compatibility!
Playable by Motu Machfive too (requires v3.2.1)
PACE protection system (free iLok account required)

The latest version of UVI Workstation 3 is included in this virtual instrument!
More information about UVI Workstation and the latest version (free download) is available HERE
ULTIMATE COMPATIBILITY
Stand Alone application for Mac and PC
VST for Mac and PC (Cubase and other VST compatible sequencers)
AAX native (Pro Tools) on Mac and PC
Audio Units (Logic Pro and other AU compatible sequencers)
"Falcon" compatible
UVI Workstation 3 system requirements:
Mac:
macOS 10.8-10.15
64 bit
hard drive: 7200 RPM (SSD hard drive recommended)
RAM: 4GB (8GB or higher highly recommended)
Windows:
Windows 8 or higher
64 bit
hard drive: 7200 RPM (SSD hard drive recommended)
RAM: 4GB (8GB or higher highly recommended)
57.8 MB of disk space (Mac Installer: 233 MB ; Windows64 Installer: 266 MB)
Required Registration:
PSOUND products require you to register with the manufacturer at www.psound.it to activate your license. To use UVI Libraries you also need to register with www.uvi.net.
This product requires an activation!
You can either "soft" activate on your computer without addditional hardware or transfer the license to an iLok USB dongle which has to be purchased separately. The iLok dongle can be used to run the protected software on different computers. Your licenses can be easily manged using the iLok Licence Manager. To protect your investment against theft or loss we recommend the iLok Zero Downtime protection with TLC.
An internet connection on any computer and a free user-accout at www.ilok.com is required to authorize the product.
Please check with the software manufacturer which iLok version is required at least if you want to use a hardware iLok!