The Rough One - Bold & Energetic picked Electric Bass
Fight the Foo and heat the Chili Peppers
Let us introduce Virtual Bassist ROWDY – your loudmouthed, high-energy bassist with bite! If your bass has to cut through heavy drums and a wall of guitars, ROWDY is the perfect solution.
Virtual Bassis Rowdy 2 now includes:
20 new styles
30 new presets
15 Finisher multi-effect modes
MIDI Drag and Drop
Backwards-compatibility
Powerful & Energetic
ROWDY confidently adds picked, overdriven electric bass sounds to your track, suitable for a variety of styles, from powerful punk to rock and modern metal.
Let's get ready to Rumble
It can be tame, but it's wild. With a hand-picked, heavily modified vintage bass guitar, hot amps, a fuzz box and even an octave guitar. It's definitely a rocker and could use a shower, but we're too scared to ask...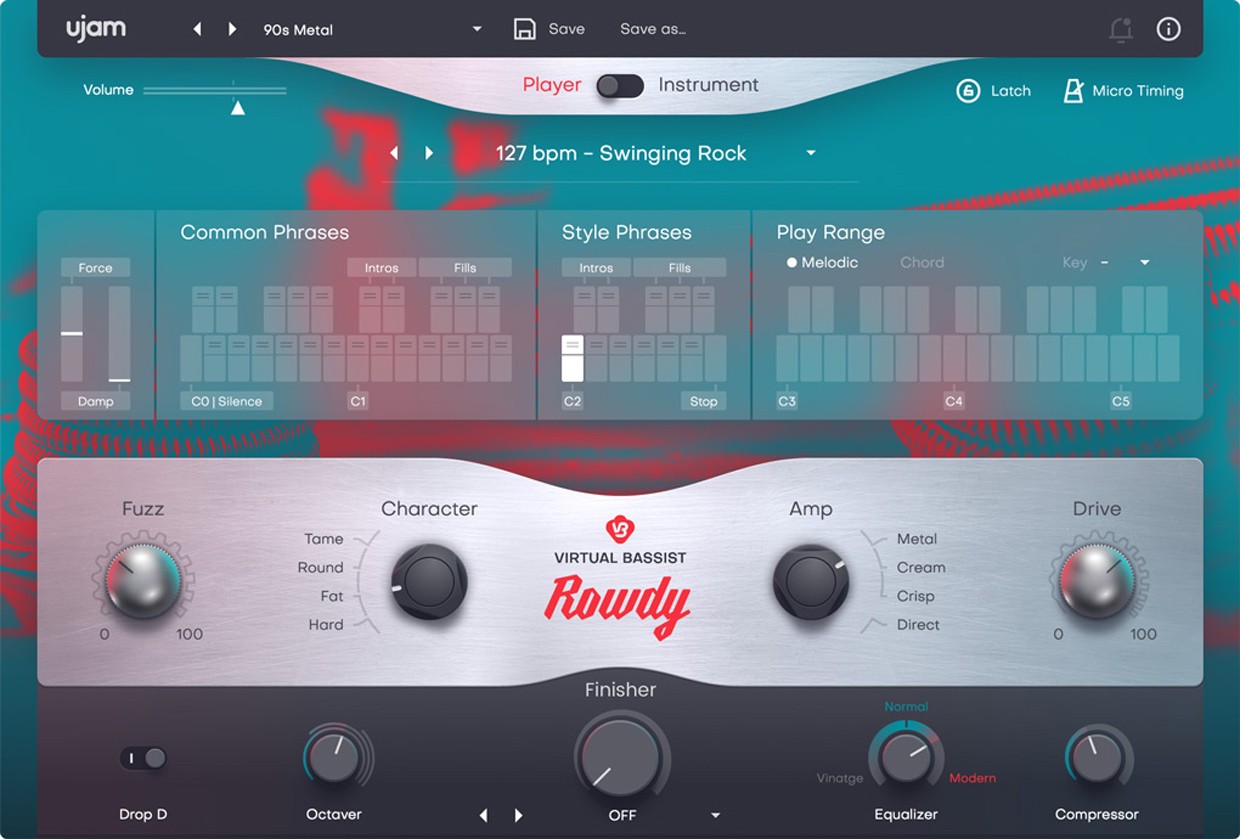 Frustration-free Design
Designed with the UJAM frustration-free philosophy, ROWDY's easy to use GUI and controls make it possible to achieve fantastic sounding and aggressive basslines in no time – no matter what your level of music production experience is.
Features at a Glance
ROWDY's loud-mouthed, rebellic sound and angry playing style means that even seasoned bass players themselves will appreciate the ability to get great sounding ideas down fast – with practically zero learning curve.
Player Mode - Virtual Bassist ROWDY has two distinct modes – Player Mode lets you quickly choose from one of the 60 styles and 1380 phrases with your MIDI controller, seamlessly following in an intelligently musical way whatever key or chord is being played.
Instrument Mode - The Instrument Mode is one for the keyboard wizards and opens up the entire ROWDY fretboard to be played like a traditional sampler, complete with dead notes, full stops and even slides.
Tone-Sculpting Controls - Perfect your performances and sound with ROWDY's powerful yet simple sound-shaping controls. Choose between a DI signal and 3 separate amplifiers with separate knobs for overdrive and fuzz. The Character control gives you instant access to many useful sounds before you put the cherry on top with an octave control and a simple EQ and dynamics section.
Required free disk space: 7GB
Mac:
macOS 10.11 or higher
64 bit
RAM: 4GB
SSD hard drive recommended
1280x768 or higher display resolution
Windows:
Windows 7 or higher
64 bit
RAM: 4GB
SSD hard drive recommended
1280x768 or higher display resolution
Required Registration:
UJAM Instruments products require you to register with the manufacturer at www.ujam.com to activate your license.
This product requires an activation!
An internet connection is required to authorize / activate the product.