Virtual Drummer 2 Solid - Gold-Plated Perfectionism
Virtual Drummer SOLID is your seasoned session pro for sophisticated, grand productions in all popular genres and moods. SOLID provides those untouchable gold-standard drumming styles and sounds that open record label executives' doors, hearts and wallets.
Overview
A virtual gold-standard drummer, suitable for all popular styles and genres.

Simple, yet powerful performance tweaking parameters allowing full control over tempo, timbre and feel

Quickly utilise 200 Presets and 60 styles with 1,380 grooves (intro, verse, chorus, fill and endings) for building your tracks fast

Customise your sound by mixing and matching individual elements from 4 meticulously recorded pro-grade kits

Drag & Drop midi editing of grooves within your DAW for ultimate control

Send each individual drum element to its own audio output within your DAW for powerful mixing flexibility

Easily tweakable custom FX algorithms including compression, saturation, ambience and reverb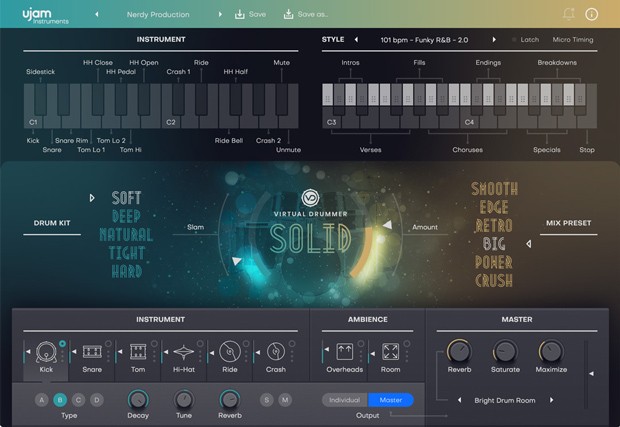 Hear the Difference!
Professional drummers were recorded in a prime acoustic space using sought-after drum hardware and recording equipment, with great attention to detail and love for the genre's unique requirements. HEAVY combines all this and puts it at your fingertips in a virtual instrument designed with fast, frustration-free composition and music production in mind.
Virtual Virtuoso
HEAVY comes with 200 presets and 60 styles with 1380 rhythm patterns played on 5 drum kits covering any musical genre that benefits from high energy rock drumming. Utilise the professional performances to finish your tracks in record time or drag and drop the MIDI information into your DAW for ultimate artistic control.
Character Counts
Choose from sophisticated microphone setups and channel strip combinations with the Character control. Enhance your mix further by selecting custom drum combinations and sending individual drums to separate audio tracks in your DAW.
Human After All
Add realism and subtle playing variety with Humanize and Feel Controls.
Obey Your master
The comprehensive master section allows for the global control of compression, saturation and a selection of ambience/reverb styles
Mac:
macOS 10.11 or higher
RAM: 4GB
SSD hard drive recommended
1280x768 or higher display resolution
Windows:
Windows 7 or higher
RAM: 4GB
SSD hard drive recommended
1280x768 or higher display resolution
Product activation:
An internet connection is required to authorize / activate the product.