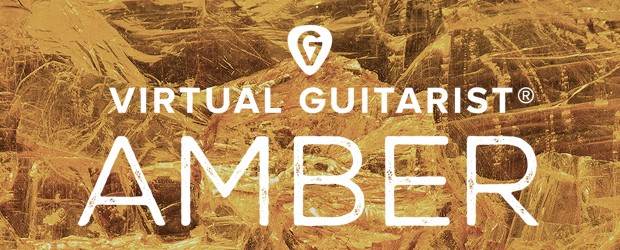 Get Your Strum On!
Virtual Guitarist AMBER is your musical companion. AMBER adds warm and shiny strumming to your production. It comes loaded with more than 50 Styles, over 600 Phrases, multiple effects, and sound shaping controls. After testing and measuring dozens of combinations of high-end guitars and microphones, the team behind Virtual Guitarist found sonic delight: A boutique American vintage dreadnought and a legendary German vintage large diaphragm microphone. For even more sonic versatility they've captured the guitar pickup too.
Features at a Glance
A Virtual Virtuoso - AMBER plays lively chords and patterns across many genres and comes with more than 600 characteristic Phrases grouped in 57 Styles.

Be Real - AMBER provides control over sound aspects that create a realistic feel such as play position and fret noises.

Make it Shine - The unique Shimmer control dynamically accentuates high frequencies while attenuating the mid range to add that certain shiny gloss to your mix.

Feel is Everything - Match your track's groove: Laid back and swinging? Virtual Guitarist AMBER follows suit.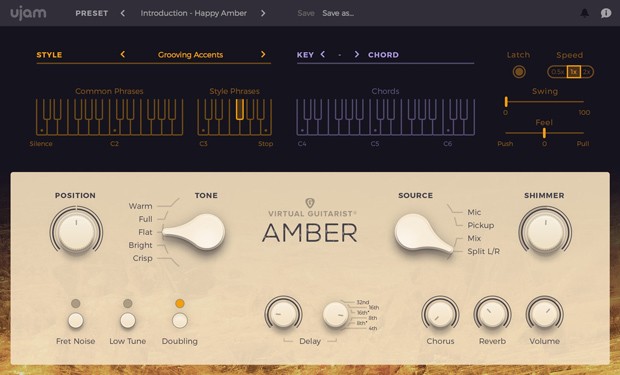 About the Virtual Guitarist series
The original Virtual Guitarist series was a best-selling virtual instrument developed by Wizoo and distributed by Steinberg. The last version, Virtual Guitarist 2, was discontinued in 2007. Since then, people have been asking for a Virtual Guitarist 3. In 2013, the core team behind the original Virtual Guitarist gathered again, and launched Virtual Guitarist IRON - specialized on Power Chords - in December 2015.
AMBER is the second instrument of the series, which is not just an evolution of the original, but a whole new generation of Virtual Guitarists. With an all-new concept and technology Virtual Guitarist instruments now offer vastly expanded realism, musical and sonic capabilities with the same ease and speed of use the legacy instruments were so famous for.
Required free disk space: 6GB
Mac:
macOS 10.11 or higher
64 bit
RAM: 4GB
SSD hard drive recommended
1280x768 or higher display resolution
Windows:
Windows 7 or higher
64 bit
RAM: 4GB
SSD hard drive recommended
1280x768 or higher display resolution
Product activation:
An internet connection is required to authorize / activate the product.