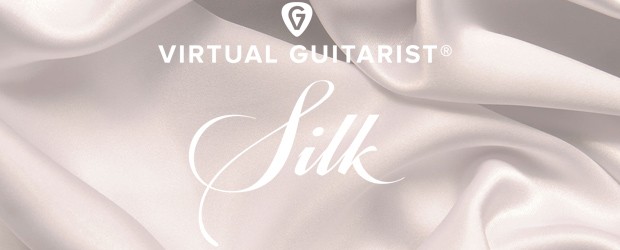 Finger Pickin' Good
SILK is a concert guitar accompaniment virtuoso. Elevate and decorate your songs with more than 60 Styles, and 670 Phrases, multiple microphone positions, and custom effects.
The team behind the Virtual Guitarist Series recorded SILK with a precious, mint condition German concert guitar built by a renowned instrument maker master in 1967. The custom in-phase recording and editing techniques and a customized channel strip provide you access to sophisticated microphone set-ups and full control over play position and sound character.
Features at a Glance
A Virtual Virtuoso - SILK plays virtuoso accompaniments and comes with 670 characteristic Phrases grouped in 60 Styles.

Sounds Galore- Choose from sophisticated microphone setups and distinguished channel strip combinations with the Character control. Enhance your mix with SILK's Doubling function and custom effects such as Delay and Reverb.

Signature Algorithm: Animate - Named for exactly what it does, this algorithm, custom-built for nylon guitar sounds adds subtle depth and movement to the direct signal.

Human After All - From natural and loose to obsessively exact: Adjust the level of precision in timing and playing dynamics to meet your song's style.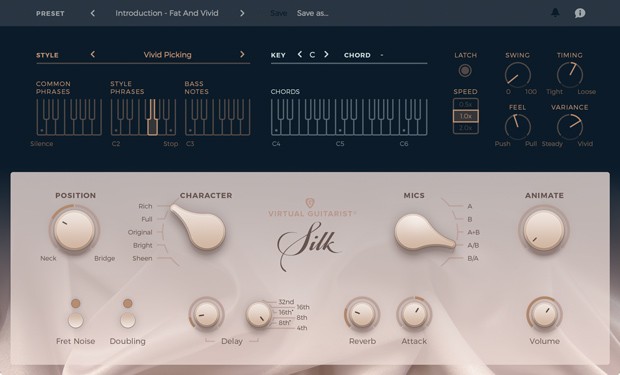 About the Virtual Guitarist Series
The original Virtual Guitarist series was a best-selling virtual instrument developed by Wizoo and distributed by Steinberg. The last version, Virtual Guitarist 2, was discontinued in 2007. Since then, people have been asking for a Virtual Guitarist 3. In 2013, the core team behind the original Virtual Guitarist gathered again, and launched Virtual Guitarist IRON – specialized on Power Chords – in December 2015.
After SPARKLE, which specializes in chords, octaves and single note riffs, SILK is the fourth instrument of the series, which is not just an evolution of the original, but a whole new generation of Virtual Guitarists. With an all-new concept and technology Virtual Guitarist instruments now offer vastly expanded realism, musical and sonic capabilities with the same ease and speed of use the legacy instruments were so famous for.
Mac:
macOS 10.11 or higher
64 bit
RAM: 4GB
SSD hard drive recommended
1280x768 or higher display resolution
Windows:
Windows 7 or higher
64 bit
RAM: 4GB
SSD hard drive recommended
1280x768 or higher display resolution
Product activation:
An internet connection is required to authorize / activate the product.