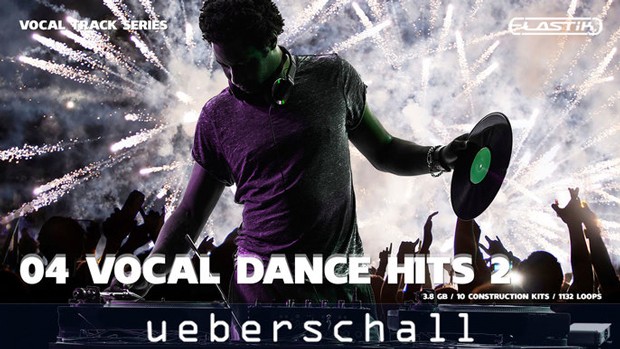 Dance Floor Hits With Vocals
Vocal Dance Hits 2 is a further addition to the Elastik Vocal Series. The library provides ten massive songs in ten equally massive construction kits. With nearly 4GB of samples, over 1100 loops and multiple song sections, each construction kit provides you with all you need to mix and remix a complete song production.
Comprehensive Construction Kits for maximum flexibility
Instrumentation includes drums, bass synths, multiple synth parts including arpeggiated lines, chords and pads and various sound effects. Both pre-mixed drum loops and separate loops for individual kit elements such as kick, snare and hi-hat are provided making it easy to craft your own drum mix or to construct a breakdown. Each song section of the kits includes vocal parts and additional vocal lines with alternative processing and vocal adlibs are also provided. Songs feature both male and female vocals.
Mix your own Vocal Hits in an instant
Whether you are looking to be a dance floor sensation or simply seeking an authentic dance music song for your latest music-to-picture project, Vocal Dance Hits 2 will get everyone on the dance floor.
Vocal Kit Series
The vocals of this series have been created by the producers of the successful sample-libraries Techno Trance-, House- and Loop Essentials (Essentials of the Order). For any library of the Vocal Kit series, the phrases are available in a produced ready-to-use format for individual creative manipulation in the sound bank.
Elastik Features
The Elastik Player is ideal for loop-based productions. With just a few mouse clicks, the loops of Vocal Dance Hits 2 can be adjusted in speed and pitch to any track. The intuitive browser commonly manages all Elastik libraries for immediate access to all loops. This way, not only loops of a single library can be combined freely but across all installed Elastik libraries - a huge pool for remixing. Functions such as resample, formant and reverse as well as the effective multi mode filter with a slope of up to 72dB per octave pickup DJ-workflow-elements, allowing for effective changes of the loops and for creative sound design.
Credits
Responsible for the production of Pop Rock is Marc Steinmeier, who has worked for companies like Universal Music, EMI Electrola and Sony / BMG. Many tracks and remixes from well known artists such as LL Cool J, Alicia Keys, George Clinton and Eminem owe him the finishing touch in terms of composition and sound design.
Free ELASTIK 3.6 Loop-Player is included in this product.
With its intuitive Loopeye editing environment, the high-quality pitch, key, scale and tempo manipulation algorithms and the huge collection of Elastik-ready sample libraries, spanning almost every conceivable musical genre, Elastik is a powerful workstation for loop-based musicproduction. It can be used either as a standalone application or as plugin within almost any DAW on both Windows and macOS platforms.
Mac:
macOS 10.12 or higher
Apple Silicon Support
64 bit
Windows:
Required Registration:
Ueberschall products require you to register with the manufacturer at www.ueberschall.com to activate your license.
This product requires an activation!
An internet connection is required to authorize / activate the product.