Vocal Splitter - Clear & Wide
Audio engineers have been using a specific processing technique on vocals for years to make dull mono vocals pop out of stereo speakers. Now, with just one straightforward plugin, you can reproduce that special method. Vocal Splitter is a convenient all-in-one device for converting mono vocals into rich, contemporary stereo. To make your vocal performances stand out from the crowd, frequency and drive parameters were added when they built this plugin.
Featues
Create wide and modern vocals from a mono source

Presets for one-click transformations

Speed & Depth set the power of effect

Drive dial to add grit and increase definition

Mute Source button for using effect as a send

Click-free bypass

Minimal phasing

Resizability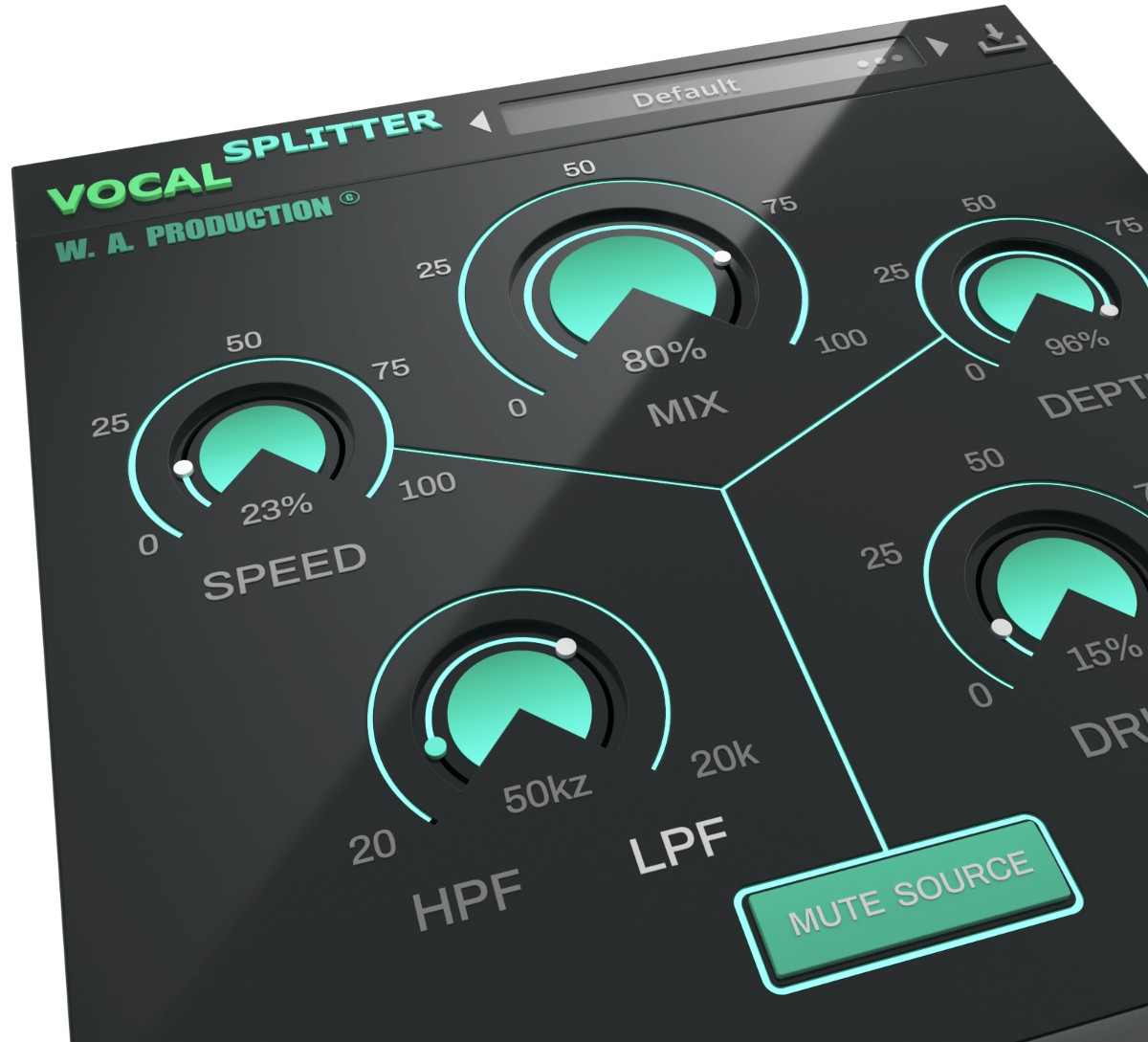 Under The Hood
Feel free to skip this part if you like, but here's what is going on under the hood: Vocal Splitter uses a combination of a phase-offset vibrato effect (that splits the left and right channel by asymmetrically detuning the channels) and an asymmetrical rectification of the left and right signal (creating a better defined stereo image). Combining these two effects in one plugin is an especially effective way to create a defined stereo split vocal signal with minimal phasing.
Mix
he central mix dial sets the dry / wet ratio of the original source signal and added stereo signal. If you want to listen to the added stereo signal in solo mode or use the plugin on an effects bus, just press the Mute Source button, muting the source signal so that you only hear Vocal Splitter's processed audio.
Speed & Depth
These dials work together to control the behaviour of the phase-offset vibrato effect that splits the left and right channels. The channels are asymmetrically detuned and these dials adjust that effect so that you can achieve any intensity of processing, from subtle thickening to full-on doubling.
Drive
The drive feature lets you control the intensity of the asymmetrical rectification of the left and right signal, creating a better defined stereo image. If that sounds technical, don't worry. All you need to know is that pushed hard it provides a saturation-like effect and brings the stereo image back in towards the centre.
Filters
The high pass and low pass filters allow you to filter the added stereo signal, especially important if you want the effect to only apply to a specific frequency range and avoid unwanted phasing in the low end.
Bypass
The Vocal Splitter logo acts as a bypass control for the whole plugin, and is smoothed to be click and pop free for unhindered A/B testing.
Mac:
macOS 10.15 or higher
64 bit
Windows:
Windows 8 or higher
64 bit
Required Registration:
W.A. Production products require you to register with the manufacturer at www.waproduction.com to activate your license.
This product requires an activation!
An internet connection is required to authorize / activate the product.