Advanced Timing & Pitch Alignment Plugin
In modern music production, getting the very best from your vocals is essential and because your time is precious, Synchro Arts created VocAlign Ultra to give you the highest quality results with the least amount of work. Featuring technology from their flagship Revoice Pro software, VocAlign Ultra takes plug-in based vocal matching to a whole new level with unparalleled control and total flexibility. Don't waste time manually editing vocals, get VocAlign Ultra and speed up your workflow today.
Great Vocals... Only Better
VocAlign Ultra is nothing short of a revolution in plugin-based audio alignment. Powered by the latest algorithms from Revoice Pro, VocAlign Ultra consistently provides better results when aligning longer and more complex sections of audio. Then for complete creative freedom, VocAlign Ultra features tightness control so you decide how much alignment you want to apply to your signals. Also Ultra doesn't just fix the timing of your performances with unprecedented ease and speed, it can align pitch too. And that's just for starters, there's many other enhancements which make VocAlign Ultra an essential tool for music producers, mix engineers and audio post professionals.
Overview
Instantly Match Timing and Pitch of Two or More Signals

Great for Vocals, Instruments and Sound Effects

Includes our Revoice Pro Alignment Algorithm

Tightness Control

Match Pitch Section

60+ Alignment Presets

Enhanced Waveform and Pitch Displays

Fully Resizable GUI Window

Advanced and Basic Editing Panels

Sync Points and Protected Areas

Two activations included with each license

All iLok Copy Protection options supported (no iLok USB dongle needed)

Full ARA2 (Audio Random Access) support for enhanced workflow with compatible DAWs

Features
Latest Audio Alignment Technology - VocAlign Ultra boasts our very latest alignment technology from our award-winning flagship software, Revoice Pro. This means you can align longer and complex vocal sections in seconds with unprecedented accuracy and ease, reducing the need for any manual editing and potentially saving hours of your time which can be spent on more creative tasks.

Tightness Control - For complete creative freedom VocAlign Ultra features new tightness controls so you decide how much alignment you want to apply to your vocals. If super-tight isn't sounding right, then just loosen the setting in VocAlign Ultra and more of the original double or harmony performance will be retained for a more natural result.

Match Pitch Section - Before Ultra, VocAlign only aligned the timing of your performances but now you can tighten up pitch too. Don't waste time tuning your doubles or backing vocals separately, once you're happy with the tuning of your lead, VocAlign Ultra instantly applies your guide's pitch to any other vocals that need to match.

60+ Alignment Presets - Not sure which alignment settings to use? That's no problem, VocAlign Ultra includes a variety of carefully designed and well labelled presets covering all the most common alignment scenarios, just make your choice and start aligning. You can also tweak and create your own presets which can be saved to use again in the future.

Enhanced Waveform & Pitch Displays - To enable fast and easy visual inspection of alignment results, we've added two brand new displays in VocAlign Ultra. The first is a waveform display which shows your audio just how it would appear in your DAW. Secondly we have new view showing the pitch traces of your signals so you can easily see how they differ before and after processing.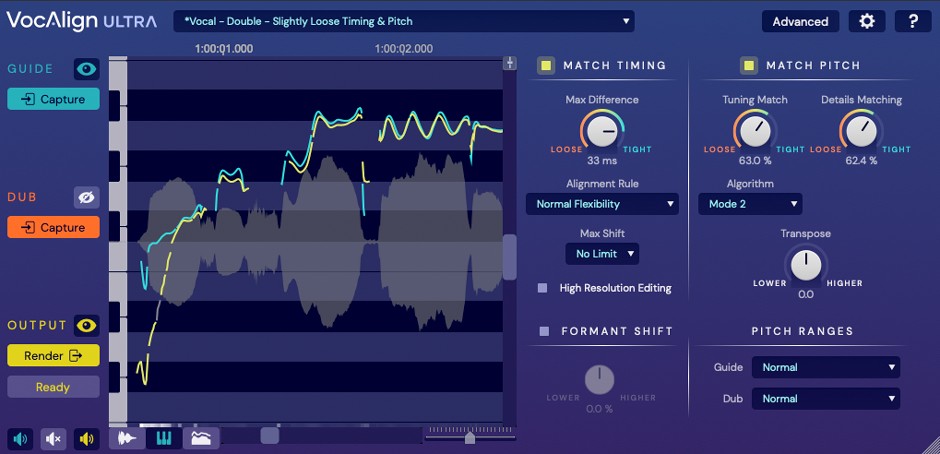 Fully Resizable GUI - We understand your screen real-estate is valuable so once you have decided on your settings, VocAlign Ultra can be reduced to down to a compact size just showing the key controls for operation. With a completely resizable GUI, VocAlign Ultra can be as big or as small as you need to be, depending on which controls you need to see.

Basic and Advanced Editing Panels - In VocAlign Ultra you can toggle between basic and advanced editing modes depending on how deep you want to go when tweaking parameters. If you need to make quick and simple changes select basic but for more detailed adjustments just switch to advanced and more controls will be displayed.

Full ARA2 Integration With Compatible DAWs - ARA or Audio Random Access is a revolutionary audio plug-in extension that enables unprecedented instant communication between ARA-enabled plug-ins and DAWs. The huge time-saving benefit for VocAlign users is that real-time audio capture is no longer necessary as audio files can be instantly captured, updated and returned to your DAW.

Sync Points & Protected Areas - For complex alignment problems, VocAlign Ultra has a few handy advanced editing tools to fix your vocals fast. Sync Points are user-defined target points on your guide and dub tracks which VocALign will try to ensure remain in sync when processing. Protected Areas allow you to select a portion of your double or harmony which you don't want VocAlign to process.
Mac:
macOS 10.8 or higher
Native Apple Silicon (M1) support
64 bit
Intel-CPU
Windows:
Windows 10 or higher
64 bit
Required Registration:
Synchro Arts products require you to register with the manufacturer at www.synchroarts.com and with www.ilok.com to activate your license.
This product requires an activation!
For the activation you can either choose between using an iLok dongle (iLok 2 or iLok 3) or the iLok Cloud authorization process.
The iLokDongle can be used to run the protected software on different computers. Your licenses can be easily manged using the iLok License Manager. A internet connection on any computer and a free user-accout at www.ilok.com are required to authorize the product. To protect your investment against theft or loss we recommend the iLok Zero Downtime protection with TLC.
*This USB protection device is not included with your order, it is a separate item you have to buy additionally.
iLok Cloud requires an iLok account, which can be setup for free at www.ilok.com. Please install the latest version of iLok License Manger so you can manage your authorizations and active an iLok Cloud session. An active internet connection is required for all iLok Cloud sessions.
Please check with the software manufacturer which iLok version is required at least if you want to use a hardware iLok!