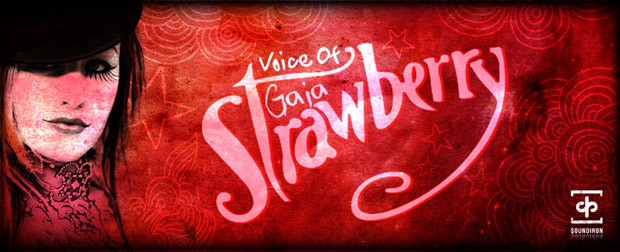 Voice Of Gaia: Strawberry is a professional solo mezzo-soprano female vocal library featuring premier vocalist Linda Strawberry Coloma. This 5.4 GB collection features deeply sampled legato, sustain and staccato vowels, along with thousands of customizable live melodic phrases, all with total adaptability and full user control. Known for her work with Zwan, Smashing Pumpkins and numerous other collaborations and solo projects, Linda's voice has a intense, dynamic and truly expressive quality perfect for everything from cinematic scoring, EDM and dreampop to industrial and world music. Her rich, mysterious and passionate voice and distinctive emotive style burn through the mix.
We recorded her in a warm studio environment with state-of-the-art microphones and preamps to capture every subtle detail. We then carefully prepared and edited each sample and hand-programmed each element into a unrivaled interactive GUI-based performance system that delivers both efficiency and control. This comprehensive virtual solo voice instrument brings together superior programming, brilliant performance, unmatched quality and living, breathing soul into an unprecedented solo vocal solution that you will not find anywhere else.
The Voice

Linda Strawberry is a Los Angeles based vocalist, songwriter and producer/engineer. She has worked with Billy Corgan (Smashing Pumpkins, Zwan, Spirits in the Sky), Bjorn Thorsrud, Alan Moulder, Bon Harris, Marianne Faithfull, The Dandy Warhols, David Coverdale, Dave Navarro, Mark Tulin, Kerry Brown, Mark Weitz and many more. She currently releases music through her label Lovely Chaos and has a song in the current season of Disney show Phineas and Ferb, airing soon. After a two year hiatus, during which she gave birth to her first child, she collaborated with director husband Justin Coloma creating the artwork for Peter Murphy's "I Spit Roses" music video. She also recorded a duet with Curt Smith (Tears for Fears) for The Shadow Bureau's "Don't Give Yourself Away". She is also finishing a new concept record and video project while anticipating the birth of her second child.
Functionality
Voice of Gaia: Strawberry features outstanding True Legato sustains for Ah using the long-form solo method for unparalleled quality and realism, with infinite or natural sustains, natural release, 3-voice polyphonic support and a plethora of fine-tuning parameters. In addition to the True Legato, the library includes standard dynamic sustains with Ah(p), Ah(f), Mm, Oh(p), Oh(f) and Oo vowels, all in natural and infinite sustain variants. You'll also find matching fully shapable staccato vowels that include time stretching and EZ vowel switching. All of this chromatic content spans a playable key range of over 2 octaves, with total performance controls.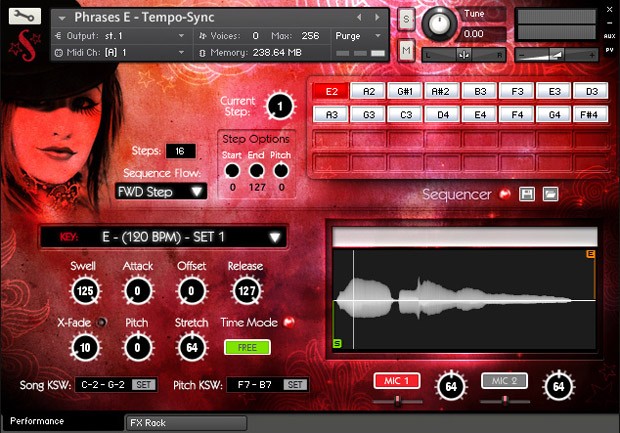 Included in the library is a vast array of improvised melodic phrases at four different tempos: 80, 100, 120 and 140 bpm. All of the collections are rooted in the keys of A#, C, D, E, F# and G# (bonus keys of F and G are available for 80 BPM as well) in a variety of scales. At over 2500 phrases, Linda covers a wide range of styles from ethnic to blues and soul. And of course there are plenty of vocal effects, such as whisper sustains, whisper staccatos, laughing, coughing, breathing, sweeps, swells and more. Finally, we took the source material and contorted it into a broad selection of ambiences, drones, atmospheres, pads, leads and special FX instruments.
NKI Program Presets
This library is designed for the full retail version of Kontakt 5.1.0 or later.
The free Kontakt Player doesn't support this open-format Kontakt library.
The special Libraries tab doesn't support this open-format Kontakt library.
This library includes fully accessible unlocked wav sample directories to allow optional user modification, customized mapping and reprogramming to other formats and audio environments.

Solo Articulations
Two different microphone options: large body, double diaphragm w/transformer or single diaphragm, small body w/o transformer
"Ah" natural true legato vowel with infinite sustain (w/release) or natural sustain.
Ah (piano), Ah (forte), Mm, Oh (piano), Oh (forte) and Oo Staccatos
Ah (piano), Ah (forte), Mm, Oh (piano), Oh (forte) and Oo Sustains
Over 2500 melodic phrases in the keys of A# – G#, with pitch transposition, instant pattern sequencing, legato blending, tempo-synching/time-stretching, shaping and more.
Melodic phrases cover a variety of styles from ethnic to blues and soul.
All melodic phrases organized by root key and native tempo
Improved sequencer allows for per-step phrase start and end markers.
Whispers, Breaths, Warm-ups and other vocal effects.
Tons of bonus vocal Ambiences, Atmospheres, Tuned Pads and other custom melodic instruments crafted directly from Linda's voice.
Swell control allows real-time dynamic performance shaping.
Full Multi-FX rack panel with Chorus, Compression, Distortion, Amp and Cab simulation, EQ, Delay and Reverb
Our Reverb rack unit includes 25 unique creative FX convolutions and 45 excellent live rooms, studios, chambers, cathedrals, halls and other real-world environments, with flexible tone, size and mix controls.
Fully automatable, with customizable key switch and GUI controls.
Convenient real-time visual wave-form display in every preset.
Info
11,316 samples
5.46 GB Installed
33 nki Kontakt 5 instrument presets
24 bit / 48kHz mono PCM wav format
Open format to allow user customization
Format(s): Kontakt 5 .nki and pcm .wav

Please notice: This library can not be used with the free Kontakt Player! To use this "Open Kontakt" format, you need a full version of Kontakt, which is included in products such as Komplete or Komplete Ultimate.
The minimum required Kontakt version number for this product is stated in the product description or can be found on the developer's website.
System Requirements:
Mac:
macOS 10.14 or higher
64 bit
Intel Core i5 or Apple M1 (native)
RAM: 4GB (6GB recommended)
Windows:
Windows 10 or higher
64 bit
Intel Core i5 or similar CPU
RAM: 4GB (6GB recommended)
Supported Interfaces:
Mac (64-bit only): Stand-alone, VST, VST3, AU, AAX
Windows (64-bit): Stand-alone, VST, VST3, AAX
Legacy Versions:
If you require legacy installers of Kontakt Player please refer to this Knowledge Base Article.
Required Registration:
Soundiron products require you to register with the manufacturer at www.soundiron.com to activate your license. To use Kontakt Player Libraries you also need to register with www.native-instruments.com.
For your own protection this library is provided as individual personalized files including a Digital Water Mark - DWM!